THE HIRSHHORN PRESENTS A BRAZILIAN FAMILY DAY ON SATURDAY, MAY 11, 11 A.M. – 3 P.M.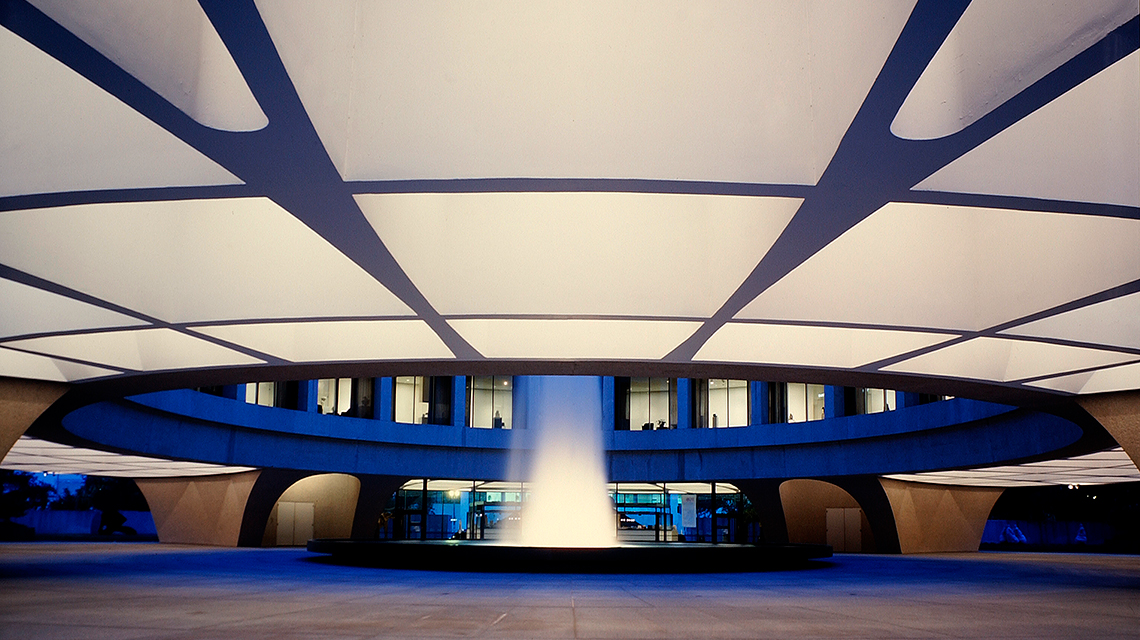 Friday, April 12, 2002
The Smithsonian's Hirshhorn Museum and Sculpture Garden, Independence Avenue at Seventh Street, S.W., invites families to enjoy a free festival of Brazilian music, storytelling, arts and crafts, dance, martial arts demonstrations and traditional food on Saturday, May 11, from 11 a.m. to 3 p.m.
"Brazilian Family Day" also includes a 2:30 p.m. gallery talk on "The Dangerous Logic of Wooing," the Hirshhorn's new site-specific installation by Rio de Janeiro-based Ernesto Neto. This room-sized, amoeba-like, suspended sculpture of sheer white fabric bulging with Styrofoam pellets and rice has aroused much curiosity among visitors.
Organized to celebrate the richness of Neto's homeland, the festival features a demonstration, beginning at noon, of "capoeira," the high-energy combination of martial arts and dance brought to Brazil by African slaves. At 12:40 p.m., children can participate in the making of a "berimbau," the one-stringed instrument that accompanies "capoeira."
Other highlights include, from 1:15 to 2 p.m. on the plaza, a drum performance by the International Capoeira Angola Foundation, followed by a samba lesson and performance by members of Sambart Entertainment, dressed in full carnival costume, with the help of DJ Tony Carr, host of WPFW 89.3 FM's "Sounds of Brazil."
During the festival, families can also sample the food and drink of Brazil, hear stories about the country's discovery, participate in an art treasure hunt, and make hats and carnival masks.
The family day takes place in the museum's central outdoor plaza (weather permitting), galleries and Ring Auditorium. The Directions – Ernesto Neto installation remains on view through June 23 on the third floor. The nearest Metrorail stop is L'Enfant Plaza, Maryland Ave. exit. Admission to the museum is free.
SCHEDULE
11–11:30 a.m.
Screening of video Carnaval in Bahia (Ring Auditorium)
11:30 a.m.–noon
Storyteller Mirian Silva shares tales in English and Portuguese about the discovery of Brazil (Third floor galleries)
noon–12:30 p.m.
Capoeira (martial art and dance) demonstration by Mestre Cobra Mansa (Plaza)
noon–1 p.m.
Sample Brazilian cuisine (Lobby)
12:40–1:10 p.m.
Berimbau demonstration and workshop for children (learn to make a musical instrument) led by the International Capoeira Angola Foundation (Plaza)
1:15–1:30 p.m.
Drum performance by the International Capoeira Angola Foundation (Plaza)
1:30–2 p.m.
Samba show and lesson by Sambart Entertainment (Plaza)
2:30–3 p.m.
Gallery talk: "Ernesto Neto" (Directions Gallery, third floor)
Ongoing family activities: hat and mask making (Plaza) and a treasure hunt in the galleries and Sculpture Garden
We would like to thank the Brazilian Embassy, Your World Consultant Group, the International Capoeira Angola Foundation, the Brazilian American Cultural Institute, and the Blue Nile for their participation. Dances performed by Sonia Pessoa, Silvia Pessoa, Iris Deneb, and Marcus Brandaõ. We would also like to thank the Malibu Grill and Sambart Entertainment for their in-kind donation of food.
PLEASE NOTE:All events are free and on a first come basis. In case of inclement weather plaza activities will move indoors.