Tips For PK-12 Student Visits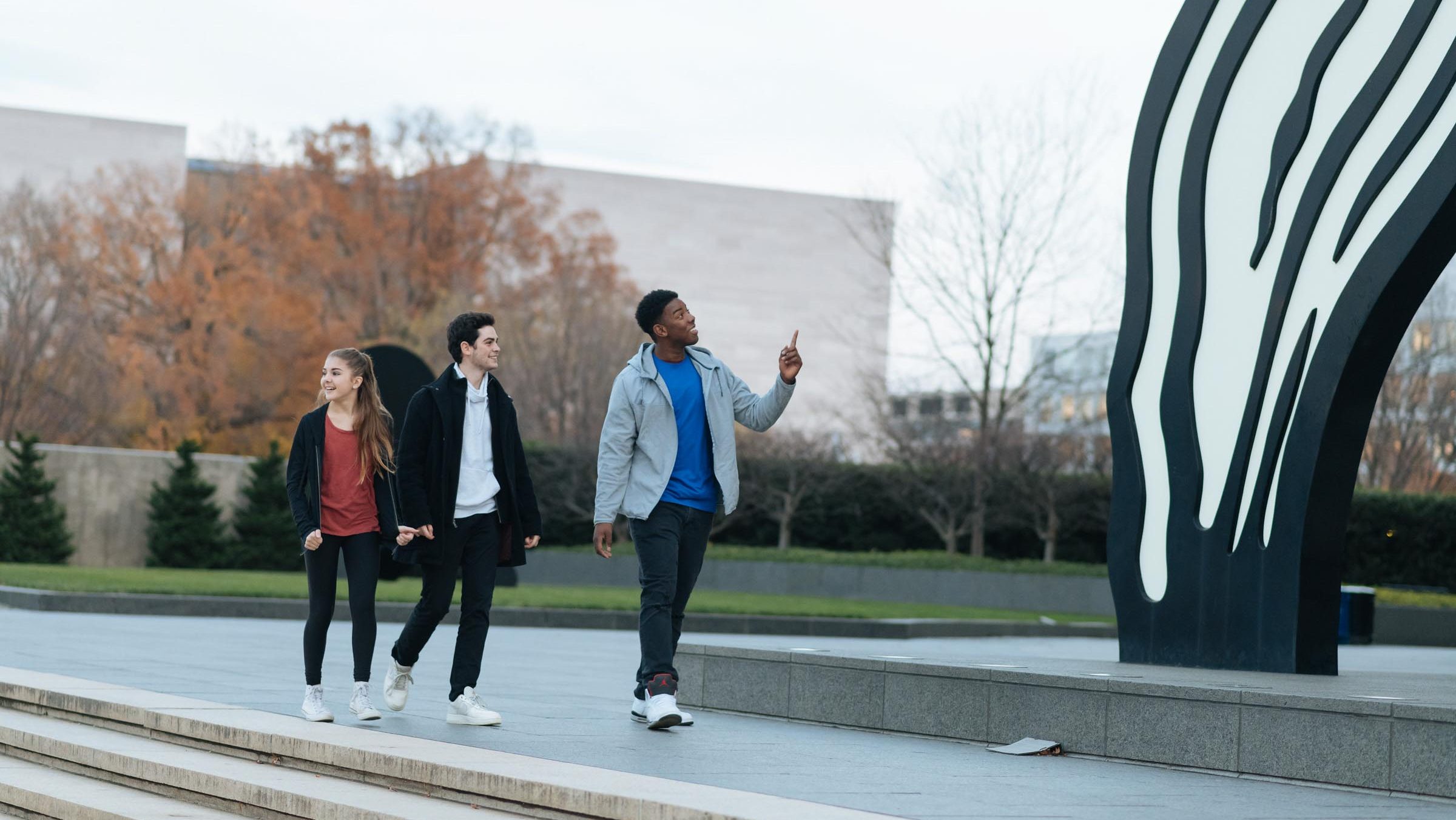 Wondering what to expect before arriving at the museum? This page has everything you need for planning a successful visit.
Hirshhorn PK-12 Student Groups FAQs
DO YOU OFFER GUIDED STUDENT PROGRAMS?
No. We do not offer guided PK-12 student programs at this time. Instead use our exhibition guide and before the museum lesson for a memorable museum experience. Check back soon for updates on guided PK-12 student programs!
SHOULD I LET THE HIRSHHORN KNOW ABOUT OUR VISIT?
Yes. If you plan to bring 10 or more students to the Hirshhorn, please let us know when you are coming at hirshhornexperience@si.edu so we can best prepare you for your visit and let you know of any gallery closures.
ARE CHAPERONES REQUIRED?
Yes. We require school groups to provide an appropriate number of adults to accompany their students based on grade level.
Grades PK–2: 1 adult per 5 students.
Grades 3–5: 1 adult per 10 students.
Grades 6–12: 1 adult per 15 students.
Chaperones are responsible for student behavior and must remain with student groups at all times within the Museum and on the Plaza.
WHERE IS THE HIRSHHORN?
The Hirshhorn is located on the National Mall at Independence Ave and 7th Street SW, Washington, DC. The Museum is directly west of the National Air and Space Museum, and south of the National Archives.
CAN I GET TO THE HIRSHHORN BY METRO?
Yes. The closest Metro station is L'Enfant Plaza, which services yellow, green, blue, orange, and silver lines. In L'Enfant Plaza station, follow the signs for the 7th & Maryland Avenue exit, which also includes elevator access to street level. The Smithsonian Metro Station is also within walking distance.
IS THERE BUS PARKING AT THE HIRSHHORN?
No. If you choose to travel by bus or car, plan to have your driver drop your group off at the Museum. Ask your driver to drop you off on Independence Avenue. Due to our ongoing Sculpture Garden revitalization project, Jefferson Drive may be unavailable for drop-off on the day of your visit. There is limited metered parking nearby. For bus parking, check out the Smithsonian Institution's suggestions.
WHAT CAN WE BRING?
Bring as little into the Museum as possible. Limited locker space is available for large backpacks, lunches, and coats on our lower level. When entering the Museum, our security team will conduct a thorough hand-check of all bags, purses, containers, and lunch boxes. If you'd like your students to sketch or write in the galleries, pack pencils please. No pens or crayons.
WHERE CAN WE EAT LUNCH?
Art and food don't mix! Please remember that food and drink are not allowed in the Hirshhorn Museum galleries. School groups may bring in bag lunches, though we recommend packing lunches into one bag for a speedier security check. Table seating is very limited in the Hirshhorn Lobby's coffee shop. We strongly recommend student groups use the tables and chairs located on the Hirshhorn's outdoor Plaza. Lunch can also be purchased nearby at: the National Museum of the American Indian, National Museum of American History, National Museum of Natural History, and a number of food trucks on the National Mall. The following link has further information on Smithsonian cafés: http://www.si.edu/Dining.
WHAT SHOULD WE SEE?
Before your visit, check out our before the museum lesson plan, current exhibitions, exhibition guides, and classroom activities.