Yves Klein: With the Void, Full Powers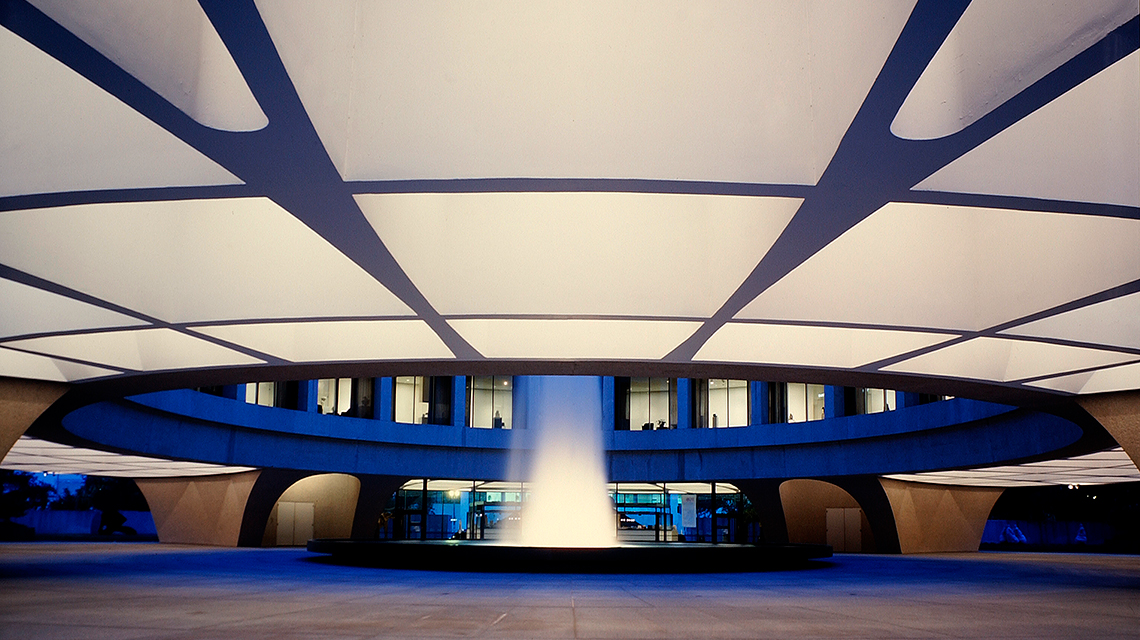 Friday, March 19, 2010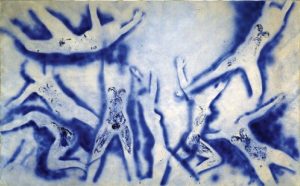 Hirshhorn Museum and Sculpture Garden and the Walker Art Center Present First U.S. Retrospective of Yves Klein's Work in Nearly 30 Years
"I seek, above all, to realize in my own creations…that immeasurable void in which lives the permanent and absolute spirit freed of all dimensions!" —Yves Klein
One of the 20th century's most influential artists, Yves Klein (French, b. Nice, 1928; d. Paris, 1962) took the European art scene by storm in a prolific but brief career that lasted only from 1954 to 1962. "Yves Klein: With the Void, Full Powers," on view at the Hirshhorn May 20 through Sept. 12, 2010, is the first major retrospective of the artist's work in the United States since 1982. Co-curated by the Hirshhorn's deputy director and chief curator Kerry Brougher and Dia Art Foundation director Philippe Vergne, formerly chief curator and deputy director at the Walker Art Center, Minneapolis, the exhibition is co-organized by the Hirshhorn and the Walker and developed in full collaboration with the Yves Klein Archives in Paris.
Presenting approximately 200 works, "Yves Klein: With the Void, Full Powers" explores the full range of the artist's body of work and offers an essential overview and examination of a career that marked a key transition in twentieth-century art. His work embodied an understanding of art beyond a western conception of modernity, beyond the object and beyond traditional notions of what art can be. "Klein's short but intense career is a pivotal moment in contemporary art history. His work questioned what art and even society could be in the future, and it provided new pathways leading to Pop Art, Minimalism, conceptual art, installation, and performance," Kerry Brougher explains. The exhibition features examples from all of Klein's major series, from his iconic blue monochromes and Anthropometries to sponge reliefs, Fire Paintings, "air architecture" projects, Cosmogonies and planetary reliefs as well as many works that have rarely been on view. The installation provides insight into the artist's process and conceptual endeavors through an array of ephemera, including sketches, photographs, letters and writings. Several films, including performances and documentaries, further demonstrate Klein's creative practice. As Philippe Vergne observes, "I would like that when people leave the exhibition they leap into a void, leaving behind traditional notions of art and representation, but even more importantly, questioning the notion of materiality and materialism in art as well as in their lives. Ultimately, Klein's lesson is about a different way of being together."
Numerous objects are on loan directly from the Yves Klein Archives, with additional loans from the Musée national d'art moderne, Centre Pompidou in Paris, Kunstmuseen Krefeld in Krefeld, Germany, The Menil Collection in Houston, the Museum of Contemporary Art in Tokyo, the San Francisco Museum of Modern Art and a host of international private collections, including a rare loan from the Monastery of Saint Rita in Cascia, Italy.
Klein was an innovator and visionary whose goal was no less than to radically reinvent what art could be in the postwar world. Through a diverse practice, which included painting, sculpture, performance, photography, music, architecture and writing as well as plans for projects in theater, dance and cinema, he shifted the focus of art from the material to "immaterial sensibility"; he levitated art above the weariness induced by the Second World War, resurrecting its avant-garde tendencies, injecting a new sense of spirituality and opening doors for much that followed in the 1960s and beyond.
Self-identified as "the painter of space," Klein sought to achieve immaterial sensibility through pure color, primarily an ultramarine blue of his own invention—International Klein Blue (IKB). This exhibition begins by examining Klein's early explorations of color with works in pastels, watercolors and more than fifteen colored monochromes created during the mid-to-late 1950s. Several significant blue monochromes, dating from as early as 1955 up through 1961, are on view. Klein further pushed boundaries in his engagement with color and form by using pure pigment in tandem with unconventional materials, such as natural sponges. The sponge, which Klein incorporated into his practice in the late 1950s, became a metaphor, as its porous surface completely absorbed his signature color, giving a material presence to the immaterial.
Among Klein's best-known works are the Anthropometries, begun in 1958. Under the artist's direction, nude female models were smeared with IKB paint and used as "living brushes" to make body prints on prepared sheets of paper. Klein wanted to record the body's physical energy, and the resulting images represent the model's temporary physical presence. More than an expression of the inner psyche of the artist, these paintings offer one method of giving visual presence to a cosmic, spiritual body, which neither photography nor film can fully capture. Seven works from this series are on view, including "People Begin to Fly" (1961) from The Menil Collection and "Untitled Anthropometry" (1960) from the Hirshhorn's collection, which features the bodies of Klein and his future wife Rotraut Uecker.
In the late 1950s, but most notably in 1961, Klein began to use fire, which he considered "the universal principle of expression," as part of his creative process. His Fire Paintings, such as "Untitled Fire Painting" (1961), in which fire either replaced or was combined with paint, embody concepts of process, transformation, creation, destruction, dissolution and elemental cosmology that were so 
essential throughout his career. The final galleries of the exhibition include examples from Klein's "air architecture" projects, including drawings, plans and models for architectural spaces, such as fountains and walls, constructed out of natural elements like air, water and fire—elements that were not  traditionally associated with architecture.
Klein created what he considered his first artwork when he signed the blue sky above Nice in 1947, making his first attempt to capture the immaterial. In his celebrated 1958 exhibition "Specialization of Sensibility in the Raw Material State of Stabilized Pictorial Sensibility," better known as "The Void," at Galerie Iris Clert in Paris, Klein went further by emptying the gallery of all artworks and painting the walls white. Among those who attended the renowned exhibition was Albert Camus, who reacted with a notable entry into the visitors' album: "with the void, full powers."  In his famous "Leap into the Void" (1960) image by Harry Shunk and Janos Kender, which was published Nov. 27, 1960 in the faux newspaper "Dimanche," which he created for the second Avant-Garde Art Festival, Klein is actually depicted leaping into space himself; the accompanying text asserts: "…to paint space, I must be in position. I must be in space."
Defying the common understanding and definitions of art—from his experiments with architecture made of air to his leap into the void—Klein aimed to rethink the world in spiritual and aesthetic terms. His philosophy was revolutionary and demonstrated his acute grasp of the contemporary moment, from the horror of the Second World War to the promise of space travel. This presentation of his full oeuvre is essential to discern the shift from modern to contemporary practice and to reveal the extent of the artist's influence.  
The exhibition is co-organized by the Smithsonian's Hirshhorn Museum and Sculpture Garden in Washington, D.C., and the Walker Art Center in Minneapolis. The exhibition travels to the Walker Art Center, opening Oct. 23, and closing Feb. 13, 2011. The exhibition is made possible by major support from Martha and Bruce Atwater, Judy Dayton, and The Andy Warhol Foundation for the Visual Arts. Additional generous support provided by Constance R. Caplan and Lewis and Barbara Shrenksy. Major support for the Yves Klein catalogue is provided by Sotheby's, with additional support from L & M Arts. Official airline is Delta Air Lines. Glenstone and the Lisa and Steven Tananbaum Foundation provided generous support for the presentation at the Hirshhorn.
A fully illustrated catalog accompanies the exhibition, containing critical essays by curators Brougher and Vergne, Klein scholar Klaus Ottmann, art historian Kaira Cabañas and curator Andria Hickey. The book also includes archival materials and translations of Klein's published and unpublished writings and is distributed in the United States by D.A.P. (Distributed Arts Publishers). The catalog is designed to evoke "Untitled Sculpture" (1957), Klein's wall installation of blue cubes, a work included in this exhibition, for the blue exterior bears no text and the page edges are printed to match the cover, giving the appearance of a solid block of International Klein Blue.
Related Programs
On Thursday, May 27, at 5:30 p.m., exhibition curator Brougher and experts in a range of fields will explore different facets of Klein's career in a gallery event, "The Many Faces of Yves." Following the gallery conversations, a special performance inspired by the artist's "Monotone-Silence Symphony" will take place in the Lerner Room at 7:30 p.m. For a full calendar of related events, please visit our website at hirshhorn.si.edu. 
The Hirshhorn offers a range of interactive educational experiences designed to engage people of all interest levels in contemporary art. Friday Gallery Talks are weekly, informal chats with artists and scholars that focus in-depth on one work during a lunchtime tour. The museum's ever-expanding library of podcasts (featured on iTunes in the top 100 Arts and Entertainment podcasts) make walk-throughs of galleries and interviews with artists accessible internationally.