Hi, Art Lover. Meet Art Maker.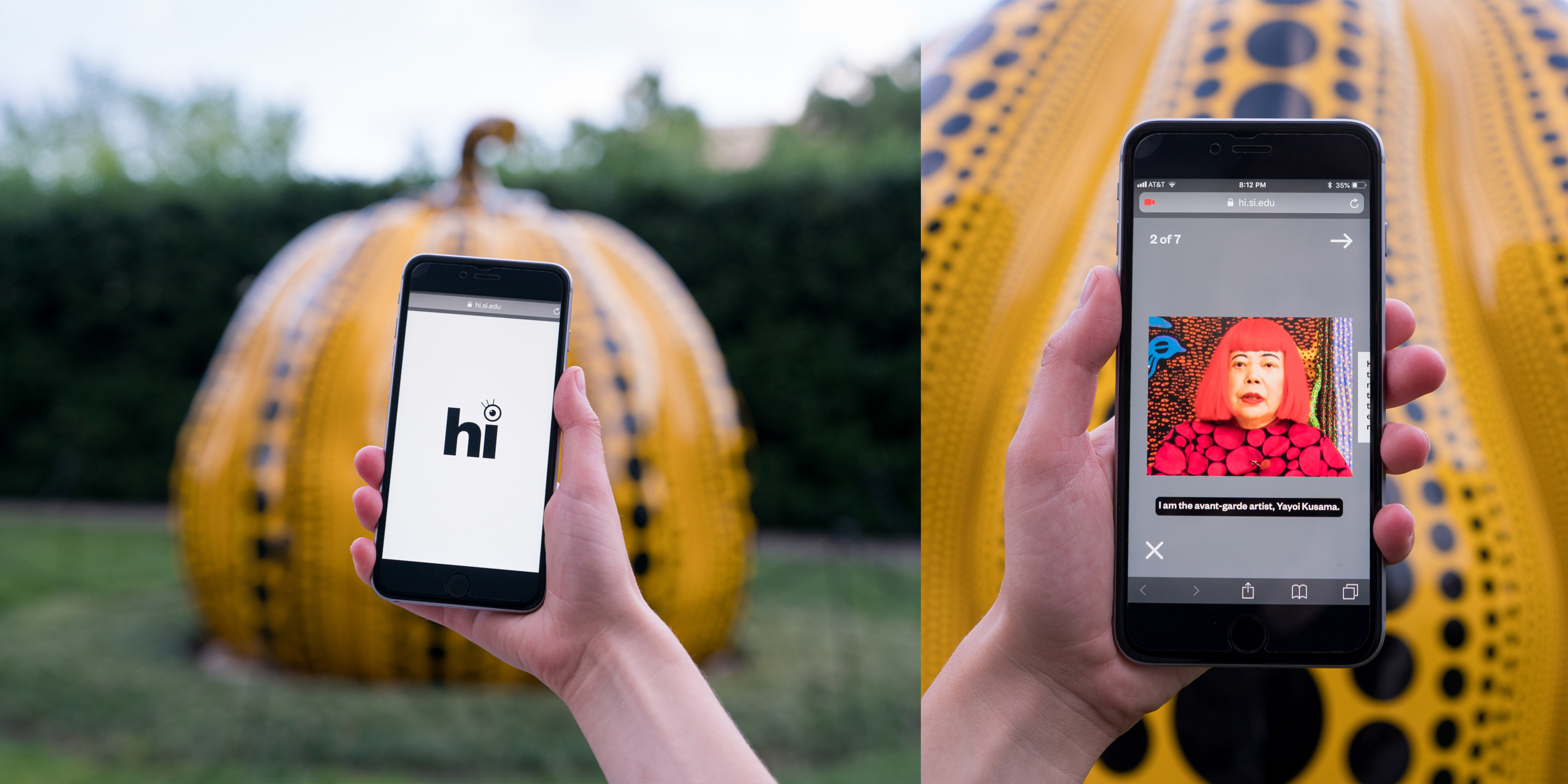 June 26, 2018
HI, ART LOVER. MEET ART MAKER.
Your new instant mobile guide to exclusive artist videos and personal insights.
Hirshhorn Eye (Hi for short) is a revolutionary new, in-gallery instant art guide that brings visitors face-to-face with artists by delivering compelling original videos through any visitor's smartphone. To get started, simply enter hi.si.edu in your phone's browser. As you move through the galleries, Hi uses the latest in image recognition technology to scan the art on view—from 3D sculpture to installation, even the D.C. skyline—to instantly unlock exclusive artist interviews and insights.
Hirshhorn Eye offers:
An instant connection with the artists behind the art on view, exploring the "how" and "why" of contemporary art.
More than 150 pieces of exclusive content, including video, audio and insider info on nearly 50 artworks and installations, from Yayoi Kusama's "Pumpkin" to Mark Bradford's "Pickett's Charge." The museum's entire third floor is "activated" with additional stops in the lower level, lobby and outdoor Plaza.
23 original videos featuring world-renowned artists at launch, with more coming soon
Video visual descriptions for visitors who are vision-impaired and captions for those who are hearing-impaired.
Featured artists include:
Ed Atkins
José Bedia
Mark Bradford
Olafur Eliasson
Damien Hirst
Nancy Kienholz
Jeff Koons
Joseph Kosuth
Yayoi Kusama
Annette Lemieux
Tony Lewis
Reynier Leyva Novo
Glenn Ligon
Inge Mahn
Teresa Margolles
Charles Simonds
Lorna Simpson
Hiroshi Sugimoto
Siebren Versteeg
Didier Vermeiren
Huang Yong Ping 
Getting started is easy:
Go to hi.si.edu on your Android phone or iPhone, on browsers Chrome iOS 11 and higher or Safari iOS 58 and higher.
Download the native app in the iTunes App Store and Google Play. 
Hirshhorn Eye is the museum's first custom-developed digital product:
Its web-based platform and sophisticated image recognition go beyond the technology of previous museum mobile guides.
Three leading vendors collaborated for the first time: Linked by Air (development), Antenna International (content), and Captain and the Fox (videos), all of whom worked with Hirshhorn curators, educators and focus groups over the past year.
Behind the scenes, Hi is seeded with more than 800 images, allowing it to instantly recognize any artwork from any angle, even complex installations and multimedia sculpture.
Hirshhorn Eye was made possible by Janine and J. Tomlinson Hill and the Sydney E. Frank Foundation
---
About the Hirshhorn
The Hirshhorn Museum and Sculpture Garden is the national museum of modern and contemporary art and a leading voice for 21st-century art and culture. Part of the Smithsonian, the Hirshhorn is located prominently on the National Mall in Washington, D.C. With nearly 12,000 paintings, sculptures, photographs, mixed-media installations, works on paper and new media works, its holdings encompass one of the most important collections of postwar American and European art in the world. The Hirshhorn presents diverse exhibitions and offers an array of public programs on the art of our time—free to all, 364 days a year. For more information, visit hirshhorn.si.edu.