Hirshhorn Announces "Talking to Our Time," Weekly Live Conversations With Renowned Global Artists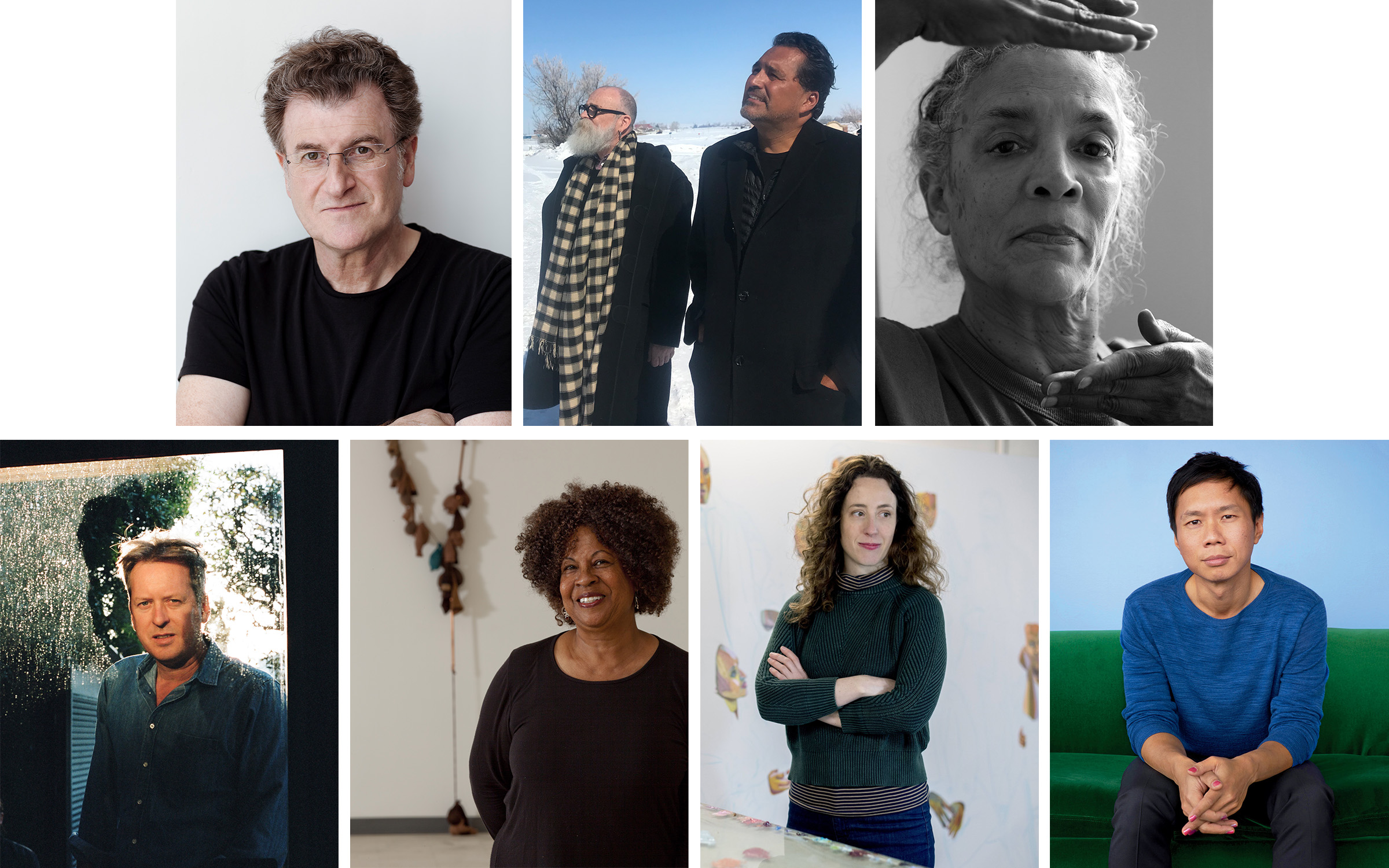 July 22, 2020
Hirshhorn Announces "Talking to Our Time," Weekly Live Conversations With Renowned Global Artists
Free Online Artist Talks, July 22–Sept. 2, 2020
The Hirshhorn Museum and Sculpture Garden will present "Talking to Our Time," a series of free online public artist talks, July 22–Sept. 2. This is the first time that the museum will host conversations with leading global artists every week, resulting in seven talks over the span of seven consecutive weeks over the course of the summer. Digital audiences from around the world will be able to watch live as renowned creatives, joined by Hirshhorn curators, engage in the crucial conversations that are happening on a global scale. "Talking to Our Time" is derived from the Hirshhorn's commitment to serve as a national platform for contemporary artists to respond to history in real time, featuring a diverse group of artists and collectives—including Doug Aitken, AA Bronson, Paul Chan, Maren Hassinger, Alfredo Jaar, Monument Lab (Paul Farber and Ken Lum), Senga Nengudi, Aliza Nisenbaum and Adrian Stimson—who will offer unique perspectives.
By making artists' voices available online, the Hirshhorn aims to share the transformative power of art with larger and more varied communities, forming a network that connects artists and audiences around the world. The museum took its popular artist talk format online for the first time on May 13 with artist Kent Monkman, which was attended virtually by an audience of art-lovers who tuned in from around the world, and allowed the Hirshhorn to host an audience twice the capacity of the museum's Ring Auditorium.The series is part of #HirshhornInsideOut, an ongoing effort to share the Hirshhorn's artworks, expertise and public programing at a time when the museum's campus is temporarily closed.
"By making the leading artists of our time accessible to audiences around the world, the museum is able, even in physical closure, to fulfill our mission," said Hirshhorn Director Melissa Chiu. "When we worked with Arthur Jafa to stream his video, 'Love is the Message, The Message is Death' for 48-hours in June, we reached viewers in 157 countries. There's a global appetite for art and we are driven to satisfy."
Each "Talking to Our Time" program will take place on Zoom and will be recorded and made available soon after on the Hirshhorn's YouTube channel. Communication access real-time translation (CART) will be provided for each program. Any questions about accessibility for this series can be sent to hirshhornexperience@si.edu.
These events are part of the Hirshhorn's diverse range of free public programs, which invite today's leading innovators in art, design, music and technology to explore ideas that shape 21st-century culture.
(At Home) On Art and Human Rights: Artist Talk with Alfredo Jaar
Wednesday, July 22; 8 p.m. EDT
Free, registration required
Chilean artist, architect and filmmaker Alfredo Jaar will debut "Between the Heavens and Me," a somber and elegiac meditation on the Covid-19 pandemic in New York. Following the online premiere of the 13-minute film, Jaar will join Hirshhorn Chief Curator Stéphane Aquin for a discussion on his belief in the power of art to address the traumatic events that challenge culture. "Between the Heavens and Me" is the artist's submission to the museum's ongoing Hirshhorn Artist Diariesvideo archive. Based in New York, Jaar makes work that addresses many of the horrors of our time, from torture and genocide to the public's desensitization to media images of human rights violations such as war and famine. His "Cries and Whispers" was on view recently in the Hirshhorn's "Manifesto: Art x Agency." Like many artists featured in the exhibition, Jaar advocates for the power of art to offer a unique perspective on the major issues that we face, to inspire a better understanding of different worldviews and to ultimately effect change.
(At Home) On Art and Collaboration: Artist Talk with Senga Nengudi and Maren Hassinger
Wednesday, July 29; 12 p.m. EDT
Free, registration required
Artists Maren Hassinger and Senga Nengudi will join Hirshhorn Senior Curator Evelyn Hankins for a discussion on their respective cross-disciplinary practices and their longstanding collaboration, which dates back to the early 1970s. Hassinger's practice includes sculptures, videos and performances that reflect her background in fiber arts, sculpture and dance. She believes that issues of vanishing nature, politics and discrimination among people are related to our inability to see ourselves as one. Nengudi likewise works across a wide range of media, but is particularly well-known for sculptures that combine natural and synthetic materials to explore connections between visual arts, dance, body mechanics and matters of the spirit. Her work "R.S.V.P. X" (1977/2014) entered the Hirshhorn's collection in 2015 and was featured in "Masterworks from the Hirshhorn Collection" the following year. The decades-long collaboration between Hassinger and Nengudi reflects their shared interest in movement and performance, as exemplified by Hassinger's activation of Nengudi's "R.S.V.P." sculptures.
(At Home) On Art and Community: Artist Talk with Aliza Nisenbaum
Wednesday, Aug. 5; 8 p.m. EDT
Free, registration required
Mexican-born artist Aliza Nisenbaum will join Hirshhorn Assistant Curator Betsy Johnson for a discussion about her vibrant, community-based portraits, which have taken on new meaning during this time of social isolation. Nisenbaum's best-known artworks are intimate portraits of fellow immigrants—a natural outgrowth of her volunteer work on projects such as artist Tania Bruguera's Immigrant Movement International (IMI)—many of whom are undocumented and accustomed to living in a state of relative invisibility. She has developed a practice that is founded upon an attitude of openness and collaboration with her models, empowering them to make choices about how they are represented and soliciting their feedback throughout the process. A salsa dancer since her teens, the artist frequents social arenas, such as salsa dance clubs, to observe how people assemble in spaces that offer community, and sometimes sanctuary, for groups that often face scrutiny for their age, gender, nationality or sexual orientation. Nisenbaum's painting, "Mis Cuatro Gracias (Brendan, Camilo, Carlos, Jorge) ("The Four Graces")," a strong image that encompasses themes of body awareness, queerness and social inclusion, entered the Hirshhorn's permanent collection in 2020.
(At Home) On Art and the Screen Age: Artist Talk with Paul Chan
Wednesday, Aug. 12; 12 p.m. EDT
Free, registration required
Artist, writer and publisher Paul Chan will join Hirshhorn Associate Curator of Media and Performance Art Marina Isgro for a talk on Chan's evolving approach to the moving image and his recent writings on art's role in moments of crisis. Born in Hong Kong and raised in Nebraska, American artist Chan addresses sprawling themes including violence, joy, apocalypse and utopia across a variety of media. In 2002, he traveled to Baghdad with Voices in the Wilderness, an aid and activist group opposed to the US-led invasions. In the early 2000s, Chan also gained attention for his animated digital videos, which address historical utopian movements and the horrors of war. In 2010, he founded the experimental publishing house Badlands Unlimited, which was devoted to publishing writings by and with artists in print and digital forms. In recent years, having hit what he calls "peak screen," Chan has turned away from video and projection to create moving sculptures, or "breathers," that are powered by air. He exhibited one of these works in his 2015 Hugo Boss Prize exhibition "Nonprojections for New Lovers,"and has since shown them internationally. A recent online survey presented with Art Basel Hong Kong presented twenty years of Chan's works, talks and writings. During the pandemic, Chan has lectured and written on the role of art during periods of social and political upheaval. His "Letter to Young Artists During a Global Pandemic" was published in 4Columnsin May, and his article "Can Metaphysics Help Us Heal the World?" appeared in Friezein June.
(At Home) On Art and Healing: AA Bronson and Adrian Stimson
Wednesday, Aug. 19; 2 p.m. EDT
Free, registration required
Artists AA Bronson and Adrian Stimson will join Hirshhorn Assistant Curator Betsy Johnson for a discussion on their work and recent collaboration to address the fundamental role that art can play in helping us to face unspeakable atrocities, rebuild relationships and trust and find healthy ways to heal and move forward together. Through this conversation, the artists approach the unanswerable question—one posed by Bronson in his work "A Public Apology to Siksika Nation"—of how one can apologize for genocide, if at all. As an artist, healer, curator and educator, Bronsonhas spent over five decades developing work through collaboration. A founding member of artist collective General Idea, he spent 25 years presenting projects that embodied the spirits of punk protest, queer theory and AIDS activism. Since 1994, Bronson has carried on his practice through solo and collaborative projects, many of which incorporate his practice as a healer. Interdisciplinary artist Stimsonworks across painting, performance, sculpture and video to explore and challenge cultural fragility, identity construction, history and loss. Stimson, who identifies as two-spirit and Siksika (Blackfoot), weaves together humor and whimsy with pointed commentary on social justice as he addresses genocide and resilience stemming from his personal experiences attending residential schools, exploring conflicted histories of colonialism and reflecting on the disparities in representations of First Nations people. Stimson explores identity through two recurring personas, Buffalo Boy and the Shaman Exterminator, which are hybrids of the Indian, the cowboy, the shaman and the two-spirit being. In recent years, Bronson and Stimson discovered a complicated shared history through their ancestors. In collaboration for a 2019 gesture of atonement, Bronson and Stimson, with support from the Siksika Nation community, created simultaneous installations addressing these histories, and Bronson delivered "A Public Apology to Siksika Nation," in a book and a performance. The two artists have vowed to continue working together to explore a shared interest in listening with an open heart, rebuilding trust and working toward healing.
(At Home) Artist Talk with Doug Aitken
Wednesday, Aug. 26; 2 p.m. EDT
Free, registration required
Artist and filmmaker Doug Aitken will join Hirshhorn Curator-at-Large Gianni Jetzer for an exploration into his genre defying practice that reimagines participation in art. Aitken is well-loved in DC for his 2012 site-specific work "SONG 1," which transformed the Hirshhorn's iconic donut-shaped building into a 360-degree audiovisual spectacle to the sounds of "I Only Have Eyes for You." The work, now in the Hirshhorn's permanent collection, dramatically shifted the connection between the museum and its urban environment, a monumental example of the artist's ongoing pursuits to discover the unknown and redefine our relationship with art and the world around us. Aitken works across subject matter and media, from film and sculpture to installations and architectural interventions. In 2009, his Sonic Pavilionallowed visitors to hear the sounds the Earth from a continuous live feed from geological microphones situated a couple hundred meters below ground. His 2011 video installation Black Mirrorexplored the alienation of people in constant motion, while his 2015 project Station to Station traveled cross country for three weeks as a train, reimagined as a moving light sculpture, that broadcast content from New York City to San Francisco, only stopping nine times for a series of stationary happenings. His 2016 installation Underwater Pavilionsput the marine environment and the global challenges around ocean conservation in dialogue with art through the creation of three reflective sculptures moored ot the ocean floor. In a strikingly similar exploration of space in a vastly different setting, Miragetakes the form of a home originally installed in the desert and made entirely of mirrors, at once disappearing into and reflecting back on the nature that surrounds it.   
(At Home) On Art and Collective Memory: Artist Talk with Monument Lab
Wednesday, Sept. 2; 12 p.m. EDT
Free, registration required
Curator and historian Paul Farber and artist Ken Lum will join Hirshhorn Associate Curator Anne Reeve for a discussion on their independent art and history studio,Monument Lab, which works across creative and civic disciplines to cultivate critical conversations around monuments and collective memory. As monuments undergo renewed scrutiny, Monument Lab's efforts to reimagine the role of symbols and systems of justice in public space are more important today than ever. Founded by Farber and Lum in 2012, Monument Lab's projects have engaged people in challenging the role of monuments through a combination of citywide art exhibitions, site-specific commissions, research initiatives, online journals, podcasts, workshops and more. The studio emerged from a series of classroom conversations in courses taught by Farber and Lum, and grew through a spirit of collaboration into a project to collect monument proposals from thousands of everyday people. This effort led to a 2017 exhibition of temporary prototype monuments by 20 artists across ten sites in Philadelphia. Since then, the sudio has launched a national fellows program; expanded conversations around monuments, memory and belonging to print and online platforms; and has continued to work with individuals, cultural organizations and municipal governments to shift the understanding and influence of monuments to be more inclusive of a broader perspective.
---
About the Hirshhorn
The Hirshhorn Museum and Sculpture Garden is the national museum of modern and contemporary art and a leading voice for 21st-century art and culture. Part of the Smithsonian, the Hirshhorn is located prominently on the National Mall in Washington, D.C. With nearly 12,000 paintings, sculptures, photographs, mixed-media installations, works on paper and new-media works, its holdings encompass one of the most important collections of postwar American and European art in the world. The Hirshhorn presents diverse exhibitions and offers an array of public programs on the art of our time—free to all, 364 days a year. For more information, visit hirshhorn.si.edu.
---
Images (left to right): Alfredo Jaar, courtesy of the artist; AA Bronson and Adrian Stimson, courtesy of the artists; Maren Hassenger, photo by Grace Roselli; Doug Aitken, photo by Ami Sioux; Senga Nengudi, courtesy of the artist; Aliza Nisenbaum, courtesy of the artist; Paul Chan, photo by Eric Boman for Vogue.