Hirshhorn Announces Tino Sehgal's 'This You'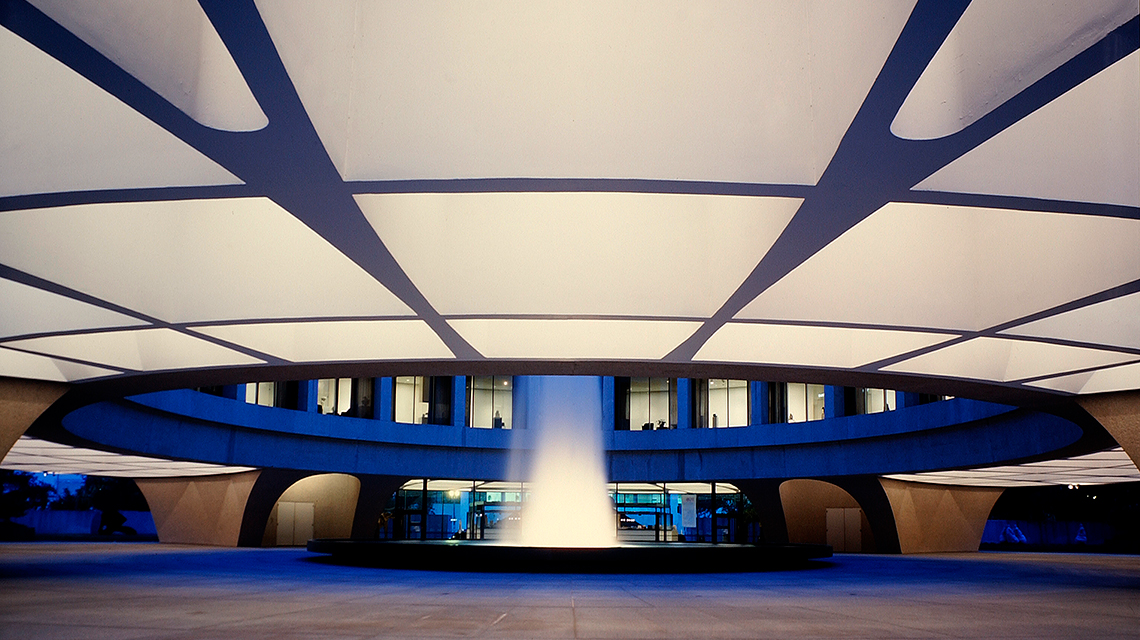 Aug. 9, 2018
Hirshhorn Announces Tino Sehgal's 'This You'
Internationally Acclaimed Artist's Outdoor Work Will Debut Labor Day Weekend
The Hirshhorn Museum and Sculpture Garden has announced the acquisition of "This You," a 2006 work by acclaimed contemporary artist Tino Sehgal. A testament to the museum's dedication to presenting artworks in all media, "This You" is the first exclusively live work to join the Hirshhorn's permanent collection in its 44-year history. Debuting Labor Day weekend and running for six weeks (Sept. 1–Oct. 14), "This You" will manifest itself through a solo female singer operating within a score that requires individual variation. "This You" is an outdoor work, designed to sit alongside public sculpture, and the singer will interact with visitors to the Hirshhorn's Plaza and Sculpture Garden.
At its essence, "This You" is interpersonal in nature, composed of unanticipated, intimate moments that each visitor will experience in their own way. For its inaugural Washington presentation, "This You" will feature Tattiana Aqeel, Erin Frisby, Arielle Goodman, Briona Jackson, Sadie Leigh, Christiana Vandermale, Jahnel Daliya Slowikowski and Lara Supan. A singer will be present at all times that the museum is open throughout the work's entire run.
"For more than a decade the Hirshhorn has demonstrated a unique commitment to the acquisition and presentation of experimental and new media works," said Hirshhorn Director Melissa Chiu. "Tino enters the collection at a significant moment, providing fresh insight and further strengthening the museum's dialogue around contemporary art in all its forms."
Sehgal is one of the most critically acclaimed artists—having developed a radical artistic practice that takes the form of live encounters between people. He describes his works as 'constructed situations,' the materials of which are the human voice, language, movement and interaction, without the production of physical objects.
All of Sehgal's works reside only in the space and time they occupy and in the memory of the work and its reception. Despite its immaterial character, the artist's work fulfills the conventions of visual art and functions fully within the infrastructure of the art gallery or museum. The work is present during the entire duration of an exhibition, it enters public and private collections and exists over time by being repeated.
Throughout his work, Sehgal has explored social processes, conventions and the allocation of rules, thereby redefining fundamental parameters, not only of art making but of society at large: materiality, idea, originality, producer, consumer, owner and value. Trained in political economy and choreography, both fields have played a fundamental role in the development of Sehgal's artistic practice. He pursued both with the same motivation, namely to investigate the feasibility of alternatives to the understanding of production as the transformation of (natural) resources. As he stated in an interview with Tim Griffin for Artforum: "The reason I'm interested in the transformation of actions…is because I think that the appearance of both an excess supply of basic material goods and of the sustainability issue renders the hegemony of the dominant mode of production questionable. Obviously, this doesn't mean to propose an essentialist "No" to material objects in general, but rather leads to the question as to how we could produce things that, on the one hand, aren't problematic and, on the other, are more interesting or complex, or less static."
This key acquisition follows the appointment of Mark Beasley as Robert and Arlene Kogod Secretarial Scholar, Curator of Media and Performance Art, and it continues the museum's long-standing commitment to experimental art.
Support for this presentation is provided by the "Year of German-American Friendship" initiative in 2018/19. The "Year of German-American Friendship" is a comprehensive and collaborative initiative of the Federal Foreign Office, the Goethe-Institut and with support of the Federation of German Industries, highlighting the decades-long relationship grounded in common values, interests and goals.
About the Artist
Sehgal (b. 1976, London) lives and works in Berlin. His work has been the subject of several solo exhibitions, including Officine Grandi Riparazioni, Turin; Kunsten, Aalborg, Denmark (2018); V-A-C Foundation, Moscow; Fondation Beyeler, Switzerland (2017); Jemaa el-Fna, Marrakesh; Palais de Tokyo, Paris (2016); Stedelijk Museum, Amsterdam (2015); Martin-Gropius-Bau, Berlin (2015); Art Gallery of New South Wales, Sydney (2014); Ullens Center for Contemporary Art, Beijing (2013); Tate Modern, London (2012); Solomon R. Guggenheim Museum, New York (2010); and Kunsthaus Bregenz (2006) among others. Sehgal has been selected to participate in notable group exhibitions, such as 12th Havana Biennial (2015); 55th Venice Biennale (2013); Documenta 13, Kassel, Germany (2012); 9th Shanghai Biennale (2012); 8th Gwangju Biennale (2010); 4th Berlin Biennale (2006); and Manifesta 4, Frankfurt (2002). He represented Germany at the 51st Venice Biennale (2005) and was the recipient of the Golden Lion at the 55th Venice Biennale (2013).
---
About the Hirshhorn
The Hirshhorn Museum and Sculpture Garden is the national museum of modern and contemporary art and a leading voice for 21st-century art and culture. Part of the Smithsonian, the Hirshhorn is located prominently on the National Mall in Washington, D.C. With nearly 12,000 paintings, sculptures, photographs, mixed-media installations, works on paper and new media works, its holdings encompass one of the most important collections of postwar American and European art in the world. The Hirshhorn presents diverse exhibitions and offers an array of public programs on the art of our time—free to all, 364 days a year. For more information, visit hirshhorn.si.edu.