Hirshhorn Extends "One with Eternity: Yayoi Kusama in the Hirshhorn Collection" Through Spring 2023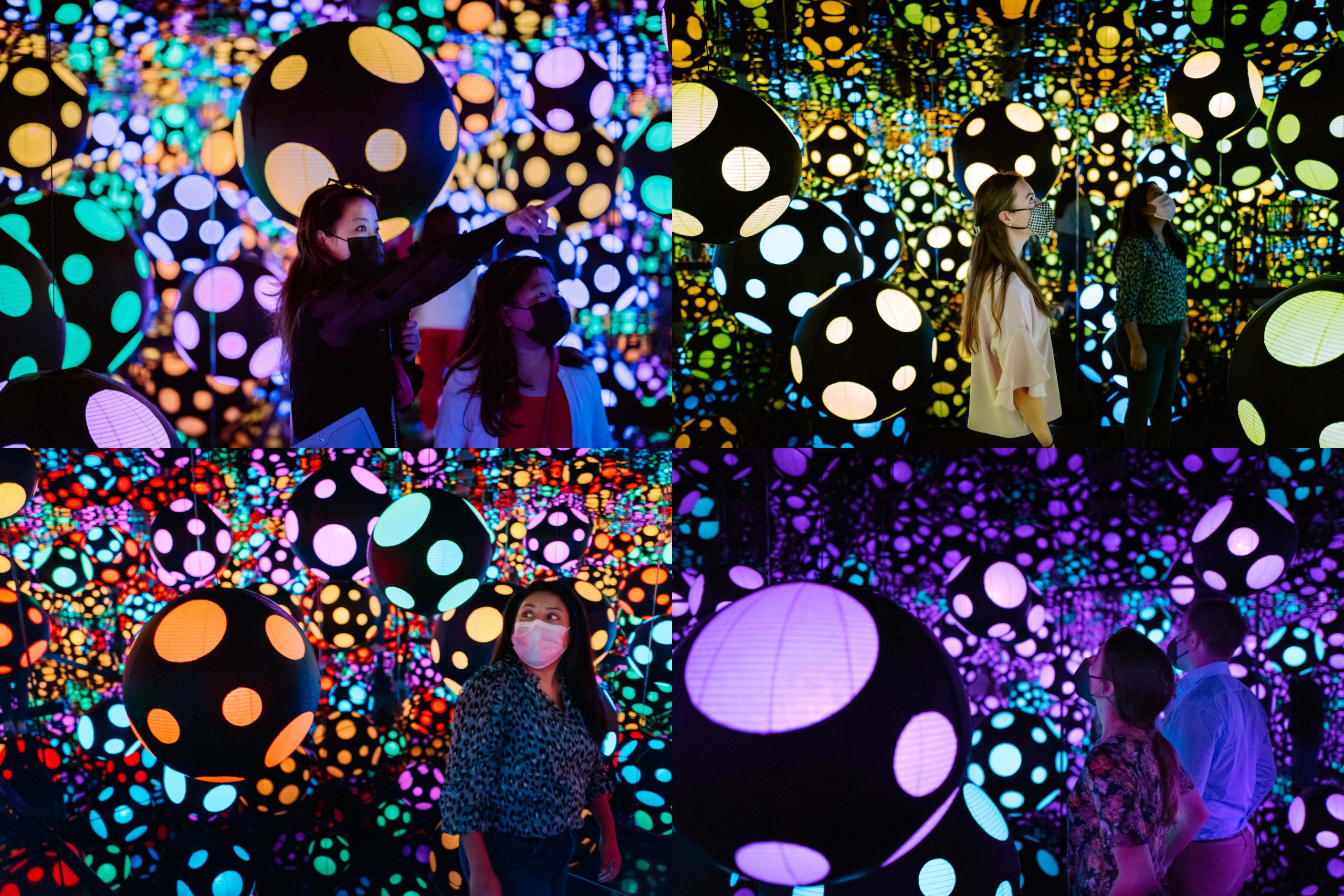 October 26, 2022
Hirshhorn Extends "One with Eternity: Yayoi Kusama in the Hirshhorn Collection" Through Spring 2023
Museum to Introduce Online Distribution of Advanced Timed-Passes Nov. 9
The Smithsonian's Hirshhorn Museum and Sculpture Garden announced today the extension of "One with Eternity: Yayoi Kusama in the Hirshhorn Collection" through spring 2023. The exhibition spotlights the artist's biography and innovative practice in five artworks, including two of her immersive Infinity Mirror Rooms. "One with Eternity" has welcomed more than 140,000 visitors to date.
"We want as many people as possible to experience Yayoi Kusama's transportive artwork at the Hirshhorn," said Museum Director Melissa Chiu. "I'm thrilled to announce a substantial extension and the introduction of online timed-pass distribution so our visitors can plan ahead."
Starting Nov. 9, there will be three ways to gain admission to "One with Eternity":
Free next-day passes to "One with Eternity" will be available exclusively on the museum's website via Etix starting at noon. Museumgoers are invited to book two timed-entry passes per person online, selecting their preferred entry time for the following day as available. Visitors are encouraged to check pass availability and reserve online in advance of their visit. The new online distribution system will replace the in-person distribution of same-day passes on the plaza. Visitors ages 12 and under do not require a pass but must be accompanied by a passholder.
Unclaimed same-day passes will be available online and in person at the museum's welcome desk during public museum hours until all have been distributed.
Hirshhorn Insiders can reserve passes online for any preferred timeslot, one benefit of museum membership.
"One with Eternity" will close Nov. 7-9 for conservation and reopen Nov. 10.
Organized by Assistant Curator Betsy Johnson, "One with Eternity" considers the artist's continuing investigation of space and time within the context of her biography. Central to Kusama's illusions of infinity are two of her Infinity Mirror Rooms, her breakthrough "Infinity Mirror Room—Phalli's Field (Floor Show)" (1965/2017) and "Infinity Mirrored Room—My Heart Is Dancing into the Universe" (2018). For conservation purposes, "The Hill, 1953 A (No. 30)" (1953) and "Flowers-Overcoat" (1964) will be deinstalled. Visitors will encounter "Self-Portrait" (1995), an etching on loan from the National Museum of Asian Art and "Yyaoi Kusama Cp AP" (2003), a photogram of Kusama by Japanese artist Kunié Sugiura.
The legacy exhibition opened April 1, five years after "Yayoi Kusama: Infinity Mirrors," the museum's record-breaking exhibition. Since April 1, 2022, the Hirshhorn has welcomed 527,000 visitors.
"Kusama's artworks have become a gateway for school and community groups, local families and out-of-towners to understand the impact of living artists on our lives," said Chiu. "As the national museum of modern art, this is our mission."
The exhibition is activated through the museum's award-winning smartphone art guide, Hirshhorn Eye (Hi). Visitors scan exhibition artworks using Hi's image-recognition software to unlock artist insights into the Hirshhorn's collection and Kusama's prolific career.
"One with Eternity: Yayoi Kusama in the Hirshhorn Collection" is organized by the Hirshhorn Museum and Sculpture Garden and has been made possible with generous support from La Grande Dame by Veuve Clicquot.
---
About the Artist
Yayoi Kusama (b. 1929, Matsumoto, Nagano, Japan) continues to produce paintings at her studio in Tokyo. She studied traditional Nihonga (Japanese-style) painting in Kyoto before moving to New York City in 1958. There she was active in avant-garde circles during the formative years of Pop art and Minimalism, exhibiting her work alongside such artists as Andy Warhol and Claes Oldenburg—both of whom cited Kusama as influential to the development of Assemblage art, environmental art and performative practices. Kusama exhibited widely in Italy, Germany and the Netherlands in the mid-1960s, participating in exhibitions with artists associated with the Nul, Zero and New Tendency movements in Europe and developing her interest in optics and interactive elements such as mirrors, electric lights, sound and kinetics. Kusama's fame grew in the late '60s through her radical antiwar "Happenings," which featured nudity and polka dots in the streets of New York. Kusama returned to Japan in 1973, where she has since resided. In recent years, Kusama has achieved celebrity status and tremendous critical respect.
---
About the Hirshhorn
The Hirshhorn Museum and Sculpture Garden is the national museum of modern and contemporary art and a leading voice for 21st-century art and culture. Part of the Smithsonian, the Hirshhorn is located prominently on the National Mall in Washington, D.C. Its holdings encompass one of the most important collections of postwar American and European art in the world. The Hirshhorn presents diverse exhibitions and offers an array of public programs on the art of our time—free to all. The Hirshhorn Museum and Sculpture Garden is open daily (except Dec. 25), 10 a.m.–5:30 p.m. For more information, visit hirshhorn.si.edu. Follow the museum on Facebook, Instagram, Twitter and YouTube.
---
Images: Visitors experiencing Yayoi Kusama's "Infinity Mirrored Room—My Heart Is Dancing into the Universe" (2018) at the Hirshhorn Museum and Sculpture Garden. Wood and glass mirrored room with paper lanterns, 119 5/8 x 245 1/8 x 245 1/8 in. (303.8 x 622.6 x 622.6 cm). Courtesy Ota Fine Arts and Victoria Miro, London/Venice. © YAYOI KUSAMA. Purchased jointly by the Hirshhorn Museum and Sculpture Garden, Smithsonian Institution, Washington, D.C. (Joseph H. Hirshhorn Purchase Fund, 2020), and the Albright-Knox Art Gallery, Buffalo, with funds from the George B. and Jenny R. Mathews Fund, by exchange, 2021. Photos by Matailong Du.
---