Hirshhorn Museum and Sculpture Garden Presents "Directions: Amy Sillman, Third Person Singular"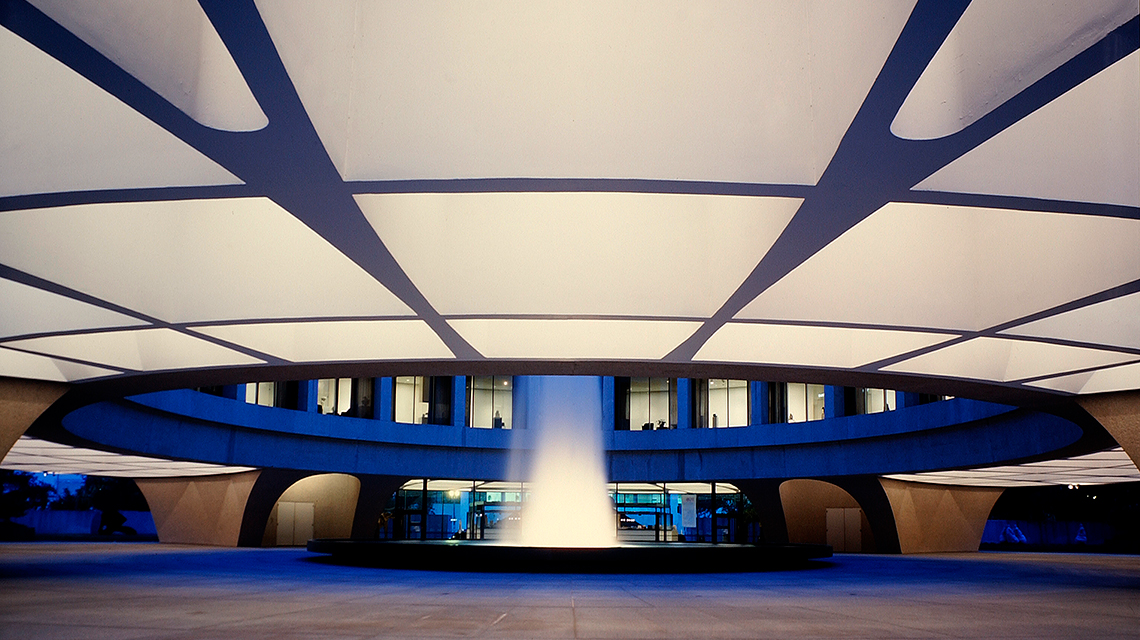 Thursday, February 7, 2008
Media only:    Gabriel Riera    (202) 633-4765; rierag@si.edu
Public only:    (202) 633-1000
Brooklyn-based painter Amy Sillman introduces an entirely new body of work as part of the Hirshhorn's ongoing "Directions" series. Inspired by first-person observation of the human figure and the emotional aspects of being part of a couple, these new paintings and drawings explore the tension between figuration and abstraction. "Amy Sillman, Third Person Singular," on view from March 13 through July 6, presents 13 oil paintings and 12 ink drawings.
Since August 2006, Sillman has been drawing couples from life. Sessions with 17 different couples, many of them close friends, resulted in simple black-ink drawings that have become the starting point for the works presented in "Third Person Singular." After the life-drawing sessions, Sillman makes more drawings of the couples from memory—12 of which have been selected for the show. Simultaneously, the life and memory drawings serve as inspiration for the related paintings on view. 
During the process of creating these new works, both the drawings and paintings become gradually more abstract as the details of the figures are shrouded behind bold strokes and geometric forms. Notably sculptural, the finished paintings are the result of numerous layers and a continuous reworking, erasing and covering over of sections. Sillman embraces abstraction without abandoning representation, resisting any prescribed categories in painting. This creates a sense of tension between areas of levity and weight and between barely visible outlines of body parts and planes of color, sometimes suggestive of domestic architecture.  
Sillman is known for paintings that are intimate, psychological and full of humor and pathos. The new paintings included in "Third Person Singular" use shapes to explore what Sillman calls "pessimistic optimism" or a sense of anxiety within what seems to be an otherwise cheerful image. Beginning with first-person observation, these new paintings ultimately present feelings and anxieties in a formal, abstract language. Sillman deliberately places herself as the third person in a triangle, allowing for a distanced, analytic view while acknowledging her profound connection to her subjects. Sillman maps the space between the first and third persons in order to provoke and seduce the second person: the viewer. 
This year, the "Directions" series marks its 20th year at the Hirshhorn. Conceived as a way to address the vitality, diversity and inventiveness that characterizes contemporary art, the series brings new work of emerging and established artists to Washington, D.C. "Amy Sillman, Third Person Singular" was co-organized by the Hirshhorn and the Frances Young Tang Teaching Museum and Art Gallery at Skidmore College. The exhibition will be on view at the Tang Museum from July 19 to January 4, 2009. 
The presentation at the Hirshhorn is made possible through the generous support of the Trellis Fund, the Holenia Trust Fund II, the Hirshhorn's board of trustees, and contributions to the Annual Circle. This exhibition is organized by Hirshhorn curator Anne Ellegood and Ian Berry, associate director for curatorial affairs and Malloy curator for the Tang Teaching Museum. The accompanying catalog features an essay by Ellegood and an interview between Sillman and Berry. 
Related Programs
An "In Conversation" public program will take place between the artist and exhibition curators Anne Ellegood and Ian Berry on March 14 at 12:30 p.m. in the Hirshhorn's Ring Auditorium. In addition, a podcast of Sillman discussing her work will be available online at www.hirshhorn.si.edu. 
About the Hirshhorn Museum and Sculpture Garden
The Hirshhorn Museum and Sculpture Garden, the Smithsonian's museum of international modern and contemporary art, has some 11,500 paintings, sculptures, mixed media installations and works on paper in its collection. The Hirshhorn maintains an active and diverse exhibition program and offers an array of free public programs that explore the art of our time. The museum, located at Independence Avenue and Seventh Street S.W. is open daily from 10 a.m. to 5:30 p.m. (closed Dec. 25), and admission is free. Visit www.hirshhorn.si.edu for more information or to download Hirshhorn podcasts on the collection and exhibitions, as well as talks with artists and curators.
# # #