Hirshhorn Museum and Sculpture Garden Presents "Directions: Walead Beshty, Legibility on Color Backgrounds"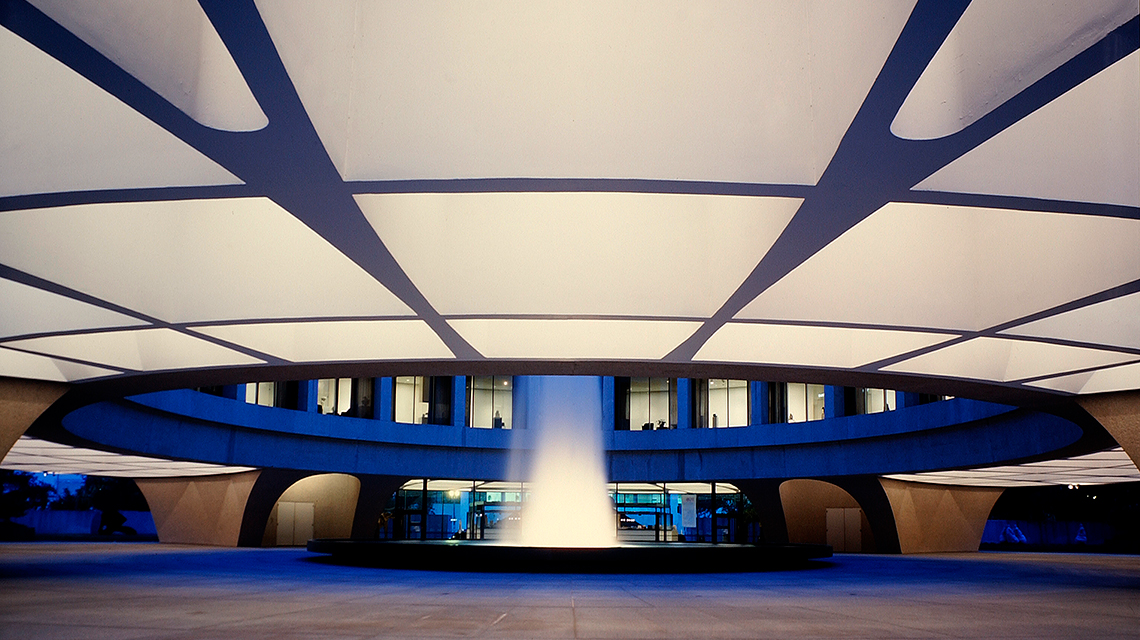 Monday, March 16, 2009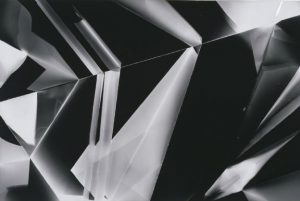 Beshty's "Directions" project features 11 new oversized photograms and a group of glass sculptures––both bodies of work make the artist's process visible to viewers. The photograms update the cameraless photographic method pioneered by early 20th-century artists László Moholy-Nagy and Man Ray. These modern artists produced unique, black-and-white prints by placing objects on photosensitive paper and then exposing them to light. Working in both color and black-and-white, Beshty revises this historical technique by enlarging the scale of his photograms and making use of more contemporary technologies, such as color processors. In addition, rather than placing objects on photographic paper, Beshty folds or curls the paper before exposing it repeatedly to light, creating interlocking facets of prismatic color. The resulting works present themselves as seductive, elusive abstractions, yet they are actually material representations of the very process of their creation.
The titles of the works reassert this fact by detailing each object's production, including the date and site of the darkroom facilities, as these variables influence the final work. The titles also note the type of photographic paper employed, because the paper's physical characteristics, in part, influence both the feasible techniques and resulting forms, an inference to the fact that conventional discussions of photographic images pay little heed to the material matters. 
Beshty's "Directions" project also features a group of shatterproof glass sculptures fabricated to fit in standard-sized FedEx boxes. The pieces are then shipped via FedEx, rather than professional art shippers, between the artist's studio and each exhibition venue. Evocative of both Marcel Duchamp's "The Large Glass" and later Minimalist sculptures, Beshty's glass boxes acquire additional cracks each time they are exhibited, thereby providing a visual trace of their physical movements and, more broadly, of the trafficking of contemporary art objects. The title of each glass sculpture denotes the various venues to which it was shipped, including the tracking number and transit time. Beshty's titling method emphasizes the equal weight that chance and predetermined rules play in the creation of both his photograms and his sculpture: The artist is unable to predict the visual form that his works will take, nor can he reproduce a specific composition, even if he follows the same proscribed process. 
"Directions" highlights the vitality, diversity and inventiveness that characterize contemporary art. The series has brought new work by emerging and established artists to Washington, D.C., since 1987. This exhibition is made possible in part by Trellis Fund and the Peter Norton Family Foundation and is organized by Hirshhorn associate curator Evelyn Hankins.
Related Programs
On May 1, at 12:30 p.m., Hankins and Beshty discuss his "Directions" project in a free "In Conversation" public program.
About the Hirshhorn Museum and Sculpture Garden
The Hirshhorn Museum and Sculpture Garden, the Smithsonian's museum of international modern and contemporary art, has some 12,000 paintings, sculptures, mixed-media installations and works on paper in its collection. The Hirshhorn maintains an active and diverse exhibition program and offers an array of free public programs that explore the art of our time. The museum, located at Independence Avenue and Seventh Street S.W., is open daily from 10 a.m. to 5:30 p.m. (closed Dec. 25), and admission is free. Visit www.hirshhorn.si.edu for more information or to download Hirshhorn podcasts on the collection and exhibitions, as well as talks with artists and curators.
# # #