Hirshhorn Museum Appoints Global Superstar and Entrepreneur J Balvin Inaugural Cultural Ambassador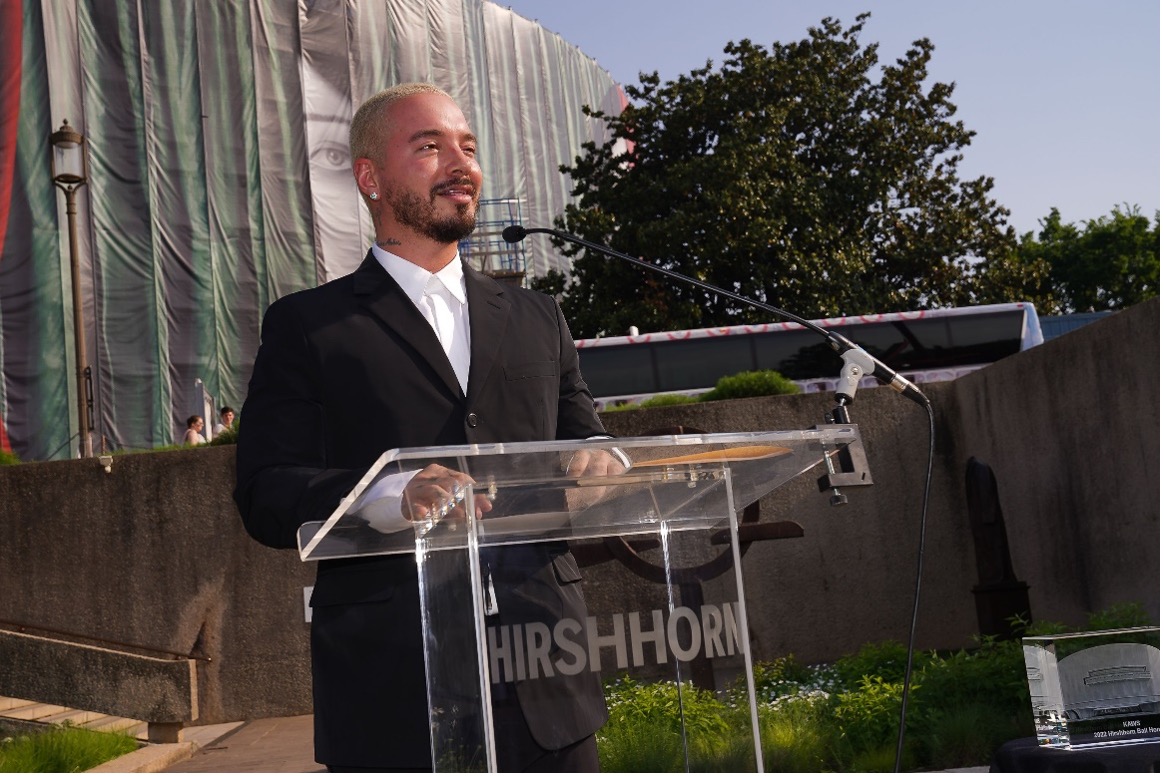 November 15, 2022
Hirshhorn Museum Appoints Global Superstar and Entrepreneur J Balvin Inaugural Cultural Ambassador
The Hirshhorn Museum and Sculpture Garden today announced J Balvin, global superstar and entrepreneur as its inaugural cultural ambassador. This landmark honor makes the Latin Grammy-winner the first artist to receive this special designation designed to connect young global creatives with the most exciting art, artists and ideas.
"I am honored to confirm the appointment of J Balvin as the Hirshhorn's inaugural cultural ambassador," said Melissa Chiu, Hirshhorn director. He will engage in our award-winning educational programs on and beyond our campus in Washington DC."
J Balvin will support the intersection of global culture and artistic innovation with the Hirshhorn through unique video and social media content to share art and ideas digitally as well as in-person engagements.
"It's an honor to be associated with a museum that is centered in contemporary art, has a strong national and global reach, and believes art is for everyone," J Balvin said. "I understand how important creative self-expression can be in promoting mental health and wellness. I am proud to support the Hirshhorn's mission to connect a global audience with the museum's innovative art education programs, especially for young adults."
"J Balvin is the perfect artistic ambassador for the Hirshhorn," said Dan Sallick, Hirshhorn board chair. His creativity, love of contemporary art and massive multi-cultural appeal will help us reach new and diverse audiences around the world."
Given his highly decorated body of work that spans various sectors and industries, Balvin proves to be a perfect fit to be the first musical artist anointed as Hirshhorn's cultural ambassador. Renowned for his genre-crossing musical influence and ability to break artistic barriers, Balvin is a pioneering voice and source of empowerment for emerging artists, different cultural communities, and more. On the fashion front, Balvin is always incorporating a unique twist on any look, and his trendsetting style encourages people to embrace their individuality through creativity. He has been one of the first Latinx's to forge partnerships with notable brands across lucrative categories, including groundbreaking collaborations with GUESS and Jordan Brand. While he has many monumental successes in the music and fashion spaces, Balvin considers contemporary art an equally important pillar of who he is and consistently strives to weave the worlds of evocative art, fashion and music.
In addition to his passion for supporting global art, innovation, and raising awareness for mental health and creative wellness, Balvin holds the record for the most number one songs on the Billboard Latin Airplay chart and was the first Latin artist to reach one billion streams on Apple Music. The Latin Grammy Award-winner is the first Spanish-speaking artist to headline marquee festivals: Coachella, Lollapalooza and Tomorrowland. He is known for his collaborations with leading global artists including Beyoncé, Ed Sheeran, Skrillex, Murda Beatz and Rosalía.
J Balvin launched his relationship with the Hirshhorn in spring 2021 when he led a group of global artists by placing the first-ever virtual wish on Yoko Ono's "Wish Tree" (2007). In May, he presented the 2022 Hirshhorn Artist Award to the pioneering Brooklyn-based artist KAWS in the museum's Sculpture Garden, adding his handwritten wish to Ono's artwork. The superstar will work with the museum to raise awareness of its permanent collection and public engagement in English and Spanish with short original videos on Hirshhorn Eye, the museum's award-winning smart phone guide; engage with young creatives via ArtLab, the Hirshhorn's maker-space for emerging artists ages 13-19; and contribute to the recognition and advancement of public art education programs.
"By virtue of being a contemporary art museum, the Hirshhorn works in bold, unexpected ways," Chiu said. "Our collaboration, the first of its kind, stands to energize global audiences by connecting them with the most exciting artists of our time including J Balvin."
---
About the Hirshhorn
The Hirshhorn Museum and Sculpture Garden is the national museum of modern and contemporary art and a leading voice for 21st-century art and culture. Part of the Smithsonian, the Hirshhorn is located prominently on the National Mall in Washington, D.C. Its holdings encompass one of the most important collections of postwar American and European art in the world. The Hirshhorn presents diverse exhibitions and offers an array of public programs on the art of our time—free to all. The Hirshhorn Museum is open Thursday-Sunday, 10 a.m.-5:30 p.m. The outdoor sculpture garden is open daily 10 a.m.–4:30 p.m. For more information, visit hirshhorn.si.edu. Follow the museum on Facebook, Instagram, Twitter and YouTube.
---
About J Balvin
J Balvin is a highly decorated global superstar and entrepreneur with wins across Billboard Music Awards, American Music Awards, Latin GRAMMY's and many others. Originally hailing from Medellín, Colombia, the illustrious reggaeton superstar is one of the best-selling Latin music artists with sales of more than 35 million records worldwide. He has steadfastly broken cultural barriers and become one of the Top 10 most globally streamed artists, developing legions of fans worldwide. With passions spanning across music, fashion, art and mental health, Balvin continues to lead the charge for representation across industries. Furthering his initiative for mental health awareness and the importance of mental health resources, the global icon recently launched OYE, a bilingual, mental health and creative wellness app in both Spanish and English. With his finger on the pulse of the worlds of entertainment, fashion, digital culture and beyond, Balvin has time and again proven to be an unstoppable force and inspiration to emerging artists, entrepreneurs and the Latinx community. 
---
Credit: J Balvin in the Hirshhorn Sculpture Garden, May 20, 2022. Photographer: Tony Powell. Courtesy of the Hirshhorn Museum and Sculpture Garden.