Hirshhorn Museum Presents Light Works from the Collection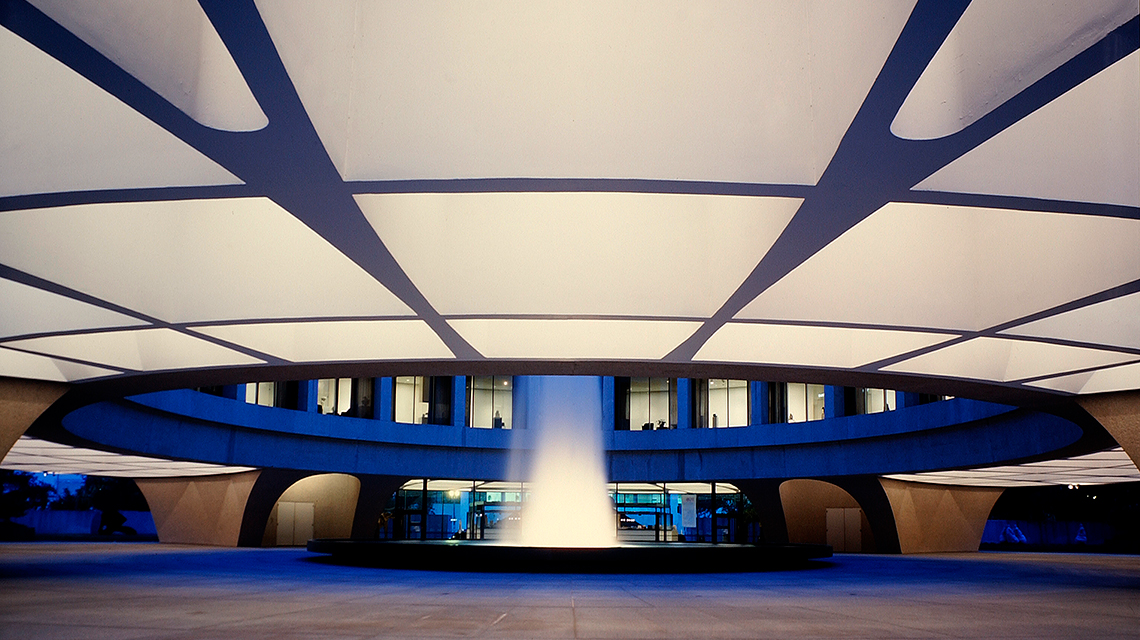 Media only:
Gabriel Einsohn (202) 633-2822; einsohng@si.edu 
Gabriel Riera (202) 633-4765; rierag@si.edu 
Public only: 
(202) 633-1000; www.hirshhorn.si.edu
The Hirshhorn Museum and Sculpture Garden presents "Refract, Reflect, Project: Light Works from the Collection," a new installation of works created by international artists from the late 1950s to the present. The exhibition is on view from Feb.15 through April 8 and features objects from the collection in which light—as substance and subject—is central. While the artworks vary in medium and approach, the common use of light gives viewers the opportunity to explore decades of art historical production from a fresh point of view in an engaging environment accessible to all audiences.
"The experiential nature of these works invites viewers to interact with contemporary art in a dynamic environment," said Hirshhorn Director Olga Viso.
Light has been linked to fundamental questions of vision and perception for centuries, leading artists to experiment with ways to depict its physical properties and ephemeral qualities. The exhibition elucidates the variety of methods and conceptual approaches artists use to explore light, including kinetic art, sculpture, immersive environments, photography and experimental film. The works in the exhibition employ both natural and artificial light to illuminate, interact with and occupy physical space in ways that either capture attention or deflect the gaze.
Among the international artists featured are Giovanni Anselmo, Jordan Belson, Chryssa, Dan Flavin, Hiroshi Sugimoto, James Turrell, Thomas Wilfred and Gregorio Vardanega. The exhibition also highlights recent acquisitions by such artists as Olafur Eliasson, Spencer Finch, Christoph Girardet and Iván Navarro. Later this year, Spencer Finch's "Cloud (H2O)" (2006), a sprawling, ceiling-mounted sculpture configured with three-pronged light fixtures representing the molecular makeup of water, will be reinstalled in the Lerner Room.
In 1968, James Turrell and Robert Irwin experimented with achieving altered states of consciousness through sensory deprivation by inhabiting fields of shadowless light and lightless chambers free of echoes. By exposing their minds and bodies to extreme conditions, they sought to understand the aesthetics of light and space. James Turrell's "Milk Run" (1996) is a light projection of fluorescent tubes and colored gels that illuminate a single gallery. The division of light creates shimmering colors that shift in relation to the viewer's movement in the space. "Refract, Reflect, Project" presents a surprising array of works, which together propose that light, in all its simplicity and ubiquity, can, as Turrell has said, "make you understand what really is."
A highlight of the exhibition is Olafur Eliasson's "Round Rainbow" (2005), which combines a spotlight mounted on a tripod and a circle of acrylic glass. This prism device transforms a gallery into a dynamic space bathed in rainbows of light and shadow. In a work that is scientific in one respect and sensual in another, the installation brings a phenomenon usually experienced in nature into the museum, encouraging people to interact with their environment in new ways.
Iván Navarro's "Flashlight: I'm not from here, I'm not from there" (2006) a "wheelbarrow" made from color sleeves and fluorescent tubing, references the groundbreaking light sculptures of Dan Flavin (also on view) but adds a social context. An accompanying video documents a performance in which a solitary character wheels the cart along desolate train tracks, periodically stopping to change the color of its lights. The action is set to the song of the same title by Julio Iglesias, which tells the story of a resourceful drifter as he wanders the city. The piece, both melancholy and optimistic, evokes ideas of displacement and loss of identity alongside demonstrations of ingenious survival and regeneration.
This exhibition is organized by associate curator Anne Ellegood and is located on the second level of the museum. For a schedule of programming related to this exhibition, visit www.hirshhorn.si.edu.
The Hirshhorn Museum and Sculpture Garden, the Smithsonian's museum of international modern and contemporary art, encompasses some 11,500 paintings, sculptures, mixed media installations and works on paper. The Hirshhorn maintains an active exhibition program and offers an array of free public programs that explore the art of our time. The museum, located at Independence Avenue and Seventh Street S.W., is open daily from 10 a.m. to 5:30 p.m. (closed Dec. 25), and admission is free.
# # #