Hirshhorn Receives Transformative Gift of Chinese Photography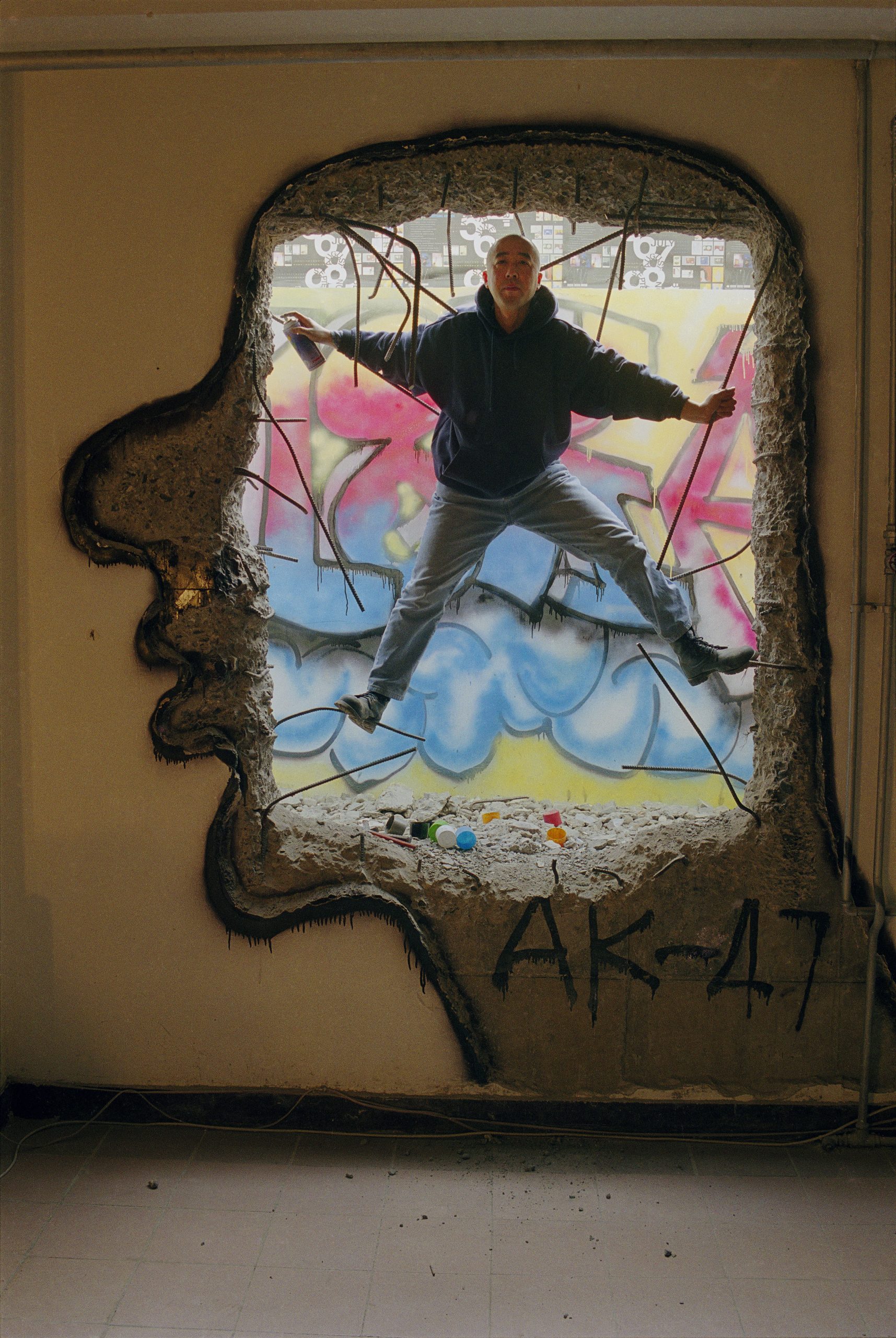 October 21, 2022
Hirshhorn Receives Transformative Gift of Chinese Photography
"A Window Suddenly Opens: Contemporary Photography in China," to Include Promised Gift of 141 Artworks, Opens Nov. 4
The Smithsonian's Hirshhorn Museum and Sculpture Garden announced today the museum's first survey of photography by leading multigenerational Chinese artists made between the 1990s and 2020s. "A Window Suddenly Opens: Contemporary Photography in China" (Nov. 4-Jan. 7, 2024) will showcase 186 artworks made between 1993 and 2022.
A selection of 141 are a promised gift to the Hirshhorn from Larry Warsh, pioneering collector of Chinese art. Among the 25 artists represented are Cang Xin, Cao Fei, Lin Tianmiao, LuYang and Song Dong.
"This promised gift establishes the Hirshhorn as a preeminent American chronicle of the introduction of photography as a conceptual practice in China," said Hirshhorn Director Melissa Chiu. "This collection confirms a deliberate break in tradition as photography became an established artistic discipline in academic institutions and artists shifted their practices toward individual self-expression. We are honored to welcome these artists into the national collection of modern and contemporary art."
"It is a joy to collaborate with the Hirshhorn and present this important area of global contemporary photography to the public," said Larry Warsh. "It is my wish that this promised gift inspires future donations to the Hirshhorn Museum and Sculpture Garden, so that the past, present and future of this field are represented."
"A Window Suddenly Opens" will chronicle how, over three decades, emerging Chinese artists independently embraced the immediacy of print and digital photography, recorded performance and video art during an unprecedented cultural shift away from the priority of the collective to a revived focus on the self. Among the roster of 25 participating artists to first engage with this trend are Cang, Cao, Lin, LuYang and Song. Artists such as Hong Hao, Huang Yan, Qiu Zhijie, Sheng Qi and Zhang Dali questioned individualism in a rapidly mechanizing environment, responding in and to the moment with candor.
The exhibition's title is drawn from a 1997 publication, a near manifesto, by Rong Rong and Liu Zheng that celebrated the possibilities in shifting the practice of photography away from realism toward a conceptual art practice.
The installation begins with a series of 36 sequential photographs by conceptual artist Song Dong presented in the museum's second-floor escalator lobby. "Stamping the Water" (1996) captures a performance in the Lhasa River in Tibet during which the artist repeatedly stamped the water with a large wooden seal, evoking the impermanence of human expression.
An adjacent installation, "Continuous Reproduction" (1993) by Zhang Peili also highlights the impermanence of recent history. This series of 25 black and white photographs introduces a foundational propaganda-style image, a smiling young woman in Maoist garb, reproduced until its narrative fades.
The exhibition's subsequent galleries focus on the famous Beijing's East Village (1993-1994), a once thriving yet short-lived artist haven known for its dissident performance art scene. Ma Liuming is represented by "Fen-Ma Liuming Walks the Great Wall" (1998), photographs depicting the provocative artist's feminized alter ego walking nude along the ancient landmark. A series of photographs taken between 1994-1997 by Rong Rong captures the intensity of performative actions by Cang Xin, Ma Liuming, Zhang Huan, and others in the short-lived community.
The following galleries introduce artists whose photographic work reconsiders the recent past, including Hong Lei's various staged tableaux referencing the cultural traditions of the Chinese Literati, a class of scholar-artists that formed during the Song dynasty (960-1279). Huang Yan's work employs his bare chest and back as a canvas upon which his wife painted traditional landscapes, and these works serve as a reminder of an idealized natural world. Hong Hao and Qiu Zhijie address changing identities, piquing the emerging middle and upper classes in a series of images that depict young capitalist personas sporting ties and cell phones.
Cinematic panoramas by Lin and Wang Qingsong unfold across the inner ring galleries. Rolling landscapes form a sublime backdrop for Lin's delicately wrapped bicycles and boulders in monochromatic works "Go?" (2001) and "Growing" (2003), while Wang's "Romantique" (2003) toys with the influence of Western goods and culture, reimagining an Eden of European masterpieces by the likes of Botticelli, Manet and Millet in a twenty-one-foot-long technicolor tableau.
The exhibition concludes with works made by artists Cao and LuYang, who embrace the virtual dimensions of a fleeting present and unknown future. Visitors will encounter three of Cao Fei's most important projects: her video work parodying workplace culture, "Rabid Dogs" (2002); "Cosplayer Series" (2004), which captures young urbanites dressed for fantasy roleplay in everyday settings; and stills from "RMB City" (2007), the artist's elaborate digital re-imagining of Beijing in the original metaverse Second Life.
"The promised gift by Larry Warsh adds another exciting global dimension the Hirshhorn collection," said Hirshhorn Board Chair Dan Sallick. "The ability to share groundbreaking Chinese contemporary photography on the National Mall further enhances our mission to serve national and international audiences. The Warsh gift, combined with our recent gift of more than 50 major artworks, including 35 by Marcel Duchamp, from the collection of Aaron and Barbara Levine, continues to build the depth and breadth of the Hirshhorn's world-class collection."
Artists featured in "A Window Suddenly Opens" include Cang Xin, Cao Fei, Chen Shaoxiong, Cui Xiuwen, Gu Dexin, Hai Bo, Hong Hao, Hong Lei, Huang Yan, Lin Tianmiao, LuYang, Ma Liuming, Qiu Zhijie, Rong Rong, Sheng Qi, Song Dong, Song Yongping, Wang Jinsong, Wang Qingsong, Weng Fen, Xing Danwen, Zhang Dali, Zhang Huan, Zhang Peili and Zhuang Hui.
A forthcoming catalogue copublished by Yale University Press will include contributions by Chiu, Assistant Curator Betsy Johnson, and scholars Claire Roberts, Orville Schell, Karen Smith and Taliesin Thomas, as well as original texts by 18 of the artists in the exhibition.
The exhibition is activated through the museum's award-winning smartphone art guide, Hirshhorn Eye (Hi). Visitors scan exhibition artworks using Hi's image-recognition software to unlock insights from 17 artists.
---
About the Hirshhorn Collection
The Hirshhorn's permanent collection includes leading artists from the late 19th century to the present day and comprises paintings, sculptures, photographs, mixed-media installations, works on paper and new-media works. The Hirshhorn has one of the most comprehensive collections of modern sculpture in the world, with many examples on view indoors and in the Sculpture Garden.
An active global acquisitions program continually adds work to the Hirshhorn collection in all media, with an emphasis on new work and the work of artists exhibiting at and collaborating with the museum. Artists such as Ai Weiwei, Mark Bradford, David Hammons, Mona Hatoum, Robert Irwin, Yoko Ono, Raphael Montañez Ortiz, Susan Philipsz, Adrian Piper, Gerhard Richter, Doris Salcedo and Rachel Whiteread are represented by major works. Global modernism is also a collecting focus, and recent additions include works by Monir Shahroudy Farmanfarmaian, Natsuyuki Nakanishi and Park Seo-bo. African American artists recently entering the collection include Charles Gaines, Arthur Jafa, Jennie C. Jones, Senga Nengudi, Sondra Perry and Henry Taylor.
---
About the Hirshhorn
The Hirshhorn Museum and Sculpture Garden is the national museum of modern and contemporary art and a leading voice for 21st-century art and culture. Part of the Smithsonian, the Hirshhorn is located prominently on the National Mall in Washington, D.C. Its holdings encompass one of the most important collections of postwar American and European art in the world. The Hirshhorn presents diverse exhibitions and offers an array of public programs on the art of our time—free to all. Presently, the Hirshhorn Museum and Sculpture Garden is open daily (except Dec. 25), 10 a.m.-5:30 p.m. For more information, visit hirshhorn.si.edu. Follow the museum on Facebook, Instagram, Twitter and YouTube.
---
Image: Zhang Dali, 1993 31, 1999. © Zhang Dali. Promised gift. Collection of Larry Warsh.