New Dates Announced for Krzysztof Wodiczko's Projection on the Hirshhorn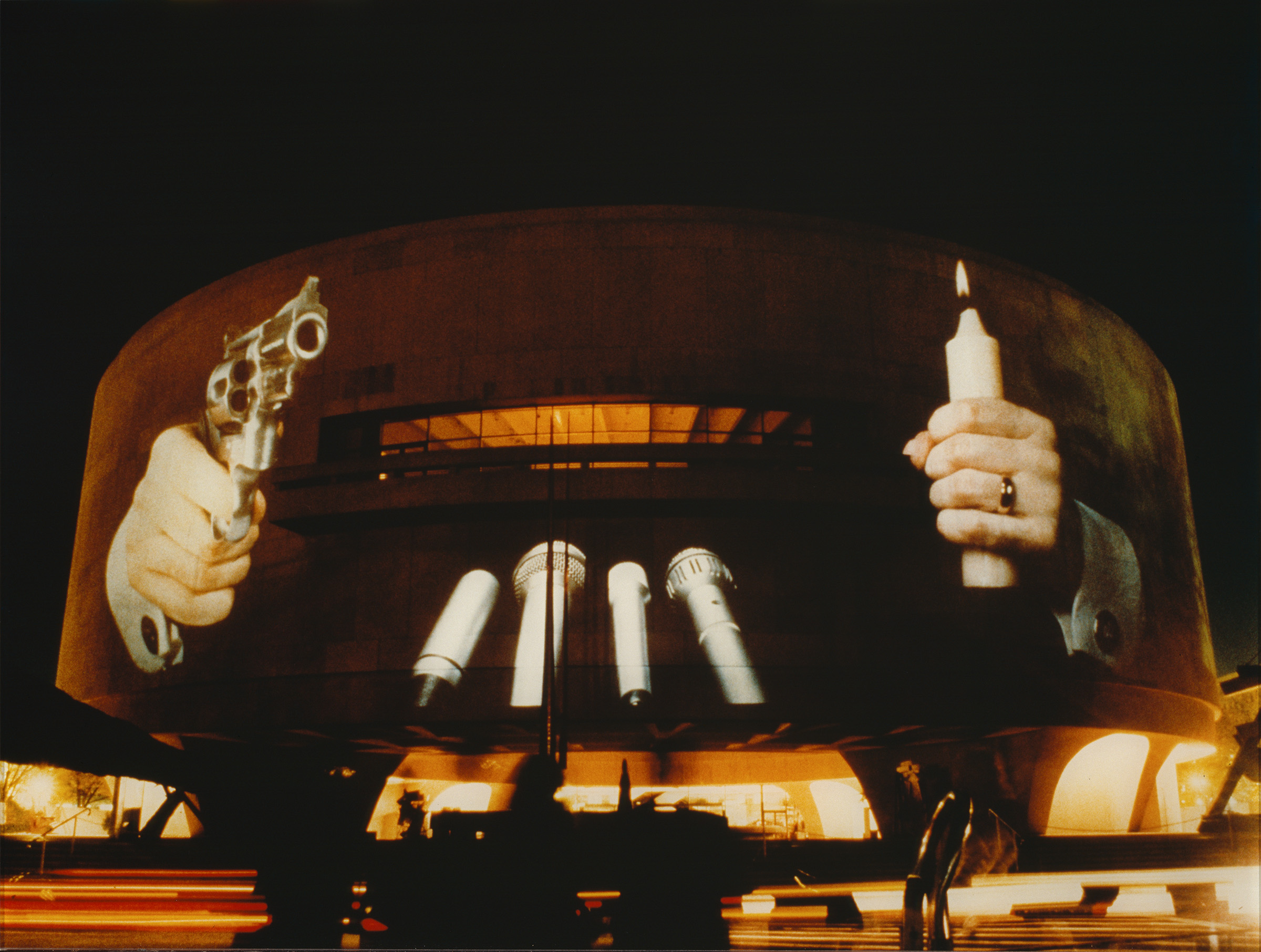 Feb 27, 2018
New Dates Announced for Krzysztof Wodiczko's Projection on the Hirshhorn
1988 artwork restaged as part of current exhibition "Brand New" Art and Commodity in the 1980s"
The Hirshhorn Museum and Sculpture Garden announces new dates for the restaging of the large-scale outdoor projection "Hirshhorn Museum, Washington, D.C." by artist Krzysztof Wodiczko, rescheduled for Mar. 7, 8 and 9, 7–9:30 p.m.
Out of sensitivity and respect for the victims and families in the immediate aftermath of the Feb. 14 school shooting in Parkland, Fl., the Hirshhorn postponed the final two nights of the projection's initial presentation, which had been planned for Feb. 13, 14 and 15. The projection was presented the night of Feb. 13.
The decision to postpone––and selection of new dates––was made in close collaboration with the artist. The artist will be able to return to Washington, D.C., for the restaging.
The three-story-tall installation, commissioned by the Hirshhorn and created specifically for its curved architecture, first debuted in 1988. At that time, Wodiczko was at the forefront of a new interest in public art, and his work, including "Hirshhorn Museum, Washington, D.C.," reflects an increased political awareness in the art of the period, spurred by forces such as the rise of homelessness, the AIDS epidemic and the polarization of U.S. politics.
Wodiczko's large-scale projections borrow from film and advertisements of the day, which used oversized pictures to elicit an emotional reaction in the viewer. By projecting such images on monuments and other public institutions, he raised awareness around social issues of the 1980s.
The projection coincides with "Brand New: Art and Commodity in the 1980s," an exhibition exploring the clash of art, commodity and brand in the 1980s. The group show also includes Wodiczko's "Homeless Vehicle No. 5." (1988–89), a device designed to provide homeless individuals with some form of autonomy.
The Hirshhorn will be open to the public on the evenings of Mar. 7, 8 and 9, 7–9:30 p.m.
---
About the Hirshhorn
The Hirshhorn Museum and Sculpture Garden is the national museum of modern and contemporary art and a leading voice for 21st-century art and culture. Part of the Smithsonian, the Hirshhorn is located prominently on the National Mall in Washington, D.C. With nearly 12,000 paintings, sculptures, photographs, mixed-media installations, works on paper and new media works, its holdings encompass one of the most important collections of postwar American and European art in the world. The Hirshhorn presents diverse exhibitions and offers an array of public programs on the art of our time––free to all, 364 days a year. For more information, visit hirshhorn.si.edu.
---
Image: Krzysztof Wodiczko, "Hirshhorn Museum, Washington, DC," 1988. Public projection at the Hirshhorn Museum, Washington, DC, October 25-27, 1988. Courtesy the artist and Galerie Lelong, New York.