STORYTIME: MARTIN'S BIG WORDS
Art communicates. Explore the power of words and images at this week's Storytime. We'll look closely at Belief + Doubt by artist Barbara Kruger, read aloud Martin's Big Words by Doreen Rappaport, and we'll practice using our own big words (and images and symbols!) to explore fairness, love, and our own power in making the world a better place.
Meet in the Museum Lobby on Level One.
---
Do this at home! What do you want to change? Assemble a collage inspired by Loïs Mailou Jones's Challenge—America. Choose a cause that you care about,  and then arrange and rearrange images to create a collage that inspires change in your community! Instructions here.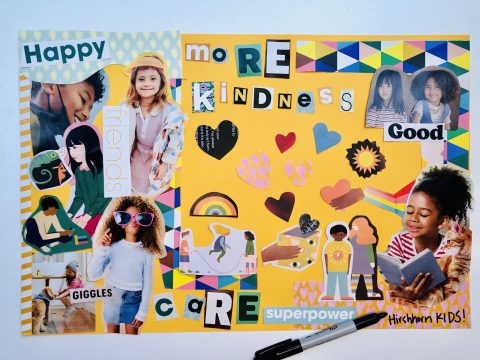 ---
ABOUT STORYTIME
Join Hirshhorn Kids on Wednesdays for a one-of-a-kind Storytime experience!
Each week offers a fun and fresh theme for kids (from birth to age 8) and their caregivers. We encourage all to get hands-on with our art maker projects inspired by the Hirshhorn's collection, plus enjoy read-alouds filled with music, tales, and tons of movement.
Storytime is always free, no reservations or tickets required.
Museum doors will open at 10am, where our Hirshhorn Kids staff will happily greet you in the Lobby and share the day's program. Feel free to play in the Lobby while others get settled—the Storytime group will leave for the galleries at 10:15am.
Nursing caregivers are welcome. Stroller parking is available in the Hirshhorn Lobby and on the Lower Level. If there are access services or accommodations that can make your experience more inclusive (e.g., ASL interpretation), please contact hmsgeducation@si.edu . 1-2 weeks advance notice is recommended but not required.
Art Cart: Conversation Collage
Have you ever seen a work of art that covers an entire room (even the floors!)? Get inspired by artist Barbara Kruger at this week's Art Cart! Young artists will take a close look at Kruger's work, Belief+Doubt, and then make their own collages using paper, string, and more!
Find the Art Cart on the Lower Level and pick up your collage materials.
---
Do this at home! Artist Tony Lewis loved Calvin and Hobbes when he was a boy. Inspired by a love of the "funny pages," his artwork repurposes old comics into poems. Instructions here.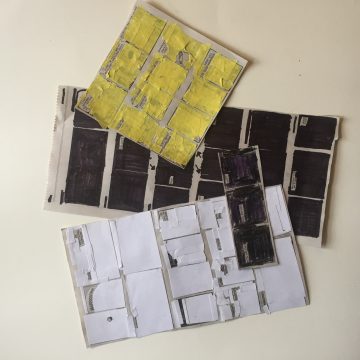 ---
ABOUT THE ART CART
Want to make art inspired by your favorite Hirshhorn works on view? The Art Cart offers young artists a hands-on maker experience during their visit to the Hirshhorn. Each week's Art Cart offers a fresh and fun theme featuring an artwork on view, an artmaking activity to do at the Museum, and kids projects to extend the fun at home! 
The Art Cart is free; no registration required. Drop in any Thursday between 10am-12pm. 
Stroller Parking is available in the Lobby and the Lower Level.