STORYTIME: SNOWY DAY
Have you ever walked on snowy ground, crunching footprint patterns into the ground? Explore the season of winter at this week's Storytime. We'll read Snowy Day by Ezra Jack Keats, look closely at Hiroshi Sugimoto's artwork Two Circles, and create collaboratively with winter-inspired art making and play! 
Meet in the Museum Lobby on Level One.
---
Do this at home!  Make your mark in paint with this project inspired by artist Annette Lemiuex, but adapted for your bathtub. Instructions here.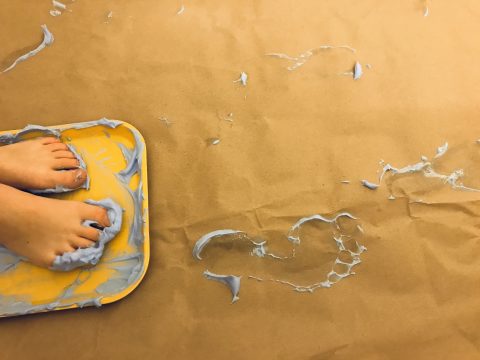 ---
ABOUT STORYTIME
Join Hirshhorn Kids on Wednesdays for a one-of-a-kind Storytime experience!
Each week offers a fun and fresh theme for kids (from birth to age 8) and their caregivers. We encourage all to get hands-on with our art maker projects inspired by the Hirshhorn's collection, plus enjoy read-alouds filled with music, tales, and tons of movement.
Storytime is always free, no reservations or tickets required.
Museum doors will open at 10am, where our Hirshhorn Kids staff will happily greet you in the Lobby and share the day's program. Feel free to play in the Lobby while others get settled—the Storytime group will leave for the galleries at 10:15am.
Nursing caregivers are welcome. Stroller parking is available in the Hirshhorn Lobby and on the Lower Level. If there are access services or accommodations that can make your experience more inclusive (e.g., ASL interpretation), please contact hmsgeducation@si.edu . 1-2 weeks advance notice is recommended but not required.
Art Cart: Welcome Winter
Welcome winter with an exploration of nature! Young artists will look closely at the nutmeg tree tables by artist Hiroshi Sugimoto and make their own tree-shaped wearable piece of art. 
Find the Art Cart on the Lower Level. 
---
Do this at home! Make a wish tree for 2023. Share your wishes with family, friends, and neighbors. Instructions here.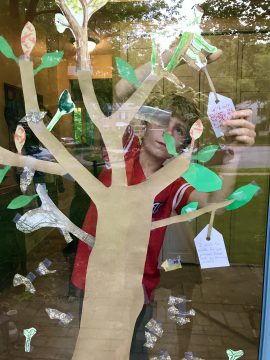 ---
ABOUT THE ART CART
Want to make art inspired by your favorite Hirshhorn works on view? The Art Cart offers young artists a hands-on maker experience during their visit to the Hirshhorn. Each week's Art Cart offers a fresh and fun theme featuring an artwork on view, an artmaking activity to do at the Museum, and kids projects to extend the fun at home! 
The Art Cart is free; no registration required. Drop in any Thursday between 10am-12pm. 
Stroller Parking is available in the Lobby and the Lower Level.