Baseera Khan's sculpture The Liberator (2022) points to ongoing and global struggles for justice, as well as the complicated relationships between Western museums, capital, and cultural identity. The artwork, representative of Khan's multi-faceted practice, was awarded the final commission in the six-episode television series, The Exhibit: Finding the Next Great Artist, featured on MTV and the Smithsonian Channel, produced in collaboration with the Hirshhorn as part of an initiative to share art and art-making with a national audience.
The artist presents a 3-D printed acrylic bust rendered after digitally manipulating a scan of their own body, created in response to Naro Dakini, an 18th-century sculpture of a Buddhist deity in the permanent collection of the National Museum of Asian Art. For Khan, the Dakini is a supreme being in female form entrusted to liberate women. Khan incorporates locks of their own hair in this work, and manipulated the figure, slicing through at the body's chakras—traditional ayurvedic energy centers—to convey the physical, mental and spiritual difficulties that accompany liberation and feminine power. The Liberator touches on many themes present in Khan's larger artistic practice, including the relationships between objects and their related economies, between desire and belonging, witnessing and surveillance, and larger connections between politics and culture.
The artist composed this work for the final episode of The Exhibit: Finding the Next Great Artist, which aired on MTV and the Smithsonian Channel this spring. Over the course of the docuseries, Khan and their cohort, Jamaal Barber (Atlanta), Frank Buffalo Hyde (Northfield, Minnesota), Misha Kahn (Brooklyn, New York), Clare Kambhu (Queens, New York), Jillian Mayer (Miami) and Jennifer Warren (Chicago) were tasked with creating original commissions in response to pressing topics of our time such as the pandemic and social media.
---
ABOUT THE ARTIST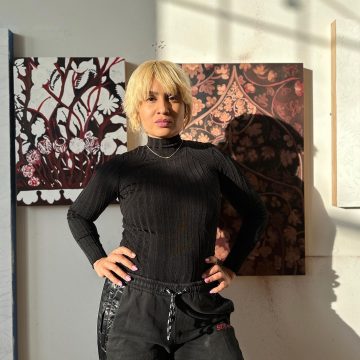 Baseera Khan (b. 1980; Denton TX), is a New York-based performance, sculpture, and installation artist whose work explores materials and their economies, and the effects of these relationships upon labor, family structures, religion, and spiritual well-being. Khan was the subject of a solo exhibition at the Brooklyn Museum in 2021 and has presented work at other institutions across the country, including the Aspen Art Museum; New Orleans Museum of Art; Sculpture Center in New York; and Wexner Center for the Arts in Columbus, OH. Khan's performances have also premiered at the Brooklyn Museum and Whitney Museum of American Art. Their work is in the public collections of the Solomon R. Guggenheim; Whitney Museum; Brooklyn Museum; Walker Art Center, Minneapolis, MI; and New Orleans Museum of Art.
---
Videos