(At Home) On Culture and Climate: Artist Talk with John Akomfrah and Olafur Eliasson
"Who can we trust with our collective future?" A question posed by artist John Akomfrah—raised in relation to his epic video work, Purple (2017), which offers a visual meditation on the effects of human progress on the planet—sums up an important issue our global society is facing today. At a time when futures feel uncertain for many reasons, many creatives have turned their eyes toward raising awareness of environmental issues, using culture as a platform to bolster evidence provided by science that we are at a moment of collective crisis.
Artists Akomfrah and Olafur Eliasson join National Geographic Magazine editor in chief Susan Goldberg for a discussion on their significant work as both artists and advocates for climate reform, while touching on the ways that artists engage with the important issues of their time and employ art as a tool in the making and shaping of history.
---
About the Speakers
John Akomfrah is a hugely respected artist and filmmaker, whose works are characterized by their investigations into memory, post-colonialism, temporality, and aesthetics. Akomfrah was a founding member of the influential Black Audio Film Collective, which started in London in 1982 alongside artists David Lawson and Lina Gopaul, who he still collaborates with today through Smoking Dog Films (1998- present). Their first film, Handsworth Songs (1986) explored the events surrounding the 1985 riots in Birmingham and London through a charged combination of archive footage, still photos, and newsreel. The film won several international prizes and established a multi-layered visual style that has become a recognizable motif of Akomfrah's practice. Other works include the three-screen installation The Unfinished Conversation (2012), a moving portrait of the cultural theorist Stuart Hall's life and work; Peripeteia (2012), an imagined drama visualizing the lives of individuals included in two sixteenth-century portraits by Albrecht Dürer; and Mnemosyne (2010), which exposes the experience of migrants in the UK, questioning the notion of Britain as a promised land by revealing the realities of economic hardship and casual racism. In 2021, the Hirshhorn acquired Akomfrah's six-channel video work Purple in collaboration with the Institute of Contemporary Art Boston.
Olafur Eliasson's art is driven by his interests in perception, movement, embodied experience, and feelings of self. He strives to make the concerns of art relevant to society at large. Art, for him, is a crucial means for turning thinking into doing in the world. Eliasson's works span sculpture, painting, photography, film, and installation. Not limited to the confines of the museum and gallery, his practice engages the broader public sphere through architectural projects, interventions in civic space, arts education, policy-making, and issues of sustainability and climate change. In 2012, Eliasson and engineer Frederik Ottesen founded the social business Little Sun. This global project provides clean, affordable energy to communities without access to electricity, encourages sustainable development through sales of Little Sun solar-powered lamps and chargers, and raises global awareness of the need for equal access to energy and light. In 2019, Eliasson was appointed as the Goodwill Ambassador for renewable energy and climate action by the United Nations Development Programme.
Susan Goldberg served as editor in chief of National Geographic and editorial director of National Geographic Partners. As editorial director, she led all journalism across platforms, including digital journalism, magazines, podcasts, maps, newsletters and Instagram. She was named editorial director in October 2015 and editor in chief of National Geographic Magazine in April 2014. She was the tenth editor, and first female editor, of the magazine since it was first published in October 1888. Before her employment at National Geographic, Goldberg was executive editor for federal, state, and local government coverage for Bloomberg News in Washington. In addition to awards for journalism, Goldberg has been recognized repeatedly for leadership. In 2013, she was voted one of Washington's 11 most influential women in the media by Washingtonian magazine; In March 2015, Goldberg received the Exceptional Woman in Publishing Award from Exceptional Women in Publishing. In 2017 and again in 2019, Washingtonian named Goldberg among the most powerful women in Washington across professions. In 2020, InStyle magazine included Goldberg on its "Badass 50" list, naming her as No. 7 in its issue about "women who are changing the world," and she was selected as one of Folio's Top Women in Media for having an "exceptional impact" on the direction of the industry. Goldberg now serves as a Vice Dean and Professor of Practice at Arizona State University.
---
Featured Artworks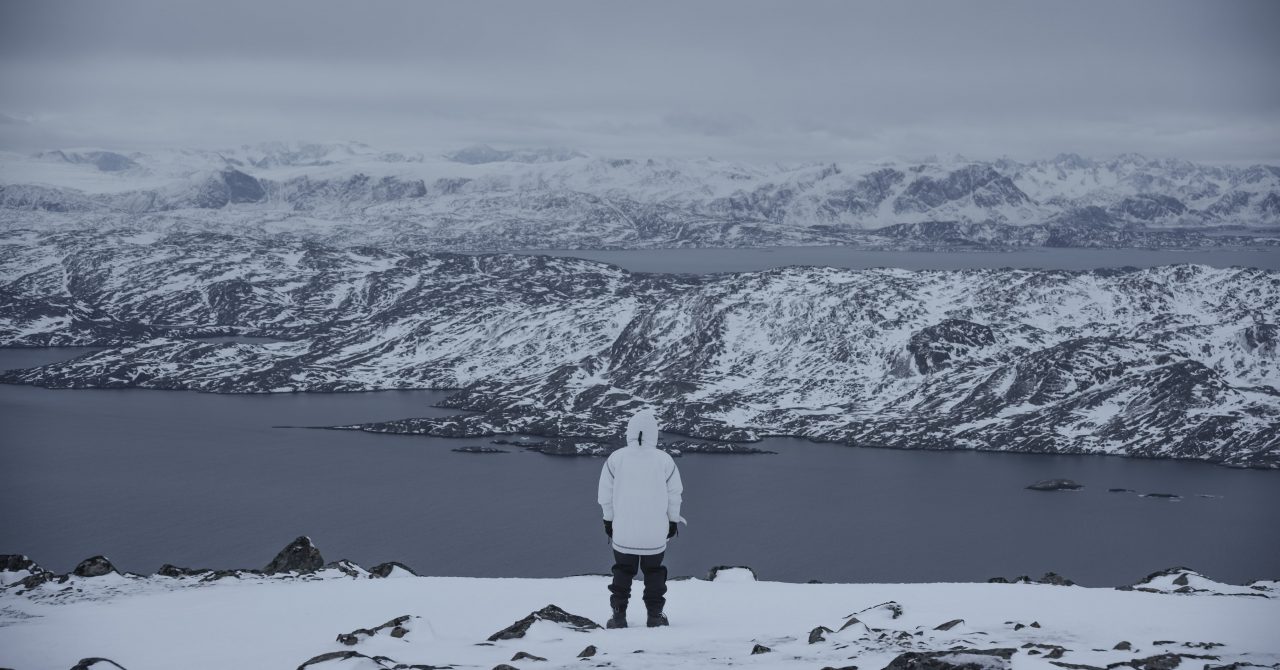 John Akomfrah, Purple
An enveloping, hour-long symphony of image and sound, "Purple" (2017) weaves together original film with archival footage against a hypnotic score to address themes related to climate change. Surveying a variety of disappearing landscapes, including parts of Alaska, Greenland, the Tahitian Peninsula and the South Pacific's volcanic Marquesas Islands, Akomfrah conveys the interconnected relationship between the built and natural worlds in the Anthropocene. His striking images of these vulnerable environments mingle with historical recordings of coal mines, polluted lakes and factory labor, set against a resonant soundtrack of original music, archival recordings and spoken word. These elements come together to form a moving meditation on the impact of human progress on the Earth.
"Purple" plays across six large screens arranged in an arc, perfectly mirroring the Hirshhorn's curved architecture. Carpet in a deep shade of purple—the color of mourning in Ghana, Akomfrah's country of origin—blankets the floors and walls of the exhibition space, lending an inviting if somber mood and reminding viewers of the losses brought about by environmental devastation.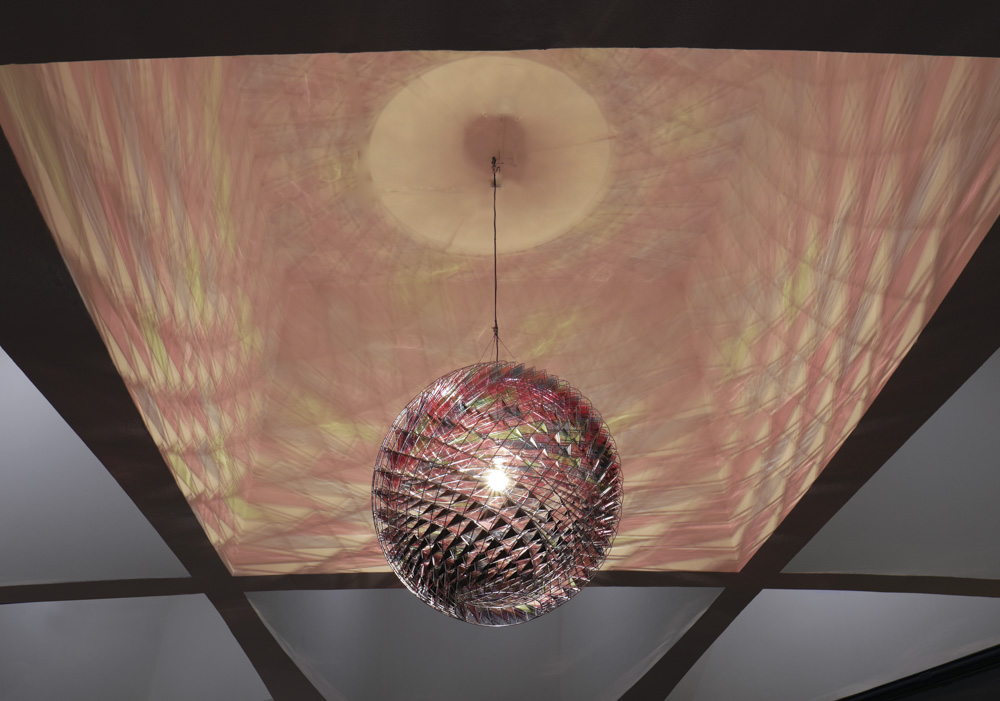 Olafur Eliasson, Your oceanic feeling
COMPOSED OF HAND-BLOWN GLASS, polished metal tubes, and a light source, Olafur Eliasson's Your oceanic feeling is at once a functional pendant and a sculpture that casts light through triangles of colored glass. As viewers move around the piece, the colors and shapes of the sphere appear to change constantly, simulating the feeling of being inside a kaleidoscope, and inviting audiences to become more aware of their own perceptions and movements through space. Eliasson's artwork is an integral component of Japanese artist Hiroshi Sugimoto's recent redesign of the Hirshhorn Museum and Sculpture Garden lobby, a re-envisioning of the space that drew inspiration from the building's iconic circular shape. The new design highlights the unique architecture while creating an environment that functions simultaneously as sculpture, furniture, and conceptual art.
---
This conversation was recorded on October 10, 2020.
This program was made possible with production support from Tanya Selvaratnam.
This virtual event is part of #HirshhornInsideOut, the Museum's initiative to bring art into your home.