Directions-Dan Steinhilber Presents Radical Transformations of Everyday Objects at the Hirshhorn, Sept. 25, 2003 – Jan. 4, 2004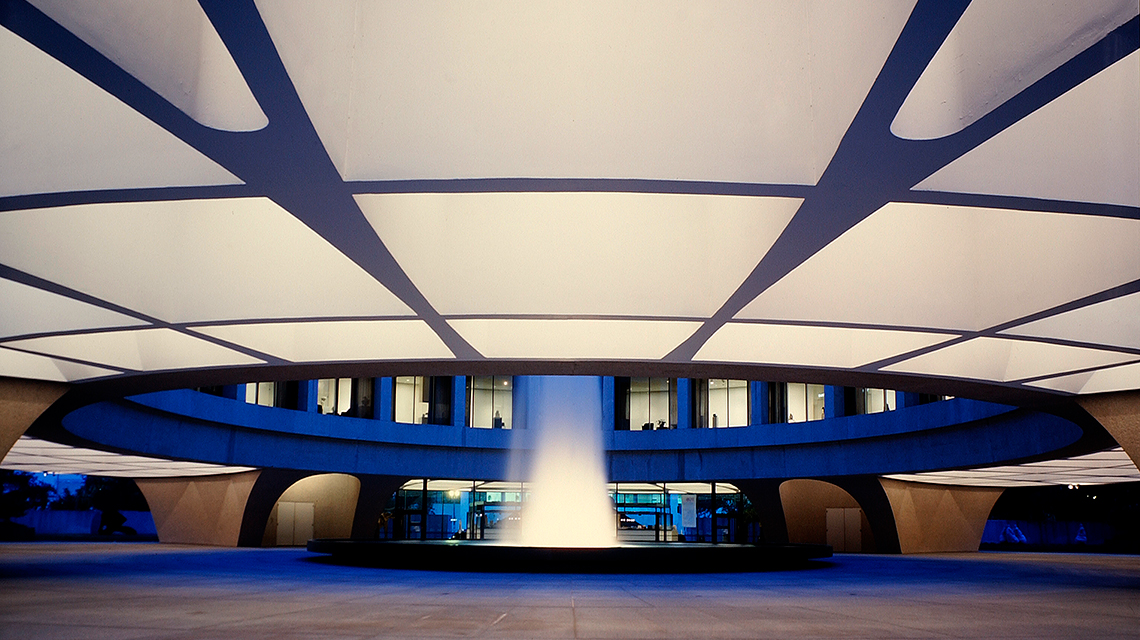 Wednesday, August 27, 2003
Press preview:
Wednesday, Sept. 24, 9 – 11 a.m. (Please note time)
Remarks at 10:30 a.m. Refreshments. R.S.V.P. (202) 633-2822
Dan Steinhilber (b. 1972) uses everyday materials in three works that respond directly to the architecture of the glass-enclosed lobby of the Smithsonian's Hirshhorn Museum and Sculpture Garden. A fourth work by this Washington-based sculptor will be sited outdoors on the museum's Plaza. "Directions–Dan Steinhilber" opens to the public on Sept. 25 and continues through Jan. 4, 2004.
This is the first solo museum exhibition for Steinhilber, who explores light and shape by filling plastic tubing, bottles, bubble wrap and other receptacles with such translucent and colorful liquids as duck sauce, dish soap and soda pop and by stacking objects, including paint rollers, plastic cups and Styrofoam food containers.
The artist, who will give a free public talk on Nov. 13 at 12:30 p.m. in the museum lobby, explains, "My work comes to life in the place where high art concerns meet with everyday experience. I seek to transform common materials from throw-aways to modules of formal investigation."
This is also the first time since the Hirshhorn initiated its one-person "Directions" shows in 1987 that the series will bring an installation to the museum lobby. "With 'Directions–Dan Steinhilber,' we are showing the work of a very talented Washington area artist to a broad audience and creating an environment in which Hirshhorn visitors encounter contemporary art immediately upon entering the building," said museum Director Ned Rifkin. "The show also signals a new way of thinking about 'Directions.' We want to encourage innovation, experimentation and audience engagement by freeing 'Directions' to take place in a variety of spaces within–or even outside of–the museum."
For the Hirshhorn exhibition, Steinhilber will present two existing sculptures and two newly created works. A mobile of clothes hangers with white paper covers–a staple of dry cleaners–will be a reconfiguration of an earlier piece and will cascade from the ceiling over the museum's Information Desk. Another sculpture will fill a corner of the lobby. This dome-like construction of white kitchen trash bags woven together with their distinctive red ties will inflate to a height of nearly 12 feet and then collapse as air from a "shop vac" is cycled in and out of it. The third site-specific work will use the natural light that filters through the space to illuminate various colors of soda pop in stacked plastic containers. Stacked soda bottles will also be employed in a fourth outdoor sculpture.
Steinhilber began his career in the early 1990s as a painter of landscapes, eventually exploring sculpture and installation as an extension of painting. Living in rural Monterey County, Calif., in the mid-1990s, he was inspired to work outdoors, placing thin squares of plastic and colored canvas threads in fields and around trees to make three-dimensional "paintings" in nature.
The artist moved to Washington in 2000, and turned his attention to the urban landscape, using mass-produced consumer items as his primary materials. His work has most recently been featured in the following group exhibitions: "CENSUS 03: New Art from DC" at The Corcoran Gallery of Art in Washington (2003); "Model Home" at "Artscape" in Baltimore (2003); "Fission/Fusion" at the Mexican Cultural Institute in Washington (2003); and "Artpoint" at "Art Basel" in Miami Beach (2002). Organized by the Hirshhorn's Deputy Director-designate Olga Viso, with the assistance of Curator of Works on Paper Phyllis Rosenzweig, "Directions–Dan Steinhilber" will be on view only at the Hirshhorn. The exhibit is accompanied by a free brochure.
"Directions–Dan Steinhilber" is made possible by the Elizabeth Firestone Graham Foundation, Trellis Fund and contributions to the Hirshhorn's Annual Circle, with in-kind donations from Coca-Cola Enterprises Inc. The Hirshhorn Museum and Sculpture Garden, the nation's museum of modern and contemporary art, serves an estimated 700,000 visitors a year through its active exhibitions and educational programs. The Museum, open from 10 a.m. to 5:30 p.m. daily (except Dec. 25), is located at Independence Avenue and Seventh Street S.W. Admission is free.