In Memoriam: Sam Gilliam 1933-2022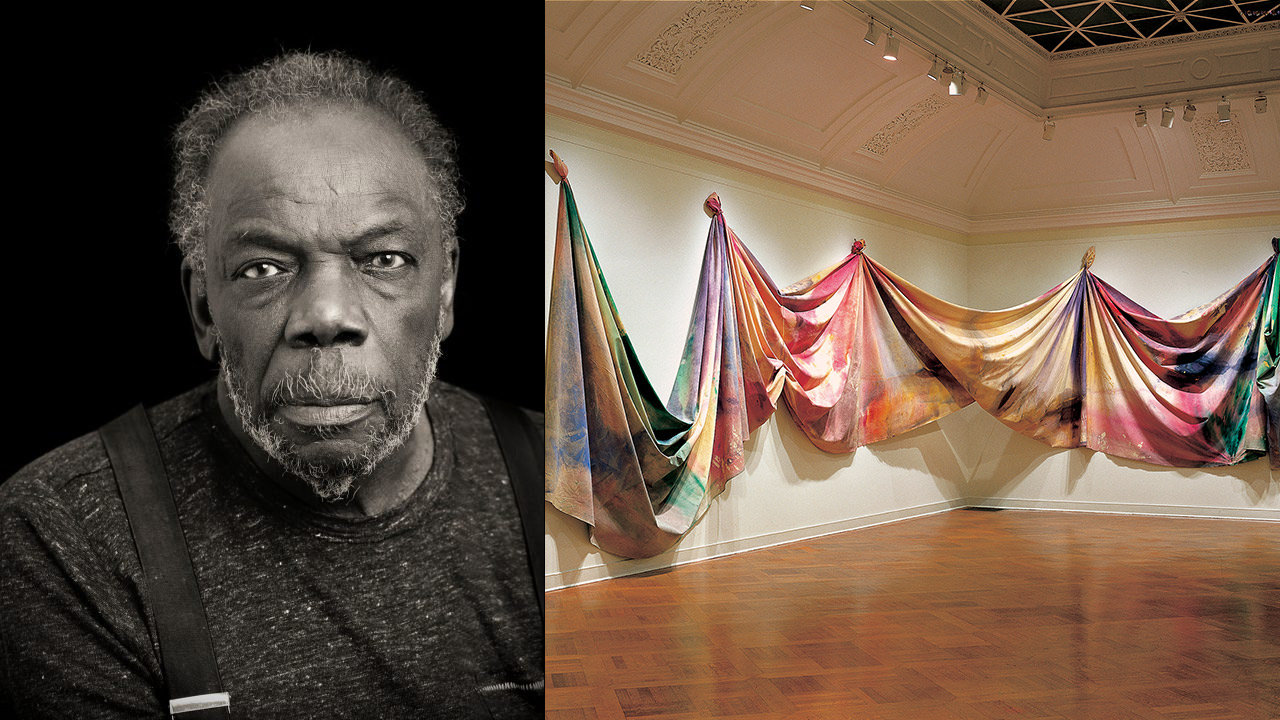 "My formula has always been one of change."
–Sam Gilliam, 1990
The Hirshhorn is honored to provide a home for Sam Gilliam's irreplaceable art. The museum shall continue to celebrate and study the artist's contributions to the history of post-modern abstraction with future generations. On June 27, Melissa Chiu, Director of the Hirshhorn Museum and Sculpture Garden, offered a statement on the passing of American abstractionist, Sam Gilliam (1933-2022), inspired by the Museum's significant holdings and current solo exhibition:
"The Hirshhorn mourns the death of Sam Gilliam, whose unrelenting investigation of color, form and material authored an original visual language. Gilliam's breakthroughs, notably his Drape series, catapulted painting and sculpture traditions rooted in the early Renaissance into the twenty-first century. His rephrasing of values testifies to the importance of the legacy of the Washington Color School, the influence of jazz on his practice, as well as the limitless possibilities of abstraction and value of looking deeply within.

We are grateful Sam Gilliam along with members of his family and studio family experienced the joyful opening of his Hirshhorn exhibition. On May 24, Sam expressed his pleasure in our presentation of "Sam Gilliam: Full Circle" and support for engaging broad audiences in his chosen hometown of six decades.

I would like to acknowledge our Head Curator Evelyn Hankins who worked with the artist to encourage and approve the presentation of new work in dialogue with one of the artist's seven artworks in the Hirshhorn collection, "Rail" (1977). Of Sam's recent work, currently on display in our second floor Inner Ring galleries, The Washington Post observed the artist "subverted the typical hierarchy of images and filled a space historically reserved for traditional figurative images with a feeling."
Sam Gilliam's impact on the history of art is monumental. In the immediate week of his passing, the Hirshhorn invited artists and scholars to provide perspectives. Each was shared on the museum's Instagram channel (@Hirshhorn):
Hirshhorn board member and art historian Richard J Powell (@richardj.powell) shared a recollection: "For more than half-a-century, Sam Gilliam role-modeled creative genius, artistic breakthroughs and professional persistence. From his pictorial interpretations of draped splendor to his evocative accumulations of pigments and colors, he single-handedly reinvented painting. Sam Gilliam has made an indelible mark on modernism."
Artist and fellow Hirshhorn board member, Theaster Gates (@theastergates) offered this tribute: "Spending time with Sam, his wife and daughters in Basel, Switzerland, for his first solo retrospective at a major international museum was one of my greatest joys. His intelligence and fierceness and shear artist largess is imprinted on my daily activity and will continue to resonate in me. We will miss you St. Gilliam."
American artist Rashid Johnson (@rashidjohnson) offered a reflection on his role model: "Sam Gilliam's commitment to experimentation and innovation were unparalleled. His appetite for growth and influence on other artists make him on the most important creators in recent history. It's with gratitude that I got to have him as mentor and friend. He was loved and will be missed."
Smithsonian Secretary Lonnie Bunch III (@Smithsonian) had the privilege to befriend the artist: "As sad as I am about the passing of a great artist like Sam Gilliam, I am comforted that we have all benefited from his creativity, his vision and his artistic clarity. Not too long ago I spent an afternoon in Sam's studio in Northwest DC, where he delivered a master class on the phases of his career, the politics of art and the impact of race. I was so pleased that when we opened NMAAHC, one of Sam's works greeted the millions who have visited the museum. I realized, like all who engage with his work, that I was made better by his art, his resiliency and his life."
Anyone wishing to share their expression of sympathy is invited to email hirshhorn.inmemoriam@si.edu. The museum will forward messages of condolence to Sam Gilliam's family and studio family.
Sam Gilliam: Full Circle will remain on view through Sept. 11. The Hirshhorn will hold a symposium devoted to Sam Gilliam in the fall of 2022, details to be announced.
Image credit: Left: Sam Gilliam portrait by Fredrik Nilsen Studio; Right: Sam Gilliam, "Light Depth," 1969. Acrylic on canvas. Courtesy Corcoran Gallery of Art. Gift from the Trustees of the Corcoran Gallery of Art (Museum Purchase, Gallery Fund), 2018.