JUAN MUÑOZ: EXHIBITION BEGINS NATIONAL TOUR THIS FALL AT HIRSHHORN OCTOBER 18, 2001-JANUARY 13, 2002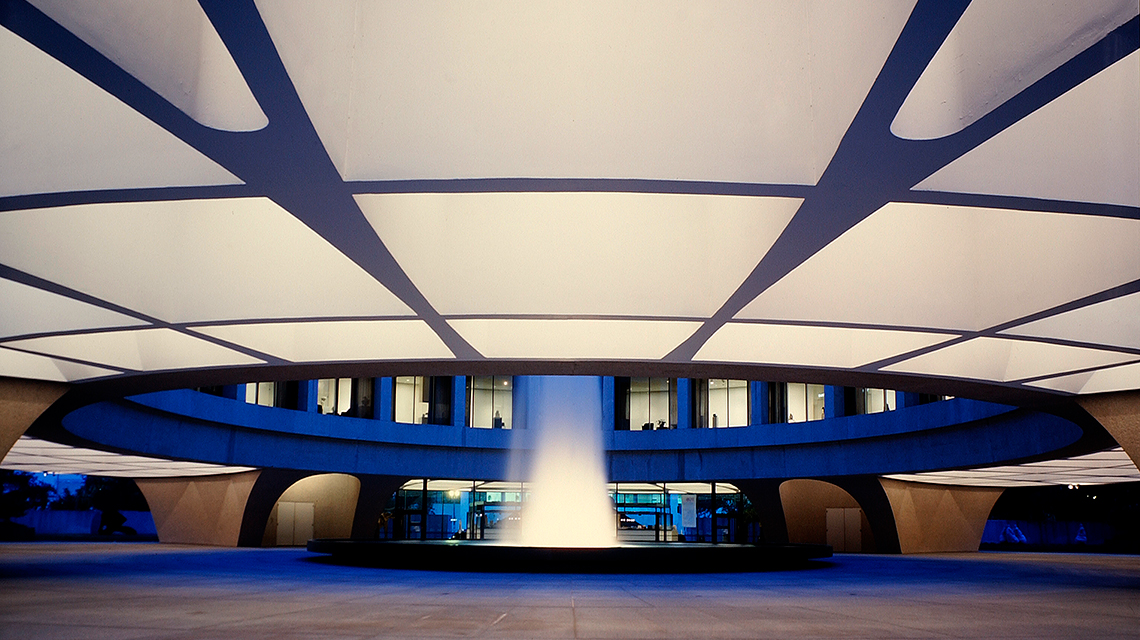 Sunday, September 30, 2001
The late Spanish sculptor Juan Muñoz (1953-2001), whose work Hirshhorn regulars may know from his bronze figure ensemble at the plaza entrance and a 1997 Directions show, is here honored with his first full retrospective in the United States. Included are nearly 60 sculptures, multi-figure installations, drawings, and paintings spanning Muñoz"s career from the mid-1980s to the present. Muñoz, who studied in Madrid, London, and New York before his first gallery exhibitions in the mid-1980s, was part of a generation of mid-career international artists-Stephan Balkenhol, Robert Gober, Thomas Schütte, and Kiki Smith among them-who breathed new life into figurative sculpture over the last decade. Muñoz"s often stage-set-like presentations of single or multiple figures, always slightly smaller than life-size, create a heightened awareness of architecture and environment; his work also uses the absence of figures to achieve this effect. A sense of mystery and intrigue in Muñoz"s work has elicited comparisons outside the visual arts to the writings of Jorge Luis Borges, the music of Alfred Schnittke, and the architecture of Francesco Borromini, among others.
Muñoz"s multi-work exhibition in 1997 at the Dia Center for the Arts in New York, together with the concurrent Directions show, introduced many Americans to his work; he also had major exhibitions at museums and in outdoor installations throughout Europe. Launching a national tour from the Hirshhorn, the current exhibition includes works infrequently seen on this continent-images of empty domestic interiors, banister sculptures, and a streetlike passage lined by smaller-than-life iron balconies and hotel signs-as well as the bronze and pale cast-resin figures for which the artist is best known.
The earliest of these figures, resembling dwarfs or ventriloquist dummies, pose within patterned floor environments or partial interiors. The "Conversation Pieces" of the 1990s (such as the aforementioned outdoor grouping) feature generic robed people standing on globes. Laughing clusters of Chinese men in uniform are yet another of Muñoz"s motifs.
Engaging viewers both physically and emotionally, Muñoz"s figures seem to lean secretively toward one another, form a tight clique on a living-room settee, peer down at us from a high balcony, or smile as they ride a toy train. A 550-pound bronze figure, specially created by Muñoz for the Hirshhorn"s architecture, hangs upside-down on a guy-wire three stories above the circular outdoor fountain, its falling posture creating a theatrical tension.
This exhibition has been organized by the Hirshhorn in association with the Art Institute of Chicago and travels after Washington to Los Angeles, Chicago, and Houston. It is accompanied by a full-color catalog with essays by the show"s curator, Neal Benezra, the Deputy Director and Frances and Thomas Dittmer Curator of Modern and Contemporary Art at the Art Institute; Olga Viso, the Hirshhorn"s Curator of Contemporary Art; and New York-based art critic Michael Brenson. Also included is an interview by Paul Schimmel, Chief Curator, Museum of Contemporary Art, Los Angeles.
Corporate support was provided by Terra Networks with major assistance from Aaron and Barbara Levine. Armstrong World Industries and Waterjet Works provided in-kind assistance with the special flooring installations. The catalog was underwritten in part by the Socieded Estatal de Acción Cultural Exterior of Spain. In Washington, public programs were sponsored in part by the Latino Initiatives Fund, administered by the Smithsonian Center for Latino Initiatives. Second floor galleries and plaza.