Lorna Simpson: Five Day Forecast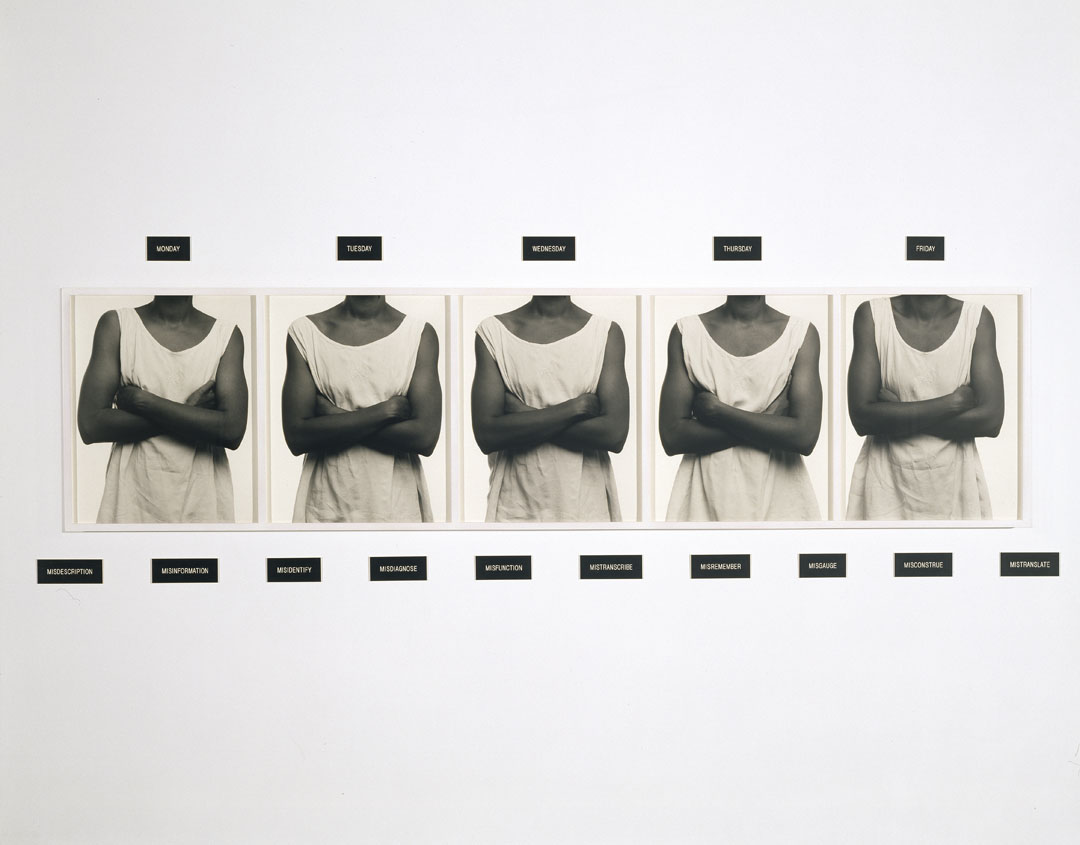 Lorna Simpson, Five Day Forecast, 1988
Brooklyn-born artist Lorna Simpson (b., 1960) creates bold works that employ images of African American women, and sometimes African American men, to question conventional notions of race and identity. In Five Day Forecast, an African American woman confronts the viewer. Her face has been cropped, so we see only her torso, which faces front, with arms firmly crossed over a white shift. The woman appears in five contiguous frames, labeled above with the days of the workweek, Monday to Friday. At first glance, the images seem identical, but if you linger, you realize that her arms have moved slightly, her shift has new wrinkles, her torso is a bit angled. The days on this human meteorological chart bring no new weather, their monotony underscored below the frames by plaques bearing the words misdescription, misinformation, misidentify, misdiagnose, misfunction, mistranscribe, misremember, misgauge, misconstrue, and mistranslate.
Simpson's art draws on the history of photography and the power of language to present conceptual pieces that often feature unidentified figures. As she explains, "I use the figure to examine the ways in which gender and culture shape the interactions, relationships and experiences of our lives in contemporary America." In Five Day Forecast, she was interested in exploring "what could happen within one week."
Now on view in the exhibition What Absence Is Made Of, Five Day Forecast focuses on what is lost or missing—the face of the subject, movement, color—to reveal the artist's message. Simpson based this piece on her own early experiences in the workplace. It suggests that the despite her defiant stance, the unknown woman remains more object than individual. She is trapped in the daily drudgery of the work world—mislabeled and misunderstood.