RETROSPECTIVE FOR AMERICAN SCULPTOR H.C. WESTERMANN AT HIRSHHORN FEB. 14 – MAY 12; ONLY EAST COAST VENUE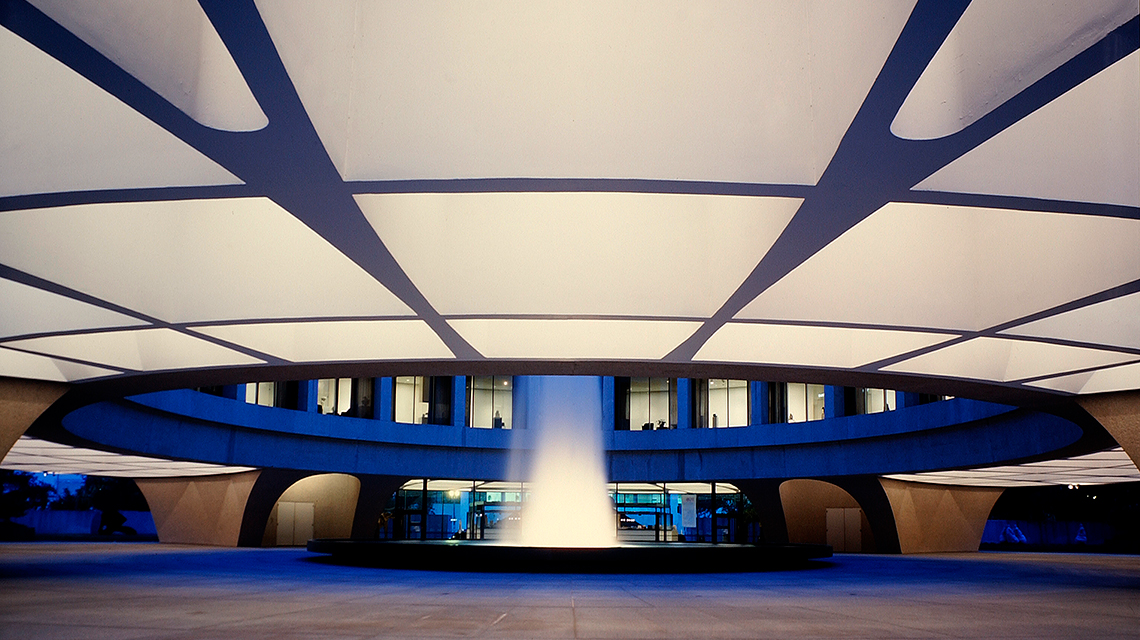 Monday, January 14, 2002
"H.C. Westermann," the first posthumous retrospective for this American sculptor (1922 – 1981) of autobiographical, at times political, often outrageously funny constructions and assemblages in wood, metal and found objects, will open Thursday, Feb. 14, at the Smithsonian's Hirshhorn Museum and Sculpture Garden, Independence Avenue at Seventh Street S.W. The show continues through May 12.
On tour from its summer 2001 premiere at the Museum of Contemporary Art (MCA), Chicago, this exhibition of more than 130 works epitomizes Westermann's nonmainstream approach to sculpture. Included are images of houses, ships, towers, boxes, robots, coffins, surreal landscapes, and toylike figurines with frequent references to war and death, consumer culture and art, literature and film. After leaving the Hirshhorn – – its only East Coast venue – – the exhibition travels to museums in Los Angeles and Houston.
Lynne Warren and Michael Rooks, the MCA's co-curators of the exhibition, will discuss the artist's legacy in "I'd Like to Live Here: H.C. Westermann's Life and Work," a slide-illustrated dialog at 12:30 p.m. Feb. 14. Robert Storr, senior curator at The Museum of Modern Art, New York, presents "A Country Gone Nuts: Westermann's America," a lecture, on Sunday, March 10 at 3 p.m. Both programs are free, in the Hirshhorn's Ring Auditorium.
Born and raised in Los Angeles, Horace Clifford Westermann held odd jobs in the timber industry before serving in World War II. As a U.S. Marine gunner in the South Pacific, the artist witnessed kamikaze attacks and other carnage – – images that would resurface years later in his "death ship" sculptures. After the war, Westermann toured the Far East in 1946 as one half of a two-man acrobat team with the U.S.O.
From 1947 to 1950, Westermann studied at the School of the Art Institute of Chicago. After serving in the Korean War in 1951, he returned to Chicago to launch his career while working as a handyman. His enigmatic, finely crafted wood and mixed-media sculptures, made partly with carpentry scraps at the outset, were eventually shown at Allan Frumkin's galleries in Chicago and New York and found a national following in the 1960s. Early in that decade, after several cross-country trips, Westermann further removed himself from the art world by resettling in rural Connecticut, where he built a home and studio for himself and wife, Joanna Beall. The artist remained highly productive, with occasional trips west to work and teach, until his death in 1981 following a heart attack.
Westermann once stated that each of his pieces was "a reassurance of my own inner self." A contemporary of Robert Rauschenberg and Andy Warhol, he was unconcerned with the pure abstraction that dominated international contemporary art after World War II. Instead, he used personal experiences and opinions to create sculpture that, often mistaken for folk art, reflected a sophisticated understanding of materials, salty humor and a maverick approach to popular culture.
Among the exhibition's many sculptures are "Memorial to the Idea of Man If He Was an Idea," 1958, a cyclopslike figure emblazoned with the artist's initials in bottle caps; "Brinkmanship," 1959, a multicomponent tableau that subtly criticizes the Cold War; and "Billy Penn," 1976, a full-sized figure made from the same kind of galvanized stove pipe the artist used in constructing his home.
Achieving critical and commercial success in his lifetime, Westermann influenced a range of artists from the Chicago Imagists to the West Coast Funk Artists active in the 1960s and '70s and conceptual artists such as Bruce Nauman. This nationally touring exhibition introduces his work to a wider public as well as a new generation of artists.
CATALOG
A 212-page, illustrated catalog published by the MCA, Chicago, in association with Harry N. Abrams Inc., includes essays by co-curators Warren and Rooks, The Museum of Modern Art's Storr, and Chicago-based critic and scholar Dennis Adrian, as well as a chronology and exhibition histories. The catalog is available for $35.95 (softbound) at the Hirshhorn Museum Store.
ITINERARY
The exhibition travels to the Museum of Contemporary Art, Los Angeles (June 9 – Sept. 8), and the Menil Collection, Houston (Oct. 4, 2002 – Jan. 5, 2003).
SPONSORSHIP
H.C. Westermann was organized by the Museum of Contemporary Art, Chicago. Support for this exhibition and associated publications is generously provided by Mary and Roy Cullen, The LLWW Foundation, Anstiss and Ronald Krueck, Henry and Gilda Buchbinder, Ruth P. Horwich, Susan and Lewis Manilow, Dorothy and Alan Press, The Kovler Family Foundation, The National Endowment for the Arts, Marie Krane Bergman and Robert H. Bergman, Carol and Douglas Cohen, The Judith Rothschild Foundation, Mrs. Edwin A. Bergman, Robert and Sylvie Fitzpatrick, and Thurston and Sharon Twigg-Smith.
Special funding for the Washington, D.C. presentation has been provided by the Holenia Trust in memory of Joseph H. Hirshhorn.