THE HIRSHHORN MUSEUM HOSTS "COSMIC DRIFT: LATE ACCESS/LIGHT SHOW/VISUAL MUSIC EXPERIENCE"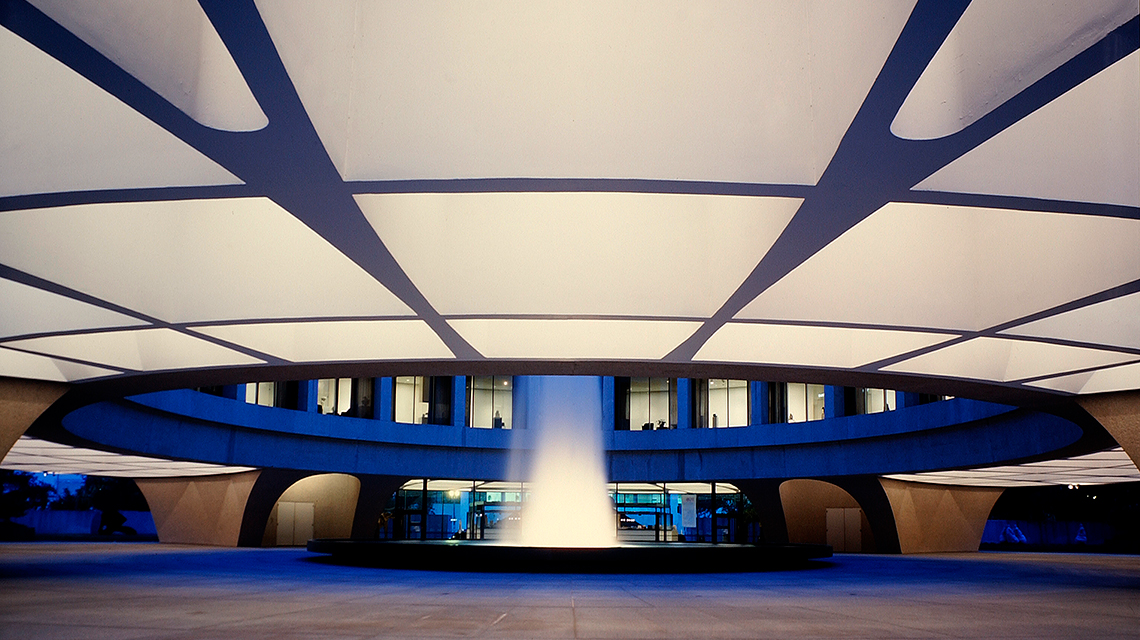 Tuesday, April 19, 2005
The Hirshhorn celebrates the opening weekend of "Visual Music" with special after hours access to the exhibition and "Cosmic Drift: Late Access/Light Show/Visual Music Experience," a signature performance by psychedelic light artists Joshua White and Gary Panter on the Hirshhorn's plaza Saturday, June 25, from 10 p.m. to 2 a.m. White and Panter will create a light show that shifts and evolves in response to Norman Hathaway's collage of sound and music. The event is free and open to the public.
White achieved acclaim in the 1960s for his Joshua Light Show in which he created kaleidoscopic, mind-bending effects for the likes of Janis Joplin, Frank Zappa, Jimi Hendrix and the Allman Brothers' Band. Panter earned three Emmy Awards as head set designer for the successful 1980s kid/adult TV show "Pee Wee's Playhouse," a job that brought his jagged art and surreal cartoon illustration to life. Panter also was commissioned by Warner Brothers to produce a set of album sleeves for Frank Zappa and, later, the cover illustration for the debut album by the Red Hot Chilli Peppers. Norman Hathaway, a graphic designer, has worked internationally with clients such as The BBC, Hewlett Packard, Rolling Stone, and musicians Paul McCartney and Peter Gabriel.
"Cosmic Drift: Late Access/Light Show/Visual Music Experience" is made possible through generous support from Barbara and Aaron Levine with in-kind support by Coca-Cola Enterprises, Inc. Hotel Sponsor: Hyatt Arlington.
On view at the Hirshhorn from June 23 through Sept. 11, "Visual Music," an exhibition co-organized by the Hirshhorn and The Museum of Contemporary Art (MOCA), Los Angeles, features over 90 works, by more than 40 artists, ranging from abstract painting and experimental films to color organs and contemporary installations. Aspiring to emulate the condition of music in their art, artists for the last 100 years have experimented with using color and abstract forms suggestive of limitless space, motion, rhythm and the unfolding of time, often referring to their work as "visual music." This exhibition traces this concept over time and reveals how the multimedia installations produced today continue to advance ambitions expressed by paintings made a century ago.
The Hirshhorn Museum and Sculpture Garden, the nation's museum of international modern and contemporary art, celebrates its 30th anniversary this year and serves an estimated 700,000 visitors annually. Its collection encompasses some 11,500 paintings, sculptures, mixed media installations and works on paper. The Hirshhorn maintains an active exhibition program and offers an array of free public programs that explore the art of our time. The museum, located at Independence Avenue and Seventh Street S.W., is open daily from 10 a.m. to 5:30 p.m. (closed Dec. 25) and admission is free.
# # #
Note to Media: To obtain a press pass to cover this event, please contact Gabriel Einsohn at einsohng@si.eduor 202-633-1618 or check in at the information desk the night of the event.