THE HIRSHHORN PRESENTS EAST COAST PREMIERE OF "VISUAL MUSIC"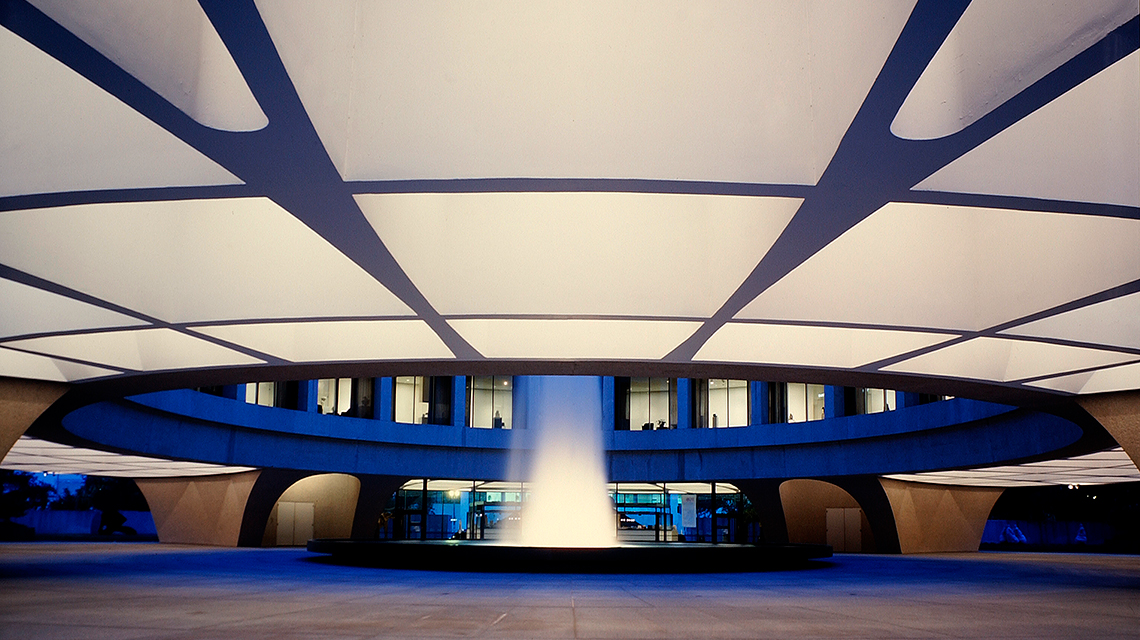 Saturday, April 2, 2005
The Hirshhorn Museum presents the East Coast premiere of Visual Music, an exhibition with more than 90 works, by more than 40 artists, ranging from abstract painting and experimental films to color organs and contemporary installations. It opens at the Hirshhorn on June 23 and remains on view through Sept. 11. The exhibition is co-organized by the Hirshhorn and The Museum of Contemporary Art (MOCA), Los Angeles.
Aspiring to emulate the condition of music in their art, artists for the last 100 years have experimented with using color and abstract forms suggestive of limitless space, motion, rhythm and the unfolding of time, often referring to their work as "visual music." This exhibition traces this concept over time and reveals how the multimedia installations produced today continue to advance ambitions expressed by paintings made a century ago.
Presenting an alternative history of abstract art, the exhibition features artists who blend musical analogy and synaesthesia. A Greek term meaning "sensing at the same time," synaesthesia describes the phenomenon that occurs when one sense evokes another to elicit a heightened state of consciousness—in this case, the union of the aural and visual senses.
For pioneers of abstract painting, such as Wassily Kandinsky (1866–1944) and Stanton Macdonald-Wright (1890–1973), the desire to capture the qualities of harmony and dissonance, tempo and movement forced painters to reinvent their pictorial vocabularies. Works such as Mikhail Matiushin's Painterly-Musical Construction (1918) and Georgia O'Keeffe's Blue and Green Music (1921) even had musical titles. As abstract painting evolved, the musical ideal sparked a parallel movement devoted to incorporating time and motion into visual art. Artists and composers from both sides of the Atlantic worked to invent a new art of projected colored light resulting in the creation of color organs. Few color organs survive; however, the exhibition features documentary footage of several in operation, including a recreation of Daniel Vladimir Baranoff-Rossiné's Piano Optophonique (1922–1932) and Thomas Wilfred's Study in Depth: Opus 152 (1959) which the Hirshhorn recently acquired and restored.
Like color organs, abstract cinema developed in response to the limitations of painting. By capturing a series of hand-produced images on black-and-white or hand-tinted films, artists such as Viking Eggeling (1880–1925) and Hans Richter (1888–1976) set painting in motion.
Advancement of color film and recorded sound from the early 1930s onward allowed artists like Oskar Fischinger (1900–1967) and Len Lye (1901–1980) to unite color and sound in short films, with a variety of musical scores ranging from Brahms to Afro-Cuban music and jazz.
West Coast filmmakers John and James Whitney employed new technologies in the interface between moving image and sound to create compositions of quivering energy particles that reflect the brothers' interest in both music and Eastern metaphysics. These "cosmic" films influenced other filmmakers such as San Francisco's Jordan Belson (b. 1926), whose Vortex Concerts at the Morrison Planetarium and films influenced the synaesthesia-inducing and consciousness-expanding psychedelic light shows of the late 1960s, as well as the audiovisual synthesizer video work of the 1970s and early 1980s.
Recent explorations in digital media and immersive environments allow artists to carry the tradition of visual music into the present. Using multiple video projections and amplified sound, Jennifer Steinkamp (b. 1958) has constructed a space where the viewer is absorbed in an atmosphere of lights, color, form and movement synchronized to a sound composition by Bryan Brown. In her work SWELL (1995) three projectors present digital animations of glowing colored starburst forms, creating the impression of an infinite space in which light spirals out toward the viewer and spins back into the void.
Leo Villareal's Lightscape (2002)—a large wall-mounted screen utilizing LED colored lights—incorporates new computer and lighting techniques to build upon the effects of color organs of previous generations. Created from infinitely interchangeable bits of electronic information, these pieces demonstrate that the compounding of sensation and association has never been more possible.
The Hirshhorn presentation will also include Epilogue (2005) a short film by Jordan Belson. Commissioned for this exhibition with support from NASA's Art Program and the Center for Visual Music, the film, the first by Belson since 2001, is set to a Rachmaninoff score.
Visual Music is co-organized by Hirshhorn director of art and programs and chief curator Kerry Brougher and curator emerita Judith Zilczer and by MOCA director Jeremy Strick and assistant director, board affairs Ari Wiseman. Visual Music is organized by the Hirshhorn Museum and Sculpture Garden, Smithsonian Institution, Washington, D.C., and The Museum of Contemporary Art, Los Angeles. The exhibition is supported by an indemnity from the Federal Council on the Arts and the Humanities. Generous funding is provided by Altria Group, Inc. Additional support provided by the Smithsonian Institution Scholarly Studies Program; the NASA Art Program; and the David W. Bermant Foundation: Color, Light, Motion, Inc. The presentation at the Hirshhorn Museum and Sculpture Garden is made possible by the Hirshhorn's Board of Trustees with additional support from Barbara and Aaron Levine. Hotel Sponsor: Hyatt Arlington. The presentation at MOCA is made possible through the generous support of The Sydney Irmas Exhibition Endowment; the Annenberg Foundation; Lillian and Jon Lovelace; Audrey M. Irmas; Geraldine and Harold Alden; The Bilger Foundation; E. Blake Byrne; Cynthia A. Miscikowski and Douglas R. Ring; the National Endowment for the Arts; Kathi and Gary Cypres; The MOCA Projects Council; Vivian and Hans Buehler; Mandy and Clifford J. Einstein; Betye Monell Burton; Pamela J. and George A. Smith; and the W.L.S. Spencer Foundation. In-kind support is provided by DVLABS, Inc. and Martin Professional, Inc.  
Public Programs
In celebration of this exhibition, the Hirshhorn will host a series of programs, including concerts, Meet the Artist talks, family activities and films. Psychedelic light show artists Joshua White and Gary Panter will perform an "art happening" at a special extended–hours event from 9:30 pm to 2 am on June 25. White is best known as the inventor of the Joshua Light Show at Bill Graham's Fillmore East in the late 1960s.
Publication
The exhibition is accompanied by a 272-page hardcover book co-published by the Hirshhorn, MOCA and Thames & Hudson. "Visual Music: Synaesthesia in Art and Music Since 1900" features essays by curators Brougher, Strick, Wiseman, Zilczer and musicologist Olivia Mattis. The book also includes a bibliography, chronology and illustrated exhibition checklist.
About The Hirshhorn
The Hirshhorn Museum and Sculpture Garden, the nation's museum of international modern and contemporary art, celebrates its 30th anniversary this year and serves an estimated 700,000 visitors annually. Its collection encompasses some 11,500 paintings, sculptures, mixed media installations and works on paper. The Hirshhorn maintains an active exhibition program and offers an array of free public programs that explore the art of our time. The museum, located at Independence Avenue and Seventh Street S.W., is open daily from 10 a.m. to 5:30 p.m. (closed Dec. 25) and admission is free.
# # #