Hirshhorn To Present Groundbreaking Artist Laurie Anderson's Largest US Exhibition to Date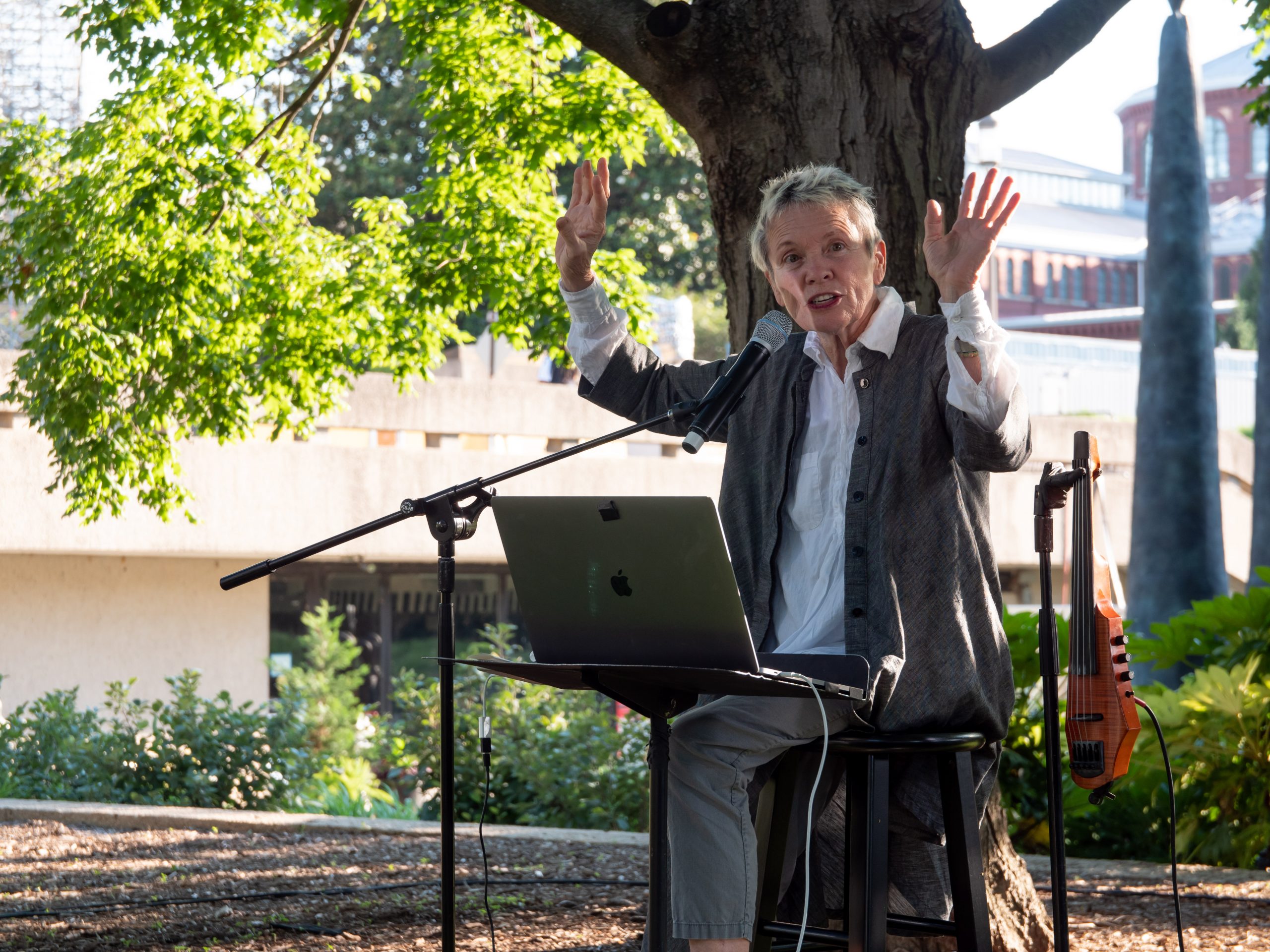 Aug. 13, 2021
Hirshhorn To Present Groundbreaking Artist Laurie Anderson's Largest US Exhibition to Date
"Laurie Anderson: The Weather" Presents Pioneering, Large-Scale Multimedia Works from 1970s to Present, Opening Sept. 24
The Hirshhorn Museum and Sculpture Garden will present the largest-ever U.S. exhibition of artwork by groundbreaking multimedia artist, performer, musician and writer Laurie Anderson from Sept. 24–July 31, 2022. "Laurie Anderson: The Weather" will debut more than 10 new artworks, interspersed with select key works from throughout her career. Guiding visitors through an immersive audiovisual experience in the museum's second-floor galleries, this dynamic exhibition will showcase the artist's boundless creative process, featuring her work in video, performance, installation, painting and other media.
The exhibition will be accompanied by a series of live performances by Anderson from January 2022 to July 2022. "The Weather" is curated by Marina Isgro, Robert and Arlene Kogod Secretarial Scholar, Associate Curator of Media and Performance Art, and Mark Beasley.
For more than four decades, Anderson has investigated issues such as American identity and the effects of technology on human relationships, often inventing new ways of interacting with technology. The Hirshhorn's exhibition uses the museum's prominent location on the National Mall to encourage viewers to reconsider the sociopolitical landscape. "The Weather" will include landmark artworks such as "Habeas Corpus" (2015), a video sculpture that examines via multimedia storytelling the experience of Mohammed el Gharani, who was detained at Guantánamo Bay throughout his adolescence.
"Anderson pushes the limits of contemporary art, from instrument-making to pioneering new and creative applications for emerging technologies," said Hirshhorn Director Melissa Chiu. "We are honored to present this monumental exhibition, which provides a platform for the artist's newest innovations, situated within decades of artistic output that have defied categorization."
Drawing on the Hirshhorn's distinctive cylindrical architecture, the exhibition will be laid out as an ongoing narrative. Guiding visitors on an intimate and personal journey through her work, Anderson will interject at points throughout the exhibition space; portions of the gallery walls will be covered with writing and images that the artist has directly hand-painted.
"The Weather" will debut more than 10 new works by Anderson that highlight her unique blend of the personal, the poetic and the political. These include "Salute" (2021), a new installation featuring robotic flagpoles referencing Anderson's song "O Superman" (1981), which broadened her following from the downtown New York art world to the MTV generation. Other new installations include the dystopic "The Knife Sharpeners" (2021) and the immersive "Four Talks" (2021), composed of sculptures and texts that investigate the relationship of language to objects. Another gallery will showcase a group of new, monumental paintings on the scale of her large performance works, some of which will appear in her new opera, Ark.
Demonstrating the range of Anderson's multimedia practice, "The Weather" will feature video excerpts from the virtual-reality pieces "Chalkroom (2017) and "To the Moon" (2018). Earlier work will include excerpts from "Songs for Lines/Songs for Waves" (1977), the interactive "Handphone Table" (1978) and the narrative video installation "Sidewalk" (2012), a film projected onto the gallery floor with a story from the artist's childhood.
Other featured photographic works include documented performances of "The Institutional Dream Series" (1972­–73) and "Object/Objection/Objectivity (Fully Automated Nikon)" (1973). Several violins and other musical instruments that Anderson designed and altered will be shown alongside photographs from her key performances from 1971 to present.
---
About the Artists
As a Grammy Award-winning musician, performer, writer and artist, Anderson has an international reputation as an artist who combines the traditions of the avant-garde with popular culture. Anderson's theatrical works combine a variety of media, including performance, music, poetry, sculpture, opera, anthropological investigations and linguistic games, to elicit emotional reactions. As a visual artist, Anderson has been shown at the Guggenheim Museum, SoHo and extensively in Europe, including the Centre Georges Pompidou in Paris. She has also released seven albums for Warner Brothers, including Big Science, featuring the song "O Superman," which rose to No. 2 on the British pop charts. She is currently Charles Eliot Norton Professor of Poetry at Harvard University.
---
About the Hirshhorn
The Hirshhorn Museum and Sculpture Garden is the national museum of modern and contemporary art and a leading voice for 21st-century art and culture. Part of the Smithsonian, the Hirshhorn is located prominently on the National Mall in Washington, D.C. Its holdings encompass one of the most important collections of postwar American and European art in the world. The Hirshhorn presents diverse exhibitions and offers an array of public programs on the art of our time—free to all. The Hirshhorn Museum's outdoor sculpture garden is open daily 10 a.m.–4:30 p.m. The museum will be open Wednesday to Sunday 10 a.m.–4:30 p.m. beginning Friday, Aug. 20. For more information, visit hirshhorn.si.edu. Follow the museum on Facebook, Instagram, Twitter and YouTube.
---
Images:
Image: Laurie Anderson in the Hirshhorn Sculpture Garden, Washington DC, June 2021. Photo by Allysa Lisbon. Hirshhorn Museum and Sculpture Garden.