Hirshhorn and Art Production Fund To Present Nancy Baker Cahill's "Liberty Bell" on the National Mall Starting July 4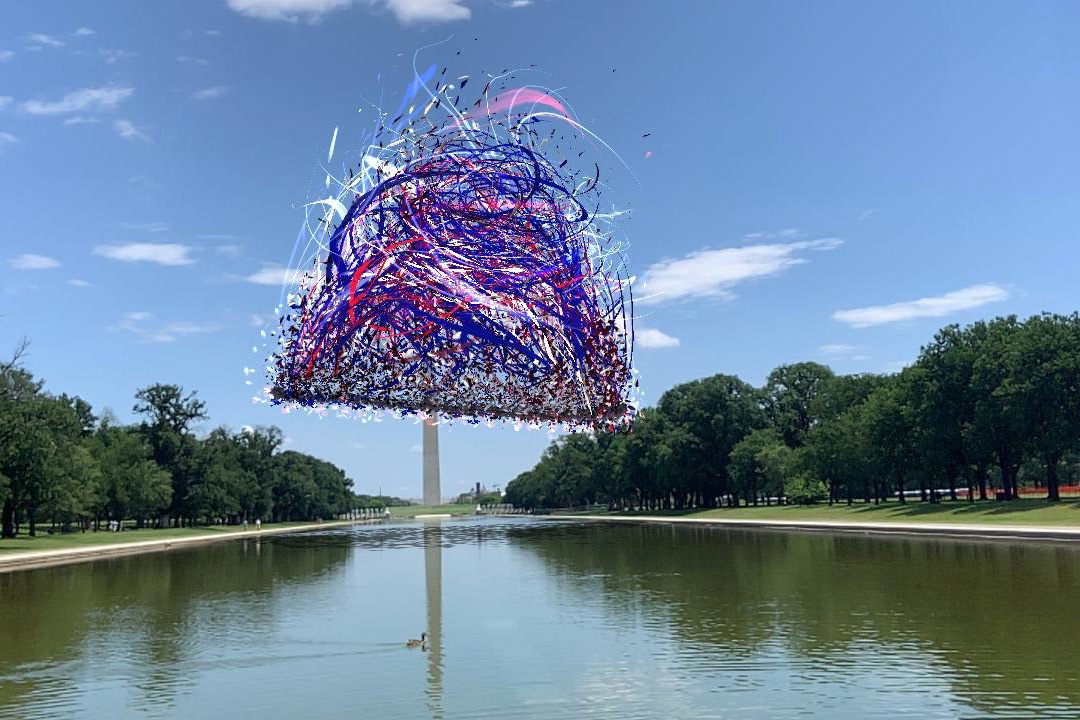 July 2, 2020
Hirshhorn and Art Production Fund To Present Nancy Baker Cahill's "Liberty Bell" on the National Mall Starting July 4
Augmented Reality Public Art Project Will Be Presented Simultaneously in Six Cities Across the United States
Artist Nancy Baker Cahill will unveil "Liberty Bell," a new public art project utilizing augmented reality, presented simultaneously in six cities in the United States: Boston; Charleston, South Carolina; Philadelphia; Rockaway, New York; Selma, Alabama; and Washington, D.C. "Liberty Bell" will be on view starting July 4, 2020. Art Production Fund is pleased to partner with the Hirshhorn Museum and Sculpture Garden for the Washington, D.C. iteration of "Liberty Bell."
Commissioned by Art Production Fund, in partnership with 7G Foundation and the Jamaica Bay-Rockaway Parks Conservancy, a project of the Fund for the City of New York, "Liberty Bell" is an animated, monumental and richly sonorous augmented-reality (AR) drawing in 360 degrees. The public artwork will be geolocated at a series of sites and experienced on smartphones through Baker Cahill's free 4th Wall app. This project, which is two years in the making, lives at the vibrant intersection of public art, social consciousness and tech.
In this polarized and tumultuous election year many concerns persist around the founding principles of American freedom and democracy. Inequality, structural racism, injustice and the ability to vote are chief among them. Inspired by the original cracked Liberty Bell in Philadelphia, the drawing hovers beyond viewers, swaying with the rich and layered sound of bells tolling. The "Liberty Bell" soundscape morphs from the rhythmic lulling of a tolling bell, into a harmonious and dissonant sequence of ringing as it becomes increasingly unpredictable and arrhythmic. Ranging from analog to synthetic, the sounds were compiled from a diverse array of historical moments and locations. The richly textured brushstrokes and bell sounds resemble loosely knitted threads that unravel and come together in an uncomfortable, but cohesive moment. They reflect the evolution and transformation of liberty over time into the complex reality we face today. Baker Cahill chose July 4, known as Independence Day, as a launch date to advocate for justice, civil rights and freedom in the U.S.
AR is impermanent, ephemeral, invisible to the naked eye and leaves no environmental trace. It is accessible to a broad audience through the ubiquitous use of smartphones and tablets. Community programming will be organized online and in-person when possible. Programming will include topical conversations by cultural leaders and community members from all six cities as they relate to current events. Providing a platform for conversation and access to the artwork is a crucial component of this project.
"From its origins in American history, 'liberty' was only available to a certain demographic and came at great expense to others," Baker Cahill said. "You can't have a conversation about freedom and not talk about the history of slavery and inequality in the United States. A bell can be a warning or a celebration; something spiritual or a wordless means of communication. In an age of pandemic, surveillance, injustice and disinformation, who is actually free? That's the conversation we need to have."
"We are thrilled to present 'Liberty Bell' in six different U.S. cities this summer," said Casey Fremont, executive director of Art Production Fund. "While adhering to social distancing guidelines, it feels crucial to bring this important artwork safely to the public. Through a visual and sonic AR experience, Baker Cahill gives viewers the opportunity to reflect upon their personal experiences of liberty, freedom, injustice and inequality. We are honored to present this poignant work during such a remarkable time."
In Washington, D.C., "Liberty Bell" is geo-located over the reflecting pool between the Washington Monument and Lincoln Memorial. In Washington, "Liberty Bell" prompts viewers to consider challenges to our individual rights, while providing an opportunity for thoughtful reconciliation through a shared and democratized public art experience. As "Liberty Bell" sways above the pool, AR shadows are cast over the water. The image creates a literal and metaphorical reflective experience for viewers as they are invited to question the very concept of liberty.
"As the national museum of modern and contemporary art, the Hirshhorn is pleased to partner with Art Production Fund to introduce 'Liberty Bell,' Nancy Baker Cahill's augmented reality artwork to the National Mall, a location rich in the history and symbolism of America's ongoing pursuit of freedom," said Hirshhorn Director Melissa Chiu.
"Liberty Bell" weaves a common thread between all six cities underscoring our interconnectedness and shared cultural inheritance. These historically significant and charged locations comprise an unprecedented activation spanning the Eastern seaboard of the United States. In addition to the Hirshhorn in DC, Art Production Fund is pleased to present alongside the following local partners:
Boston, MA: Boston Children's Museum, Boston Cyberarts, Rose Kennedy Greenway, Boston Harbor Now; Charleston, SC: Center for Heir's Property Preservation; Philadelphia, PA: Association for Public Art (aPA); Rockaway, NY: 7G Foundation, Jamaica Bay-Rockaway Parks Conservancy, The Rockaway Hotel, National Parks Service, NYC Parks, New York State Parks, Recreation & Historic Preservation, Rockaway Artists Alliance; Selma, AL: Brown Chapel African Methodist Episcopal (AME) Church; Washington, DC: Hirshhorn Museum and Sculpture Garden.
---
About the Artist
Baker Cahill is a multidisciplinary artist and the founder and creative director of 4th Wall, a free augmented reality (AR) public art platform. Through 4th Wall, she initiated Coordinates, an ongoing series of curated and site-specific AR public art exhibitions, including Defining Line in Los Angeles and Battlegrounds in New Orleans. She received an "Impact Maker to Watch" award at the Los Angeles City Hall and was named by the Los Angeles Times as one of the 2019 Faces of the Year, ARTS. She is one of 10 artist scholars in the Berggruen Institute's inaugural 2020 Transformations of the Human Fellowship.
---
About the Hirshhorn
Hirshhorn Museum and Sculpture Garden is the national museum of modern and contemporary art and a leading voice for 21st-century art and culture. Part of the Smithsonian, the Hirshhorn is located prominently on the National Mall in Washington, D.C. Its holdings encompass one of the most important collections of postwar American and European art in the world. The Hirshhorn presents diverse exhibitions and offers an array of public programs on the art of our time—free to all, 364 days a year (closed Dec. 25). For more information, visit hirshhorn.si.edu/@hirshhorn.
---
About Art Production Fund
Art Production Fund is a 501(c)(3) non-profit organization dedicated to commissioning and producing ambitious public art projects, reaching new audiences and expanding awareness through contemporary art. Past projects include Elmgreen & Dragset, "Prada Marfa," Valentine, Texas; Ugo Rondinone, "Seven Magic Mountains," Las Vegas; Jeff Koons, "Seated Ballerina," Rockefeller Plaza, New York City; Zoe Buckman, "CHAMP," LA; Raul de Nieves "When I Look In To Your Eyes I See the Sun," Miami; and Lucy Sparrow "Lucy's Delicatessen on 6th," Rockefeller Center, New York City. For more information, visit artproductionfund.org/@artproductionfund.
---
About 7G Foundation
7G Foundation champions organizations and individuals that challenge inequality in human rights, education, art and culture. By partnering with organizations, artists and community facilitators we seek to build strong community bonds that elevate local culture, while supporting cultural change founded upon our core values of social impact and sustainability.
---
About the Jamaica Bay-Rockaway Parks Conservancy
The Jamaica Bay-Rockaway Parks Conservancy (JBRPC) is a public-private partnership established in 2013 that is dedicated to improving the 10,000 acres of public parkland throughout Jamaica Bay and the Rockaway peninsula for local residents and visitors alike. With its partners at the National Park Service, the New York City Department of Parks and Recreation and the New York State Parks, Recreation and Historic Preservation, JBRPC works to expand public access; increase recreational and educational opportunities; foster citizen stewardship and volunteerism; preserve and restore natural areas, including wetland and wildlife habitat; enhance cultural resources; and ensure the long-term sustainability of the parklands. JBRPC is a project of the Fund for the City of New York, a 501(c)(3) non-profit organization. For more information, please visit www.jbrpc.org / @jbrpc
---
Image: Photo courtesy of Art Production Fund