Hirshhorn Presents Monumental Light Sculpture by Dan Flavin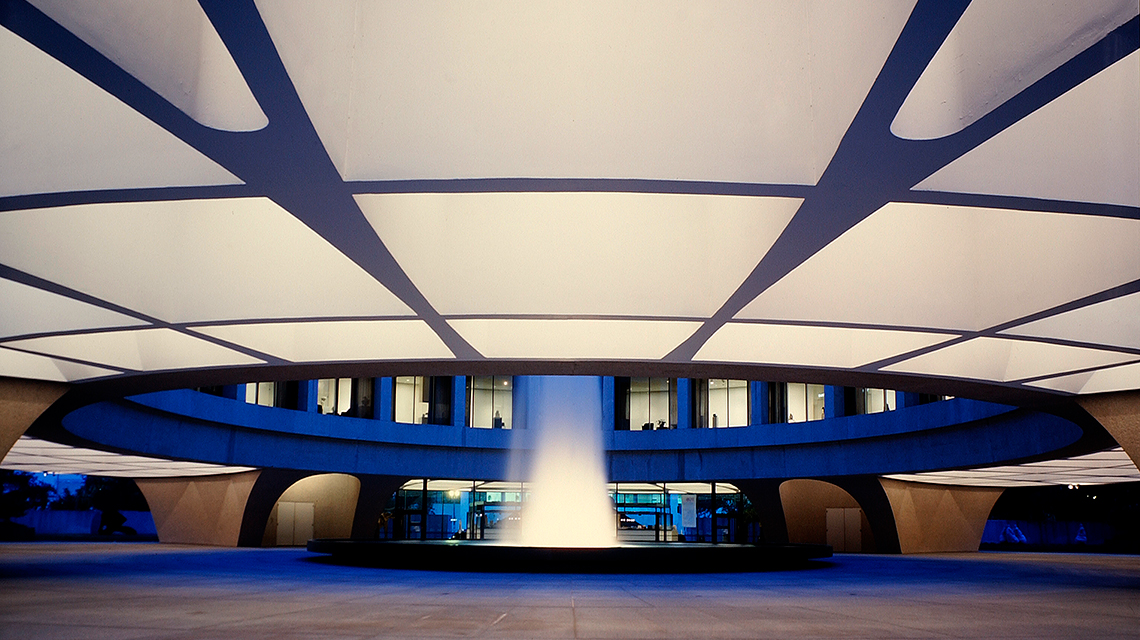 Friday, September 23, 2011

New Acquisition on View for the First Time
A hallmark piece by Dan Flavin (American, b. New York, 1933; d. Riverhead, N.Y., 1996), "untitled (to Helga and Carlo, with respect and affection)" (1974), will go on view Sept. 25 at the Smithsonian's Hirshhorn Museum for the first museum presentation of the work since its premiere in 1975. Flavin, who earned international acclaim for his sculptural installations made from mass-produced fluorescent light fixtures, started a series of large-scale "barrier" works in 1966. Freestanding sculptures that extend across a space, these barriers prohibit access to portions of the gallery and bathe the room in light, redefining the viewer's experience of the architectural space. The Hirshhorn's new barrier sculpture is a cornerstone piece in this signature series.
Shown for the first time in a curved gallery, "untitled (to Helga and Carlo, with respect and affection)" extends more than 75 feet. This installation follows Flavin's directive of spanning the space from the doorway, suggesting the possibility of infinite repetition. Like all of Flavin's fluorescent sculptures, the barriers are highly dependent on the specific environment in which they are installed; nevertheless, they are not site-specific, but rather what the artist termed "situational." The modular works' dimensions change with the proportions of each space in which they are displayed. First installed in 1975 at the Kunsthalle Basel, this barrier is dedicated to Carlo Huber, who was director there, and his wife, Helga.
This major Flavin work will be installed on the museum's second level concurrently with two major exhibitions this fall and spring, "Andy Warhol: Shadows," on view Sept. 25–Jan. 15, 2012, and "Suprasensorial: Experiments in Light, Color and Space," on view Feb. 23–May 13, 2012. The emphasis on abstraction and repetition, at the heart of Warhol's monumental 102-canvas installation, as well as the exploration of the effects of color, light and immersive environments, also crucial to many of the light and space works by Latin American artists featured in "Suprasensorial," are equally essential to Flavin. Pairing "untitled (to Helga and Carlo, with respect and affection)" with the array of works in various media in these two exhibitions provides visitors a unique opportunity to consider all of these pieces in multiple contexts. It also allows them to gain a deeper perspective on the ways in which some of the most innovative artists of the 20th century approached key themes in the evolution of the century's art. 
 "Andy Warhol: Shadows" is organized by Dia Art Foundation. The foundation acquired the piece from the artist during its inaugural exhibition at the Heiner Friedrich Gallery in New York in 1979. Major exhibition funding is provided by the Bell Family Foundation and Constance R. Caplan with additional support from the Holenia Trust Fund, in memory of Joseph H. Hirshhorn, the Friends of Jim and Barbara Demetrion Endowment Fund, and the Hirshhorn's Board of Trustees. For more information, please visit: https://hirshhorn.si.edu/pressroom.
"Suprasensorial: Experiments in Light, Color, and Space" is organized by the Museum of Contemporary Art, Los Angeles. It is curated by MOCA curator Alma Ruiz, and the Hirshhorn's presentation is coordinated by senior curator Valerie Fletcher. The exhibition is accompanied by a 96 page illustrated bilingual catalogue containing an essay and entries on the artists by Ruiz. Major support for the exhibition is provided by The Andy Warhol Foundation for the Visual Arts and Mandy and Cliff Einstein. Generous additional support is provided by Betye Monell Burton, France Los Angeles Exchange (FLAX Foundation), Kathi and Gary Cypres, and the Consulate General of Brazil, Los Angeles. For more information, visit: https://hirshhorn.si.edu/exhibitions/.
About the Hirshhorn 
The Hirshhorn Museum and Sculpture Garden, the Smithsonian Institution's museum of international modern and contemporary art, has nearly 12,000 paintings, sculptures, photographs, mixed-media installations, works on paper and new media works in its collection. The Hirshhorn presents diverse exhibitions and offers an array of public programs that explore the art of our time. Located at Independence Avenue and Seventh Street S.W., the museum is open daily from 10 a.m. to 5:30 p.m. (except Dec. 25). Admission to the galleries and special programs is free. For more information about exhibitions and events, please visit hirshhorn.si.edu. To request accessibility services, please contact Kristy Maruca at marucak@si.edu or (202) 633-2796, preferably two weeks in advance.
# # #