Suprasensorial: Experiments in Light, Color and Space
Feb 23–Aug 12, 2012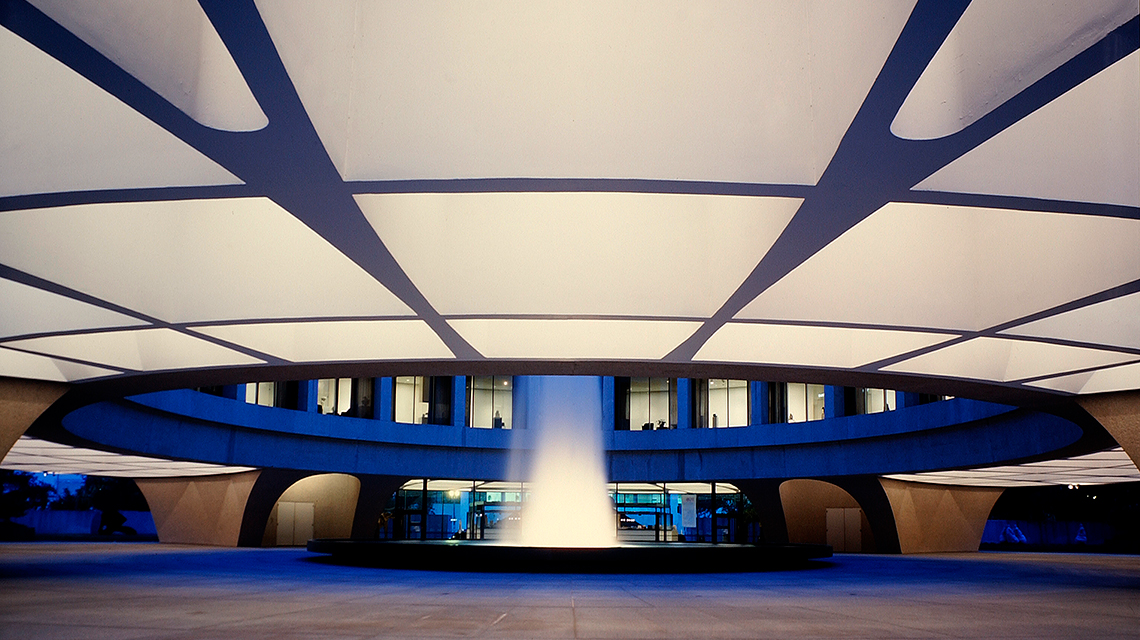 February 23, 2012 to August 12, 2012
Suprasensorial: Experiments in Light, Color, and Space will open in February 2012. Coinciding with this exhibition, the museum will present a new commission by Doug Aitken—Song 1, a 360° projection that will illuminate, animate, and transform the Hirshhorn's entire façade.
The Hirshhorn presents Suprasensorial: Experiments in Light, Color, and Space, the first exhibition to reevaluate the evolution of the international Light and Space movement through the work of five pivotal Latin American artists: Carlos Cruz-Diez (b. Caracas, Venezuela, 1923), Lucio Fontana (b. Rosario, Argentina, 1899; d. Varese, Italy, 1968), Julio Le Parc (b. Mendoza, Argentina, 1928), Hélio Oiticica (b. Rio de Janeiro, Brazil, 1937; d. Rio de Janeiro, 1980), and Jesús Rafael Soto (b. Ciudad Bolívar, Venezuela,  1923; d. Paris, France, 2005).
The Light and Space movement is often considered as emerging in the United States in the late 1960s and 1970s. Almost a decade earlier, Latin American artists were creating environments of light and color that challenged traditional standards of art as a static experience. By developing large-scale, multimedia constructions of light, color, and space, these artists actively engaged viewers in a physical process of exploring the possibilities of visual and spatial perceptions, forging new object-viewer relationships. The five installations that make up Suprasensorial: Experiments in Light, Color, and Space—heretofore known only to a small number of people—create enveloping optical effects that overwhelm and transform sensory experience and demonstrate Latin America as a source of innovation for the global Light and Space tradition.
Suprasensorial: Experiments in Light, Color, and Space is organized by The Museum of Contemporary Art, Los Angeles (MOCA). It is curated by MOCA senior curator Alma Ruiz, and the Hirshhorn's presentation is coordinated by senior curator Valerie Fletcher. The exhibition is accompanied by a ninety-six page illustrated bilingual catalogue containing an essay and entries on the artists by Ruiz.
The presentation of the exhibition at the Hirshhorn received Federal support from the Latino Initiatives Pool, administered by the Smithsonian Latino Center. Additional support was provided by the David Bermant Foundation, and funding for the exhibition brochure was provided by the Embassy of Brazil. The presentation of the exhibition at MOCA was sponsored by Fundación/Colección Jumex. Major support was provided by The Andy Warhol Foundation for the Visual Arts and Mandy and Cliff Einstein. Generous additional support was provided by Betye Monell Burton, France Los Angeles Exchange (FLAX Foundation), Kathi and Gary Cypres, and the Consulate General of Brazil, Los Angeles.