Yves Klein: With the Void, Full Powers
May 20–Sep 12, 2010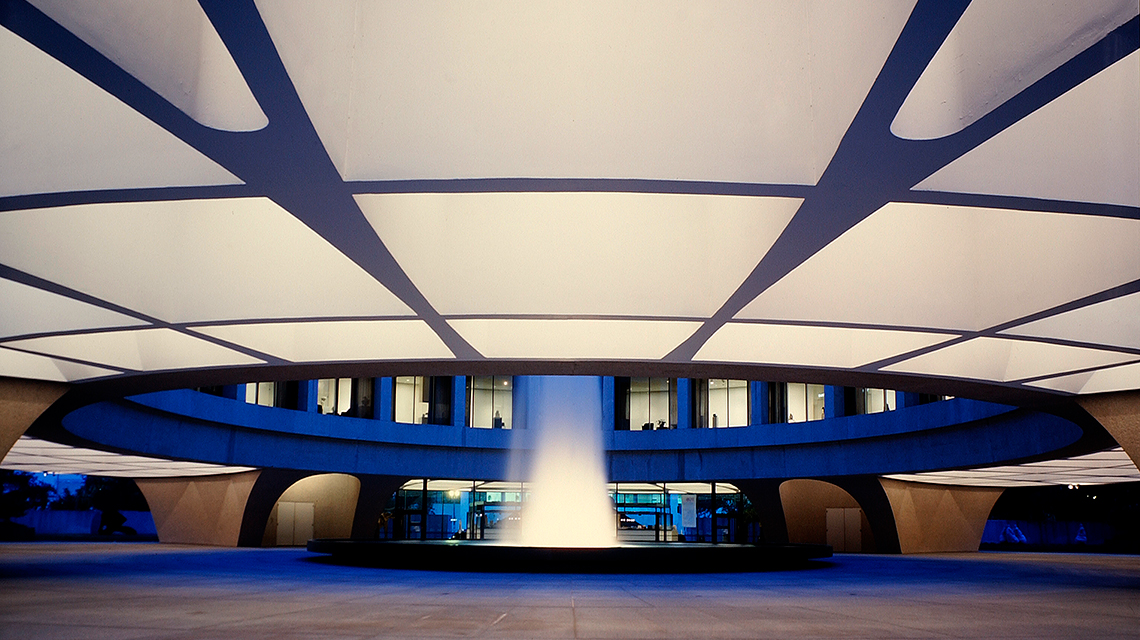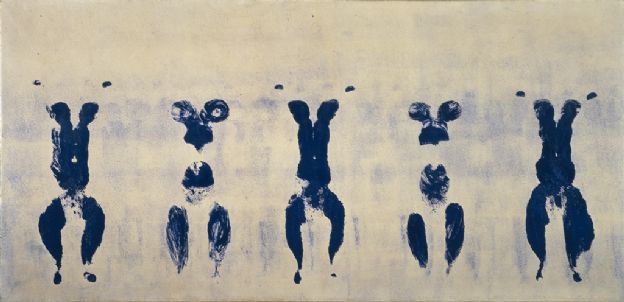 Yves Klein's Untitled Anthropometry, 1960, from the Hirshhorn's collection
May 20 to September 12, 2010
One of the past century's most influential artists, Yves Klein (French, b. Nice, 1928; d. Paris, 1962) took the European art scene by storm in a prolific career that lasted only from 1954 to 1962, when he suffered a heart attack at the age of 34. Yves Klein: With the Void, Full Powers was the first major retrospective of the artist's work in the United States in nearly 30 years. The exhibition included examples from all of Klein's major series, including his Anthropometries, Cosmogonies, fire paintings, planetary reliefs, and blue monochromes, as well as selections of his lesser-known gold and pink monochromes, body and sponge reliefs, "air architecture," and immaterial works. The installation also foregrounded the artist's process and conceptual projects through a range of ephemera, including sketches, photographs, letters, and writings.
Yves Klein created what he considered his first artwork when he signed the sky above Nice in 1947, making his earliest attempt to capture the immaterial. Klein was an innovator who embraced painting, sculpture, performance, photography, music, theater, film, architecture, and theoretical writing. Self-identified as "the painter of space," he sought to achieve immaterial spirituality through pure color (primarily an ultramarine blue of his own invention—International Klein Blue). The artist's diverse body of work represents a pivotal transition from modern art's concern with the material object to contemporary notions of the conceptual nature of art and was informed by Klein's study of the mystical sect Rosicrucianism, philosophical and poetic investigations of space and science, and the practice of judo.
Yves Klein: With the Void, Full Powers was co-organized by the Hirshhorn Museum and Sculpture Garden, Washington, DC, and the Walker Art Center, Minneapolis, Minnesota. It was co-curated by Hirshhorn deputy director and chief curator Kerry Brougher and Philippe Vergne, director of Dia Art Foundation.
The exhibition was made possible by major support from Martha and Bruce Atwater, Judy Dayton, and the Andy Warhol Foundation for the Visual Arts. Additional generous support was provided by Constance R. Caplan and Lewis and Barbara Shrensky. Major support for the catalogue was provided by Sotheby's with additional support from L&M Arts in New York and Heather James Fine Art.
The Hirshhorn Museum and Sculpture Garden's presentation was sponsored by
Additional generous support for the Hirshhorn's presentation was provided by Glenstone and the Lisa and Steven Tananbaum Family Foundation.
Exhibition Airline Sponsor

Catalogue
Yves Klein Leaps into Facebook and Twitter
For this first US retrospective in nearly 30 years of one of the 20th century's most influential artists, whose work marks a pivotal transition between modern art's concern with the material object and contemporary notions of the conceptual natural of art, we felt it was essential to present Klein not only as the maker of beautiful objects, but also as a thinker, a philosopher who paved the way for future generations of artists. His body of work was diverse and moved beyond traditional media such as painting and sculpture to include performance, photography, music, architecture, and theoretical writing as well as plans for projects in theater, dance, and cinema. He may also have been one of the first artists consciously to blur the lines between his work and life, between painting and performance, between object and idea, even between being an artist and a magician. Therefore, it was necessary not only to create an exhibition of his physical works, which are numerous and exist in a variety of forms, but also to present the full range of his creative endeavor and to resurrect the artist himself by allowing him to tell his own story.
Therefore, as we approached the opening of the exhibition, we wanted to try an experiment, to have the artist himself introduce the show and present to viewers the range of his projects and the scope of what they would experience in the exhibition itself. Each day, a different aspect of Klein's remarkably prolific yet dramatically short career took center stage, presented through quotes, photos, and video and audio recordings that let Klein himself explain his goals, process, artworks, and projects to the audience. Thus, Klein lived on through Facebook, Twitter, Flickr, and the Hirshhorn's website, truly providing him the chance to, as he expressed a desire to do, "realize in my own creations that 'transparence,' that immeasurable 'void' in which lives the permanent and absolute spirit freed of all dimensions."
View the Yves Klein social media material archive here.
Yves Klein mobile application available
The Hirshhorn Museum and Sculpture Garden announced the release of a mobile application for Yves Klein: With the Void, Full Powers, the first major retrospective of the artist's work in the United States in nearly 30 years. This was the first mobile application offered to the public by a Smithsonian art museum, representing a commitment to technology that enriches the experience of visitors on- and offsite.
The Klein application, available in the iTunes App Store for download globally at a price of $0.99 until June 21 and $1.99 thereafter, provided users with a full overview of the exhibition, highlighting images of selected artworks alongside video and quotes from the artist himself, giving insight into Klein's concepts and process.
"We launched the Yves Klein iPhone application to give our visitors, and art fans globally, an interactive way to experience this one-of-a-kind exhibition," said Richard Koshalek, director of the Museum. "The distribution of our application allows people around the world to engage with the Yves Klein show through their smartphones."
Using Toura for its iPhone application demonstrates the Hirshhorn's ongoing commitment to educating and empowering a global audience in an increasingly information-driven culture. With Toura's application technology, the museum will be able to offer smartphone tours for additional exhibitions in the future. Upon the successful launch of this iPhone app, the Hirshhorn, in conjunction with Toura, will make the application available on other platforms and via other sellers, including Google's Android Marketplace.