Walk this Way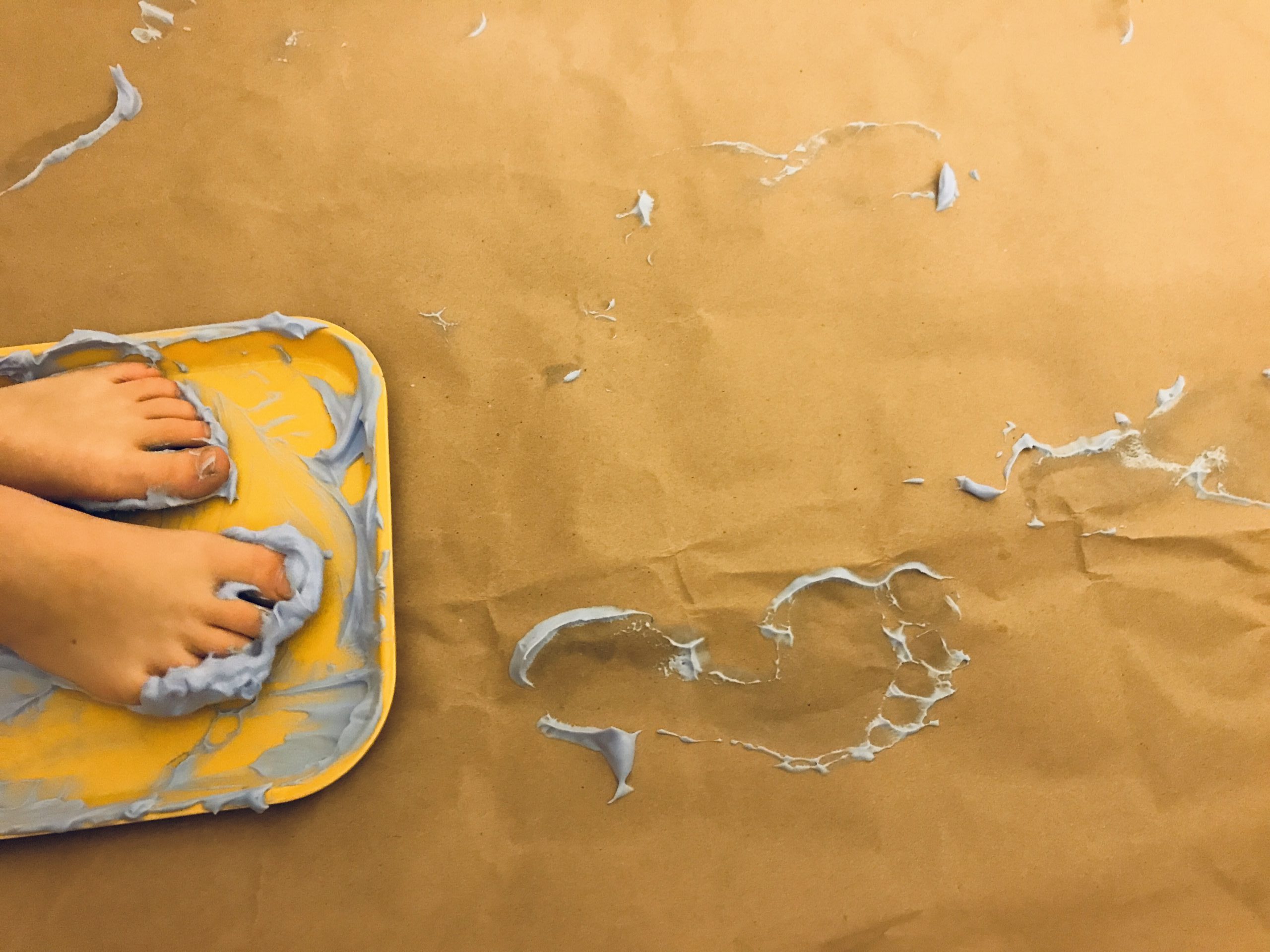 Have you ever made footprints in the snow or mud? Make your mark in paint with this project inspired by artist Annette Lemiuex, but adapted for your bathtub.
We want to see your creations! Share on social media @hirshhorn with #HirshhornInsideOut.
Time: 20–45 minutes
Skill Level: beginner
Topic: Creative process
---
LOOK CLOSELY
Look Closely. Let your eyes wander up, down, and around the canvas. What do you see?
Describe the marks. Look carefully at their shape. What might they be? How do you think the marks were printed onto the canvas?
You probably notice that the marks look like footprints. These footprints appear in a circular pattern around the canvas. You might have even noticed that the paint fades from dark to light in different parts of the painting.
Think about the scale. Notice the size of the footprints compared to the canvas. How large do you think this painting is?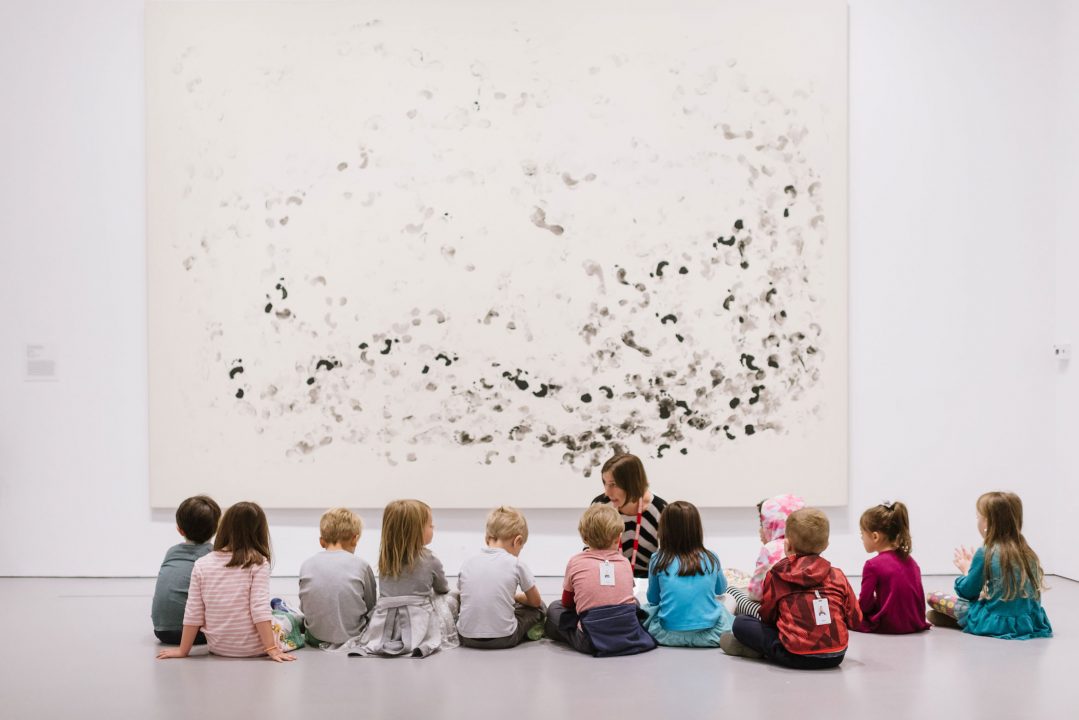 This painting is called Nomad. It was made on a very large canvas, over nine feet tall and nearly thirteen feet wide, which is the size of a small bedroom. Look at the photograph, and notice how many children can fit in front of the canvas's width.
Artist Annette Lemiuex created this painting by laying a large unstretched canvas on the floor of her studio, dipping her feet in paint, and then walking all around the canvas in circles. The canvas nearly filled her small studio,where she often paced around the floors when she was making or thinking about art. Nomad was a way of documenting the way she spent time in her studio and her creative process. In this type of work, the process of making the art is just as important (or more important!) than the finished result. Close your eyes and imagine the artist stepping into the paint with bare feet, and then walking around the canvas. Imagine the footsteps slowly filling the canvas as she moves around it. This is the process: the steps (literally!) she took to create this painting.
MEET ANNETTE LEMIEUX
"If I couldn't do my work, it would be as if someone took the air out of me."- Annette Lemieux, 2002 interview
Annette Lemieux (b. 1957) is an American painter and mixed media artist. Lemieux was born in 1957 in Norfolk, Virginia. Her father was in the Marines, so her family moved around to different places in the United States before her mother moved her and her sister to Connecticut while her father was overseas. Lemieux was interested in art from a young age, and fondly remembers one of her own childhood artworks which made an ocean scene look three-dimensional. Over the years, she's made art using many different processes and materials, making it impossible to categorize her as one type of artist. Lemieux lives and works in Boston, Massachusetts.
---
MAKE IT!
Taking inspiration from Annette Lemieux's painting Nomad, this project invites children to paint with their feet. We've adapted the process for a bathtub, keeping the young artist and paint contained to an easy-to-clean space. In warmer weather, this project can also be done outside (bathing suits recommended) with a garden hose or wet wipes nearby for easy cleanup.
Gather your materials. For this project, we'll be making an easy-to-wash bathtub paint using shaving cream. Here's what you'll need:

Sprayable shaving foam (note: Shaving gel will not work. An unscented foam is best for sensitive noses and skin.)
Liquid watercolor or food dye
A mixing tool, such as a paintbrush or brayer (roller brush)
A tray big enough for your child's feet (a thick piece of cardboard will also work)
Optional: A long sheet of paper from a roll (like Kraft paper), or a paper grocery bag cut along one edge to unfold into a flat sheet. (note: paper will make the bathtub less slippery, and give the option of keeping a finished artwork)
Tape to secure the paper to the bathtub

Prepare your bathtub. Remove toys and other objects. If using paper, cut to roughly the length of the bathtub and secure with tape. Set your shaving cream, liquid colors, and mixing tool on the tray. Note: This project can be done right on the bathtub surface, without paper, but if you choose this option, take extra care to avoid slipping.


Mix your paint. Squeeze some shaving foam onto the tray, and add a few drops of color. (Note: A little color goes a long way! Adults may want to add the color and then keep the bottles out of reach. Many kids tend to squeeze the bottle too hard, adding too much color. Alternatively, you can dilute the color with water before using, and allow your child more control over the process.)


Explore the paint's texture. Many kids will enjoy the light and fluffy texture of shaving foam. Your child may want to take time to squeeze it in their hands, or even paint parts of their body with it. Give them time to explore this material.

Step in it! Invite your child to step right into the paint.

Walk around your canvas. Notice what happens. What do you see? Talk about how the footprint looks. Your child may want to walk in circles, like Lemieux did in Nomad. They may also want to try moving in different ways to see how their prints change. Note: Be careful not to slip! You may want to hold your child's hand or encourage them to walk slowly.


Keep painting! Lemieux made all her footprints in the same color. Your child may want to mix new colors into the shaving cream, and make additional footprints.
Clean up! When the paper painting is finished, remove it from the tub. Fill the tub with water to wash your artist and the bathtub clean.
Don't want to get your own feet wet? Grab a favorite animal figurine, some paint and paper, and let your toy do the walking!