A World in a Box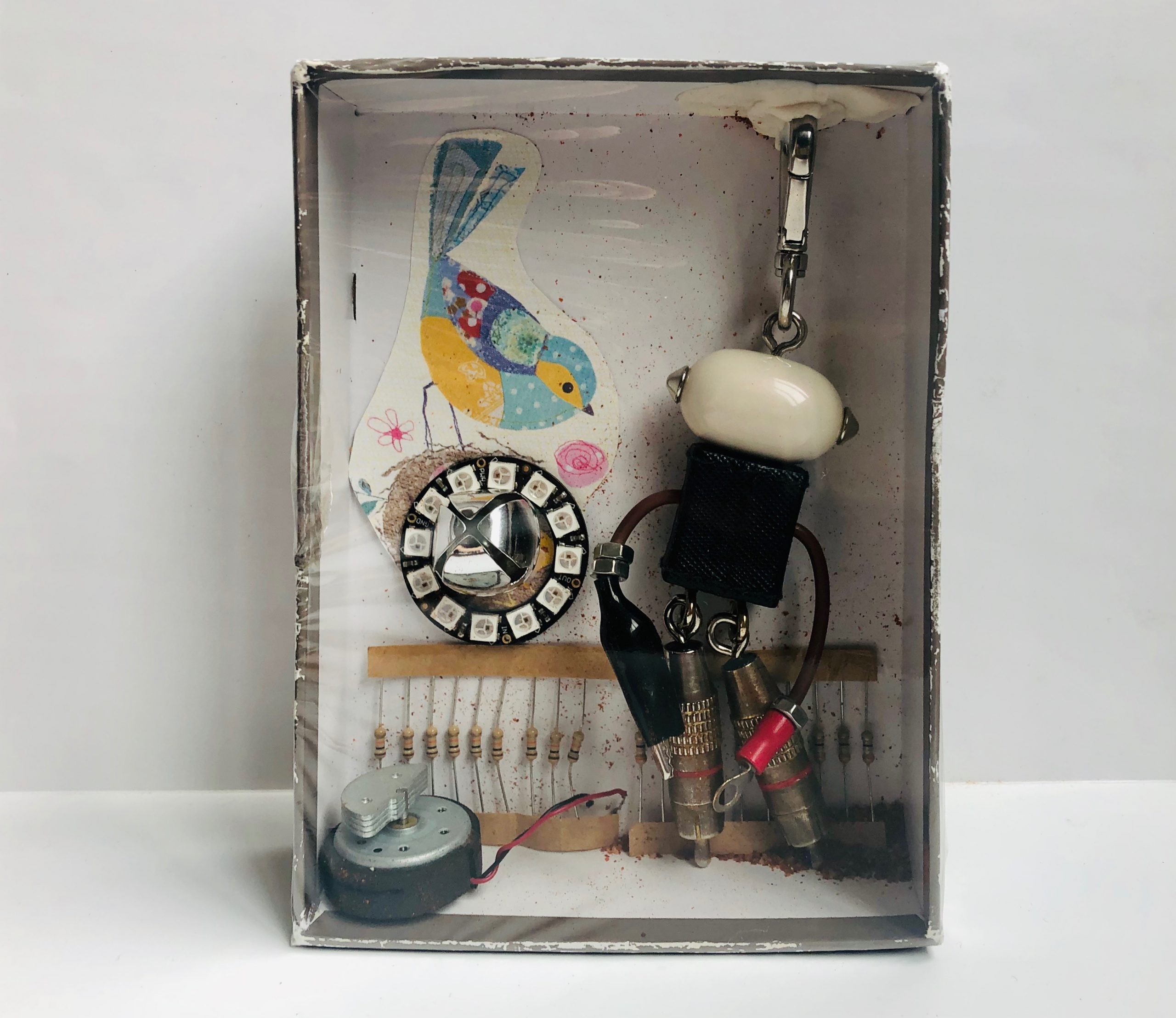 Use your imagination to construct your own three-dimensional box inspired by artist Joseph Cornell.
We want to see your creations! Share on social media @hirshhorn with #HirshhornInsideOut.
Time: 30–45 minutes
Skill Level: Intermediate
Topic: Imagination
LOOK CLOSELY
What do you see? Which color do you notice? How many items can you identify? How are the items arranged?
This artwork is called Untitled (Aviary with Yellow Birds). An aviary is an enclosed space for birds to live and fly. This artwork is one of many dream worlds artist Joseph Cornell created. Cornell collected and saved objects, then combined  them to tell stories. Cornell displayed these three-dimensional worlds inside wooden boxes, like the one pictured. Look at the items inside the wooden box again. What story do you think this tells? 
Compare this box to the one you just looked at. What's similar? What's different? What objects and images do you see? What story do you think this tells?
This artwork is called Shadow Box (c. 1954–1956). A shadow box is an enclosed box where different images and objects are displayed. This box displays an image of a smiling sun as the background. Cornell placed a metal coil, cork balls, metal rods, a stamped tin, and colored sand inside this box.
Artist
Joseph Cornell
was born in 1903 in Nyack, New York. He worked as a salesman to support himself as well as his mother and brother. Cornell never attended art school. He taught himself about art by visiting museums and galleries in New York City, and by talking with other artists including
Marcel Duchamp
and
Andy Warhol
. He was best known for his shadow box-style dioramas, experimental films, and collages. See
more of Joseph Cornell's works
in the Hirshhorn collection.
---
MAKE IT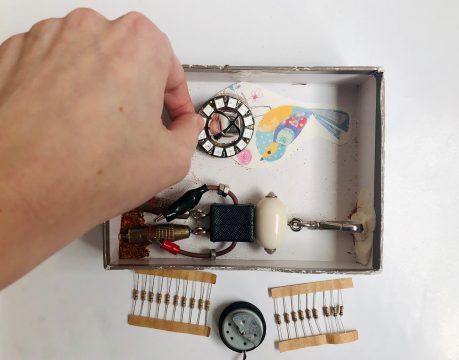 What's on your mind? Joseph Cornell was inspired by the things that were in his imagination. What stories might you share inside your box?
Spark your imagination. Joseph Cornell collected old books, prints, and objects he found at flea markets. Take time searching through objects you collect (such as rocks or minifigures), recyclables, and your junk drawer. Look for objects that tell your story. You can choose anything, but if you need a place to start, gather some newspapers or an old book (one you don't mind cutting up), old spices, found objects, and figurines.
Gather your other materials. You'll need your found items, a box, glue or tape, and plastic wrap (optional).
Place your box, opening up, on your working space.
Transform your box into a miniature world with your other materials and objects. Try out different combinations of materials. Experiment with the way you position your box and place your objects.
Glue or tape your objects in their final position.
Complete your project. Use plastic wrap to seal your box—or keep playing and rearranging!