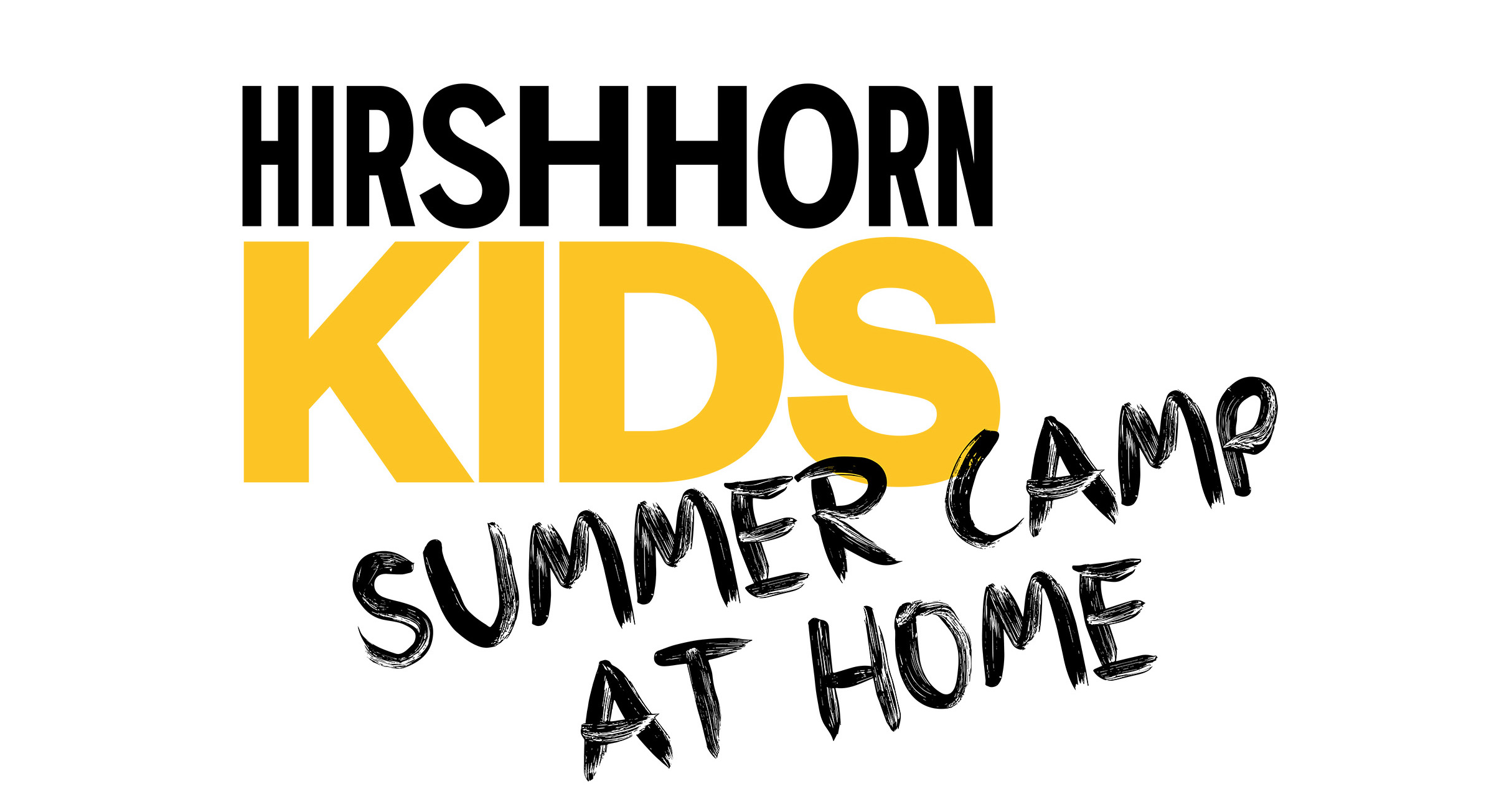 Register now! Registration for BUILD AN ABODE will remain open through Monday, July 19.  Registration for FUNKY FORMS is now closed. Space is limited. Ages 6+.
Give your kids a creative outlet and join us for hands-on virtual fun with Hirshhorn Kids Summer Camp at Home! Campers (ages 6+) participate in daily 60-minute small group Zoom meetings featuring art exploration, discussion, instruction, and hands-on projects. Choose from two artfully themed week-long art camps. Each registrant will receive an Art Camp Kit complete with all materials required for the selected week. Engaging activities and extension projects will keep your budding artists busy all week long. ASL interpretation is provided for the 1 pm camp sessions.
Cost per week $120. All scholarship slots have been filled. To be added to the scholarship waitlist, please email KusterM@si.edu
---
CAMP SCHEDULE
July 12–16: FUNKY FORMS
Sorry, this week is all filled up! Sign up for our Hirshhorn Kids email newsletter and be the first to hear about future opportunities like this one.
Have you ever imagined you came from a different world or planet? Maybe you'd have brightly colored hair, be made of metal, or have a special power! Explore some funky art in the Hirshhorn collection, design your own creature, and imagine the creature's world. Learn and use art techniques such as watercolor, collage, and sculpture to make your own creature character artworks and watch as they come to life. 
August 16–20: BUILD AN ABODE
Two sessions available:
9 am EST REGISTER
1 pm EST (with ASL) REGISTER
Now is your time to be an architect, artist, and designer! Join our hands-on camp to explore art, design, and construction. Sculpt a character, weave tapestries, and make tiny artworks to decorate your architectural creation. Be prepared to have fun and work on your project outside of camp meeting time. Check in with camp friends each day and share your progress!
---
FREQUENTLY ASKED QUESTIONS
What do I need? We'll mail you an Art Camp Kit full of materials (included in the cost of camp). 
What's in the Art Camp Kit? Each kit comes in a sturdy 9" × 12" box and includes an art journal, art prints with conversation and activity tips, and the following material sets: tools (brushes, rollers), mark makers (oil pastels, pencil sets), wet medium (watercolor), assorted paper, and a surprise 3D materials set. Kits vary slightly based on camp week.
I can't afford the cost of camp. All scholarship slots have been filled. To be added to the scholarship waitlist, please email KusterM@si.edu.
I have more than one kid. Do I need to register each child? Yes, please register each participating child. 
Who can camp? Camp is designed for Elementary School students, ages 6+; children under age 8 may need more support from an adult at home.  
How do the camp Zoom sessions work? Summer Art Camp will take place on Zoom. Sessions will not be recorded and participants will have the option to turn their cameras on or off. Participants must have a registered Zoom account to participate, and will be emailed a private, password-protected link one day before each session. 
---
Here's just a taste of what we'll be doing at Summer Art Camp: