The Hirshhorn Presents the First Career Survey for Hiroshi Sugimoto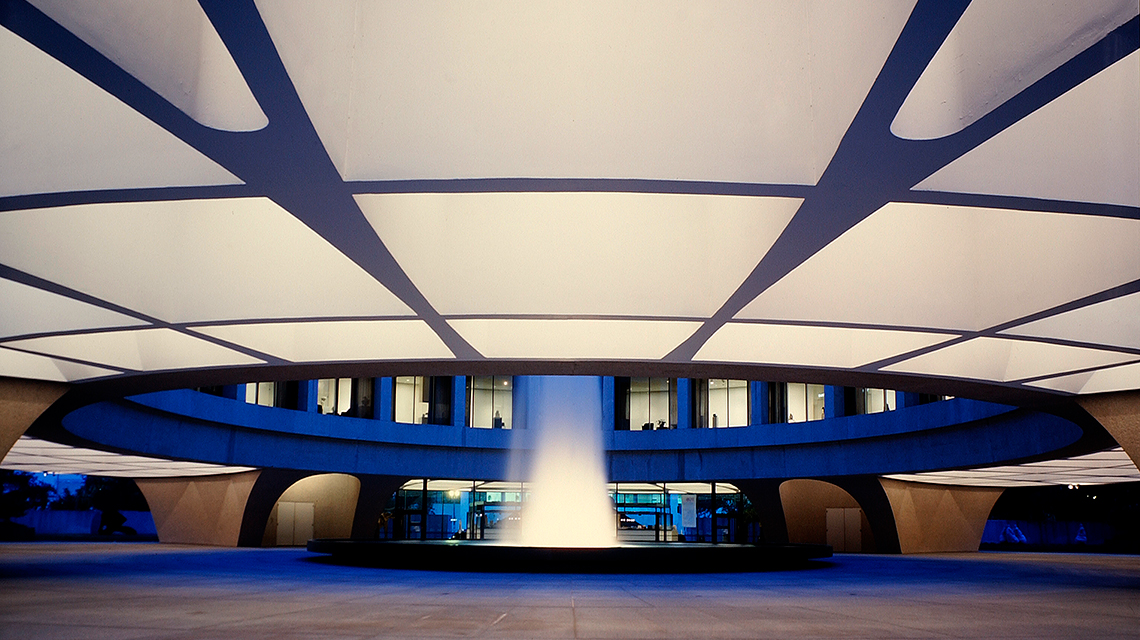 Thursday, January 12, 2006
Media only:
Gabriel M. Einsohn (202) 633-2822, einsohng@si.edu
Public only:
www.hirshhorn.si.edu (202) 633-1000
Media Preview: Feb. 15, 9 a.m. to noon; remarks at 10:30 a.m. RSVP to Gabriel Einsohn.
The Hirshhorn Presents the First Career Survey for Hiroshi Sugimoto
The Hirshhorn Museum and Sculpture Garden presents "Hiroshi Sugimoto," the first career survey of one of Japan's most important contemporary artists from Feb. 16 through May 14. Sugimoto (b. 1948, Tokyo) is known for his starkly minimal series of seascapes, movie theaters and architecture, as well as his richly detailed photographs of natural history dioramas, wax portraits and Buddhist sculptures. These celebrated series explore such essential concepts as time, space, culture and perception-even the nature of reality itself. This retrospective of the artist's 30-year career is co-organized by the Hirshhorn and the Mori Art Museum, Tokyo; Hirshhorn director of art and programs and chief curator Kerry Brougher and Mori director David Elliott are co-curators of the exhibition. "Hiroshi Sugimoto" features approximately 120 photographs from 1976 to the present.
Using a large-format camera and mostly black-and-white film, the artist captures what is elusive to sight-the horizon line between sky and sea at night, the sum total of light projected during a feature-length film or the physical form of a mathematical principle. His work also points to the human impulse to represent reality, a drive that has inspired artists throughout history and is embodied in photography itself.
The exhibition at the Hirshhorn features unique installations developed in close collaboration with the artist-exemplifying Sugimoto's fascination with creating dramatic spatial environments and new ways of looking at photography. This presentation documents the artist's exploration of the relationship between photography and human perceptions of what is real. Works from the "Dioramas" series offers deceptively realistic scenes that appear to show animals in their "natural" habitat but were, in fact, shot at natural history museums. His "Portraits" series seemingly presents famous historical figures as if they had just posed for the artist, but the works are actually photographs of wax models from Madame Tussauds wax museum in London.
A large, dramatically lit gallery features works from Sugimoto's "Seascapes" series. Sugimoto composed all of these photographs with the same proportion of sea and sky, without any hint of land or human presence. Although the photographs were taken at different points around the globe, their minimal rectangular fields suggest a timeless balance-a continuity of composition that shows the horizon line where sky meets sea. Like the "Seascapes" series, the "Theaters" series contains rectangles of light-in this case the white, glowing screen of richly detailed movie theaters and drive-ins. To create these photos, Sugimoto left the shutter of his camera open throughout the entire screening of a film, compressing the experience of watching a film and raising questions of presence and absence.
Also included in the exhibition are the artist's "Architecture," "Conceptual Forms" and "Sea of Buddha" series, as well as "Colors of Shadow," which reveals Sugimoto's recent interest in color photography. Six of Sugimoto's photographs have entered the Hirshhorn's collection since 2003, including works from the "Theaters" series, and his powerful image of New York City's World Trade Center towers.
Born in Tokyo in 1948, Sugimoto left Japan in 1970 after graduating from Rikkyo University with a degree in economics. He traveled throughout the Soviet Union and Europe and then moved to Los Angeles, where he studied photography at Art Center College of Design. He moved to New York in 1974 and currently divides his time between New York and Tokyo. Sugimoto's work has been exhibited in group and solo shows internationally. He was the recipient of the Hasselblad Foundation International Award in Photography in 2001 and the Mainichi Art Prize in 1988.
The exhibition opens on Feb. 16 with a gallery tour on the second level by co-curator David Elliott at 12:30 p.m. At 7 p.m., Sugimoto will discuss his work with co-curator Kerry Brougher in a Meet the Artist talk in the Hirshhorn's Ring Auditorium, preceded by a book signing in the museum shop at 6 p.m. These programs are free and open to the public. For more information, visit www.hirshhorn.si.edu or call (202) 633-1000. 
A fully illustrated 368-page catalogue, co-published by the Hirshhorn Museum and the Mori Art Museum in association with Hatje Cantz, Germany, accompanies the exhibition. The catalogue chronicles the works on view in the exhibition and Sugimoto's entire career and includes essays by curators Kerry Brougher and David Elliott, as well as the artist himself. The presentation at the Hirshhorn is made possible in part by the Holenia Trust in memory of Joseph H. Hirshhorn; the Hirshhorn's board of trustees; and contributions from Hirshhorn patrons. In-kind support for the opening reception is provided by Okunomatsu Sake Brewery Co., Ltd. In-kind support for the international tour is provided by Japan Airlines. 
Coinciding with the exhibition at the Hirshhorn will be the Smithsonian's Arthur M. Sackler Gallery's "Hiroshi Sugimoto: History of History" April 1-July 30, an exhibition featuring ancient and medieval Japanese artworks from Sugimoto's personal collection. 
The Hirshhorn Museum and Sculpture Garden, the Smithsonian's museum of international modern and contemporary art, has some 11,500 paintings, sculptures, mixed media installations and works on paper in its collection. The Hirshhorn maintains an active and diverse exhibition program and offers an array of free public programs that explore the art of our time. The museum, located at Independence Avenue and Seventh Street S.W., is open daily from 10 a.m. to 5:30 p.m. (closed Dec. 25), and admission is free.
# # #