Directions: Empire(3)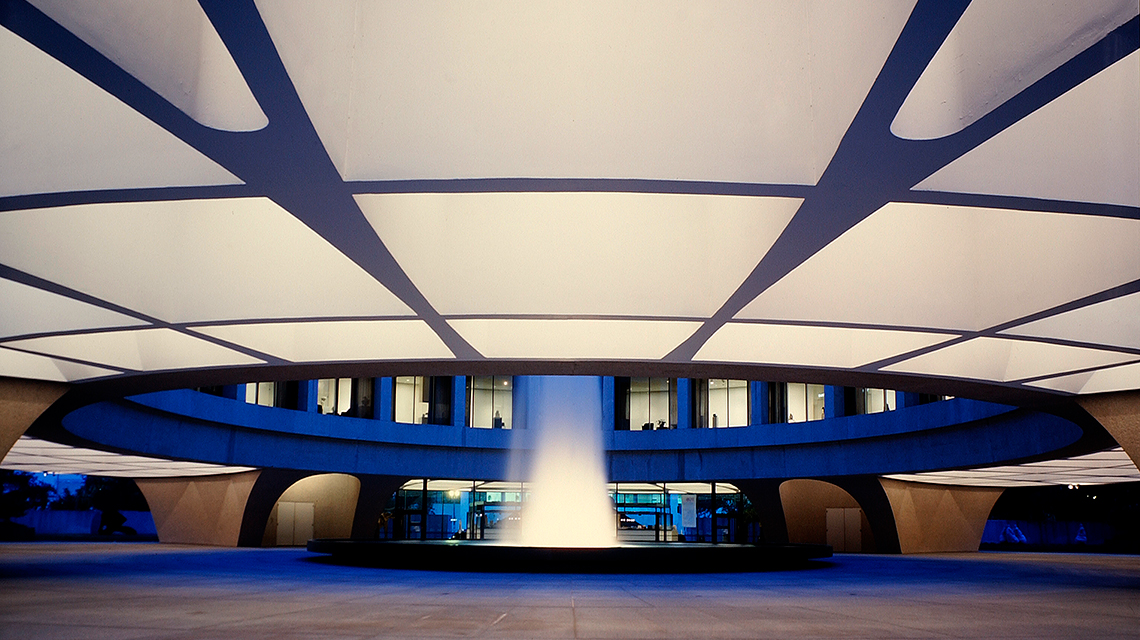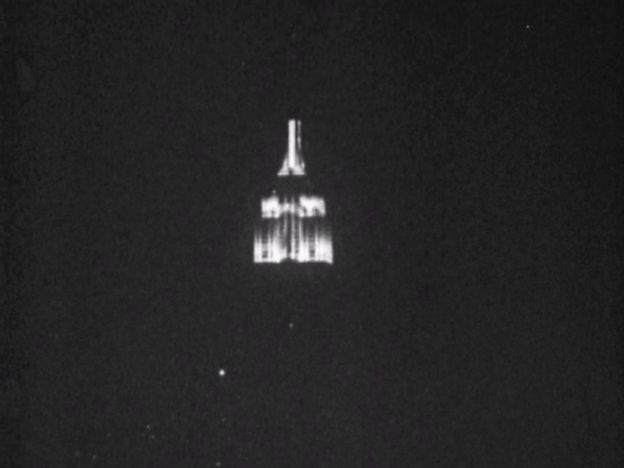 Andy Warhol, Empire, 1964 ©2011 The Andy Warhol Museum, Pittsburgh, PA, a museum of Carnegie Institute. All rights reserved.
November 10, 2011 to March 25, 2012
Andy Warhol, Douglas Gordon, Wolfgang Staehle
On May 1, 1931, at a dedication ceremony in Washington, DC, President Herbert Hoover pressed a button that symbolically turned on the lights of the Empire State Building in New York. This iconic structure is the focus of these three time-based media works by Andy Warhol (American, b. Pittsburgh, 1928–1987), Douglas Gordon (Scottish, b. Glasgow, 1966), and Wolfgang Staehle (German, b. Stuttgart, 1950). In an interview with Gretchen Berg, Warhol explained, "My first films using stationary objects were [also] made to help audiences get more acquainted with themselves…. There's nothing really to understand in my work." Warhol's Empire, 1964, became a classic of avant-garde cinema, as have Gordon's and Staehle's versions that play on the reputation of the original. Documentary, conceptual, illuminating, cunning, boring, profound, sublime, and ridiculous, these portraits of what was once considered the "Eighth Wonder of the World" are presented together for the first time.
Directions: Empire3 is made possible in part by contributions to the Hirshhorn's Annual Circle and the Hirshhorn Exhibition Fund.
Wolfgang Staehle
German, b. Stuttgart, 1950
EMPIRE 24/7
1999–2004
Inspired by the classic landmark, American notions of "empire," and Warhol's experiment with posing object as subject, web-art pioneer Wolfgang Staehle used a digital camera to stream stills captured every six seconds to create Empire 24/7. In comparison to today's more evolved technologies, these long shots may feel distended, but the artist conceived of the perpetual feed as emblematic of round-the-clock, media-enabled capitalism.
Archive from web streaming
Color. Silent
Running time: 4 hours, looped (excerpt)
Courtesy of the artist and Postmasters Gallery, New York
Douglas Gordon
Scottish, b. Glasgow, 1966
BOOTLEG (EMPIRE)
1997
Warhol aficionado Douglas Gordon, himself a noted sculptor of cinematic time since the debut of his signature work 24 Hour Psycho in 1993, saw a screening of Empire in Berlin in 1997. Fascinated by Warhol's notion of temporal fetishization and fixed-gaze filmmaking, he appropriated a two-hour segment for his own pirated video version, Bootleg (Empire). By the time he made his stealthy, shaky take, the building's record-setting height had been surpassed by the Twin Towers, yet then as now, the name of the deco skyscraper suggests aspirations of bygone times.
Video formatted to DVD
Color. Silent
Running time: 2 hours
Courtesy of the artist, Douglas Gordon Studio, Glasgow/Berlin
Andy Warhol
American, b. Pittsburgh, Pennsylvania, 1928–1987
EMPIRE
1964
On July 25, 1964, Warhol positioned himself forty floors up in the Time-Life Building to film the Empire State Building from 8 pm until 3 am, resulting in an inventive type of still-camera movie he titled Empire. The film was shot at 24 frames per second but the artist specified that it should be slowed down to 16 frames per second whenever it is shown. At the first public screening, many agitated viewers demanded refunds. Since this legendary riot, Warhol's silent films have become infamous for distending and "eroticizing" cinematic time.
16mm film
Black and white. Silent
Running time: 46 minutes (excerpt of 8 hour, 5 minute film)
Courtesy of the Circulating Film and Video Library, The Museum of Modern Art, New York. Preserved by The Museum of Modern Art. © The Andy Warhol Museum, a museum of Carnegie Institute.